GIRLS WHO MAKE US PROUD:
Jill Heinerth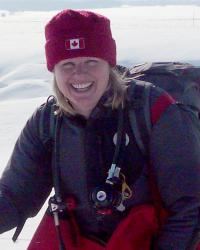 Jill Heinerth is an explorer. Her curiosity and photographic skills give us a tantalizing peek at a breathtaking world few will ever experience.
Best known as a pioneering technical diver, Jill combines a mastery of underwater technology with a formal Fine Arts education to produce artistic documentation of the natural environment above, below and inside our planet.
An award-winning filmmaker, Jill wrote, produced, and appeared in Water's Journey, the PBS documentary series that takes viewers on visceral travels through the world's greatest water systems. Hollywood directors call on her to produce difficult underwater scenes and international magazines and websites look to her to document extreme environments with high technology.
Jill is a reasonable voice in the world of conservation, and is often sought out for insightful opinions by the press. She is a recognized expert legal witness in matters involving SCUBA and Closed Circuit Rebreather technology.
Jill's many diving accomplishments are highlighted by an Antarctic cave diving expedition inside the largest iceberg known to man, (National Geographic - Ice Island), and significant contributions to the United States Deep Caving Team's Wakulla 2 project, using paradigm-changing technology to map an underwater cave system in three dimensions. At Wakulla, secondary to a scientific mission, Jill established a women's diving world record.
Some of Jill's numerous professional diving, photographic and filmmaking awards:
Sport Diving Magazine: Named A Living Legend
Women Diver's Hall of Fame: Inaugural Inductee
Explorer's Club Film Festival: Best Documentary
Canadian Technical Diver of the Year
Fellow: National Speleological Society
International HD Film Fest: Best Documentary (two time winner)

Joy Matar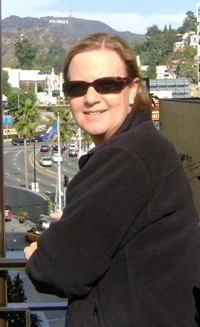 Probably not the most original but the woman who I am most proud of is my Mum, Joy! My mother raised my sister and myself as a single parent in Tasmania, Australia and went without a lot of things in life to give us great opportunities. She had sent both of us overseas to travel as teenagers on exchange programs before she herself had ever left the country. Consequently she gave us the Travel Bug and I am now living in Los Angeles and my sister in Dubai!

Once we had left the "nest" Joy started on a journey of her own. She has since traveled to Europe, USA, Fiji & New Zealand and is currently planning a trip to the United Arab Emirates and Egypt. Most inspiring of all she has done the majority of travel on her own, something which I think takes tremendous guts and should be admired!

Another inspiring thing about Joy which startles many people is the relationship she has with my father (her ex-husband), his partner and their children. My mum maintained a friendship with Dad all throughout our childhood, even when things were tough for her. Now even though my sister and I live overseas Mum will still have dinner with Dad and his family once a week and even babysits the kids when needs be.

She is an absolutely selfless woman and an inspiration to me and everyone that meets her!


Written by Laura Matar, Manhattan Beach, California.

_________________________________________________________________________________________________
Rita Vella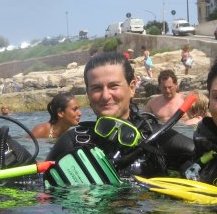 I know Rita Vella for almost ten years and she has been my role model and inspiration on my way to become a PADI Course Director.
It would not be an exaggeration to say that I can thank her for being where I am now.
During the summer of 1998 I completed a Divemaster internship at Diveshack, her dive shop in Sliema, Malta. Despite the fact that I did not speak English well at that time, she took me under her wings and coached me. She challenged me and encouraged me every day.
I have never worked so hard in my life. I had to pick up clients at their hotels in the morning, drive them to the dive sites (on the wrong side of the road), drop them off at the end of the day, wash everybody's rented wetsuits (imagine 30 pee filled suit's smell on a hot day!), fill 60-100 tanks till late at night, clean the shop and in my spare time study for my exams. I was constantly exhausted; yet, I would not have changed that experience for anything.
Rita never asked me to do anything she was not prepared to do herself. She is a hard working and hard headed woman who does not take shit from anybody.
Rita earned people's respect by being an environmentalist, an advocate against over fishing, a still enthusiastic dive educator and a strict but fair boss. She is my mentor.  
_________________________________________________________________________________________________
Leslie Holtman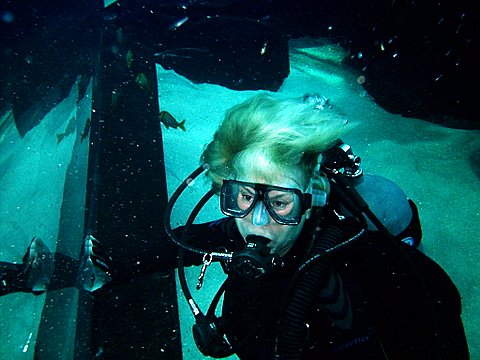 One of my biggest inspirations as a diver is my friend Leslie Holtman.  
She started diving back in 1977 as a single woman in a macho dive world and held her own with all the men. Although her original certification was YMCA she jumped right into the L.A. County Advanced Course and for years could be found most weekends doing beach dives on the California coast.  
She also has some funny dive boat stories including one about clogging up the head  on one dive boat by flushing an unmentionable.   She noted that she never did dare go back on that particular boat.   Beach diving, boat diving, exotic travel diving.... Leslie has done it all. 
After working for the phone company for many years she retired and started devoting most of her time to volunteering at the Aquarium of the Pacific. She helped with Guest Services and then became a marine mammal volunteer. 
However what she really wanted to be was a volunteer diver. She took the PADI Rescue Course in order to complete her  AOP dive eligibility only to be told by the Dive Safety   Officer that he would have actually accepted her L.A. County certification.  
Since then she is mostly found diving in the  Aquarium exhibits although she takes time out for  warm water dive trips and cold water kayak trips. Leslie has an active sense of adventure which is combined with enthusiasm and humor. She dives with zeal and an impressive competency but never brags. Leslie is definitely the woman diver I am proudest of and I can only hope to someday be half the diver she is.
Written by Susy Horowitz, California.
_________________________________________________________________________________________________
Szilvia Gogh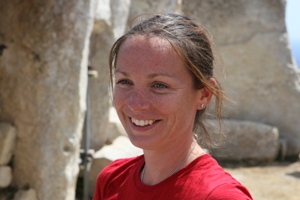 Szilvia is an example of what is possible if you really put your mind to it. She came to Diveshack in 199x asking for a job, any job and with her infectious humour and enthusiasm we invited her to join the team to do whatever work was needed.
She wanted to become a diving professional, and with her determination and hard work, in due course she did, but she also accomplished a lot more. She always went the extra mile, concentrating on her skills to teach and motivate people.
She strengthened her communications skills and shared her sense of fun with her friends and work colleagues.
Sometimes in life we have dreams that take us far from home and the way of life we were brought up in. It all seems like small steps at the time, but now having seen Szilvia so many years later, we see how far she really has travelled.
With Szilvia's motivation and single-mindedness she showed us that you can pursue any number of dreams and achieve perhaps even more than you set out to. She has grown a great deal since the days on our island, and seeing her now, looking back at us is a spirit of adventure still reaching out to do new things and tell us that everything is possible. 
Written by Rita Vella, Malta.
_________________________________________________________________________________________________
FEMALE DIVERS HALL OF FAME 2009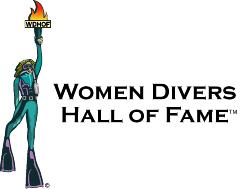 The Women Divers Hall of Fame (WDHOF) has just released the names of its 2009 Honorees: Dr. Melanie Clark, Mandy-Rae Cruickshank, Randi Eisen, Pauline Feine, Dr. Anita George-Ares, and Margo Peyton.
The six women will be inducted into the WDHOF at the Beneath the Sea Awards Banquet on March 28, 2009 at the Sheraton Meadowlands Hotel in Secaucus, New Jersey.  As each woman is presented with her WDHOF gold membership pin and certificate by the WDHOF Board of Directors and Officers, she will officially join the ranks of the most accomplished and outstanding women divers in the world.  
WDHOF, Inc. was founded in 2000 by Beneath the Sea Inc., Women Underwater, the Underwater Society of America, The Women's Scuba Association, Dr. Hillary Viders and Capt. Kathy Weydig. WDHOF is the world's leading non-profit organization dedicated to recognizing and promoting women divers and to offering financial support to men and women seeking diving careers through the WDHOF Scholarship/Training Grant Program.

Since its inception, WDHOF has selected 156 Members from 38 US states and US Territories, Europe, Australia, the Caribbean, Canada and Mexico.

The 2009 WDHOF Honorees are:

Dr. Melanie A. Clark
A veteran diver with over 4,000 dives Dr. Clark is a high level Instructor Trainer of Technical Diving and Open and Closed Circuit Rebreather Diving. She has authored five rebreather training manuals and is also an accomplished underwater photographer and a staff photojournalist for Advanced Diver Magazine.  She has been a volunteer firefighter and has provided other emergency medical services. Dr. Clark's current role is a Doctor of Pharmacy and co-owner of Silent Scuba, LLC, which is a technical training facility in Seattle, WA.

Mandy-Rae Cruickshank
Mandy-Rae Cruickshank is a world renowned free diver and a Scuba Instructor/ Course Director.  She holds 7 world records in Freediving and teaches Performance Freediving. Three years ago, Cruiskank teamed up with the Oceanic Preservation Society to create a movie that brings awareness to our oceans, the captive dolphin industry and the slaughter of dolphins.

Randi Eisen
As a Technical Diving Instructor and Deep Diving, Mixed Gas expert, Randi Eisen earned a spot on the team mapping Bikini Atoll. Educated in Science, Eisen works as an Experimental Scientist. She also serves as the Senior Director and Trustee for Beneath the Sea, and as Vice President of the Long Island Dive Association (LIDA) in New York.

Pauline Fiene
Pauline Fiene, a marine biologist, has studied Hawaiian marine life for over twenty years, discovering over 60 new species of opisthobranchs, two of which have been named for her. Through detailed annual monitoring she discovered the spawning pattern of Hawaii's most abundant species of coral  – the first time spawning had been determined for this species worldwide – and now offers trips for divers to see this rare daylight spawning event. She is coauthor of several books including Molokini - Hawaii's Island Marine Sanctuary; and Diving Hawaii and Midway; and with Cory Pittman she has just launched the comprehensive Hawaiian Nudibranch website. Fiene has been a divemaster for 22 years and has logged over 7,500 dives. She owns and operates Mike Severns Diving, a dive boat operation on Maui with a reputation for safety and knowledge of marine animals and their behaviors.

Anita George-Ares
Anita George-Ares has Masters and Doctoral degrees in Marine Biology.  While conducting her Master's thesis research at the Smithsonian Museum of Natural History, Dr. Georges-Ares discovered five new species of fish.  Her doctoral research focused on aquaculture and aquatic animal pathology.  She conducted underwater studies on fish systematics and behavior with Dr. Eugenie Clark in Japan, Mexico, and the Red Sea.  She participated as a research diver for National Geographic's Sleeping Shark Expeditions and was featured in the April 1975 issue of National Geographic.  Georges-Ares taught scuba diving as a NAUI and PADI Instructor for 26 years and she is a published marine scientist and underwater photographer.  She has worked as a marine environmental consultant for the past 20 years.  She is an industry representative for the United Nations Environment Programme-World Conservation Monitoring Centre's Proteus Partnership that serves to improve the quality and access of marine biodiversity data.

Margo Peyton
Margo Peyton has  a degree in Travel & Tourism, Margo owned and ran Caribbean Adventures & World Dive Adventures. As a mother of two, she realized a need for family dive travel and founded Kids Sea Camp in 2000. Margo's camps certify 600 divers annually and she has created the world's largest family dive program, with 1,600 participants each year. Margo is co-founder of Ocean Wishes Foundation, and besides her own initiatives, contributes to Oceans for Youth, Ocean Pals, and many others. She is a PADI Dive Master and diving since 1989 she has logged over 3,000 dives, and has numerous specialties. For the past 10 years she has been committed to educating families with children about the ocean and ways to protect and preserve it.
Other Women Travelers, Adventuresses and Trailblazers 

I can't count all the women travelers, adventuresses and trailblazers whose exploits I've dreamed about and admired. Some women stand out more than others, by their courage, perhaps, or simply because they were larger than life, at a time when women weren't supposed to be. 

I found this section of adventurous women born before the 20th century (even though they may have done most of their writing later) at www.women-on-the-road.com. This is just a sampling that I hope will whet your appetite for some fantastic female travel reading. There are so many more but I had to choose...

Lady Mary Wortley Montagu (1689-1762)
Author, poet, satirist: she scandalized the world by traveling to Turkey to meet her diplomat husband there - on her own, at a time when this just wasn't done. An early out-of-the-box thinker, she foresaw vaccines by inoculating her own children with smallpox to protect them from the disease, and traveled dressed in Turkish robes. A true tourist, she traveled because she was curious to see the world - and wrote about it through a woman's eyes, venturing into places "that have been inaccessible to other travellers".
Travel Pick: Turkish Embassy Letters

Amelia Edwards (1831-1892)
At a time when there were few roads, Amelia crossed the Dolomites and traveled up the Nile, documenting everything in her path. Such was her scientific prowess that she helped found the discipline of Egyptology, eventually establishing its first chair at London's University College. Not just a traveler - a scientist.
Travel Pick: A Thousand Miles up the Nile

Isabella Bird (1831-1904)
The first woman to address the Royal Geographical Society, Bird became a traveler by accident when her doctor prescribed travel for her health. Her travel bibliography ranges widely, from Asia to the Western Rockies. As a solo 'woman on the road', Bird was a groundbreaker in many ways. "Scaling, not climbing, is the correct term for this last ascent" is how she describes a mountain climb. "The only foothold was in narrow cracks or on minute projections on the granite. To get a toe in these cracks...while crawling on hands and knees...this was the climb - but at last the Peak was won." Travel Pick: Journeys in Persia and Kurdistan

Kate Marsden (1859-1931)
Not the typical travel writer, Marsden documented her year-long missionary journey through Siberia on dogsleds in an effort to find a herb that could cure leprosy (she never did find it). Her report, designed to rebut criticism back home that her trip had only been a stunt, shows rare compassion for the lepers she met along the way. "One of the women had been afflicted with leprosy in all its worst aspects for years; she was almost naked, having only a dirty strip of leather over her. By her side was her husband, who, although free from leprosy, nobly determined to share his wife's exile."
Travel Pick: On Sledge and Horseback to Outcast Siberian Lepers

Ethel Tweedie (1860-1940)
A product of upper-class Britain, Tweedie was the quintessential solo traveler, launching her travel career after all her male relatives had died. She is known among other things for starting a national controversy in Edwardian England by riding astride her horse rather than side-saddle during visits abroad, so much so that much ink was spent debating the pros and cons of this custom. She was also respected as a fine journalist and travel writer, with many Mediterranean and European countries on her 'been there done that' list.
Travel Pick: A Girl's Ride in Iceland

Edith Wharton (1862-1937)
Better known as a Pulizter-prize winning writer of fiction, Wharton exhibited a fine eye for detail and sense of her surroundings in her travel writing as well. Here's how she described the Vizier's palace in Marrakech: "This lovely prison, from which all sight and sound of the outer world are excluded, is built about an atrium paved with disks of turquoise and black and white. Water trickles from a central vasca of alabaster into a hexagonal mosaic channel in the pavement. The walls...are roofed with painted beams resting on panels of traceried stucco in which is set a clerestory of jewelled glass." I'd like to see that.
Travel Pick: In Morocco

Gertrude Bell (1868-1926)
No account of adventurous women travelers and writers can be complete without Bell, whose role in founding modern Iraq and Jordan is as legendary as her acquaintance with Lawrence of Arabia. An erudite archeologist and linguist (she spoke more than half a dozen languages) she traveled extensively around the Middle East, meeting its nomadic peoples and learning from them - not to mention dining with Kings and dignitaries along the way and being awarded the Order of the British Empire for her outstanding work in the region on behalf of the British.
Travel Pick: Persian Pictures

Mary Kingsley (1862-1900)
A good Victorian girl, she spent time in West Africa and recounted her hair-raising misadventures with humor. Have a listen: falling into a spike-filled trap (for which a good, thick skirt is an advantage), or crossing a swamp and emerging on the other side covered with leeches. When she wasn't busy cavorting with cannibals, she became a trader and collector. On one canoe trip, a crocodile tried to  board her canoe: "I had to...fetch him a clip on the snout with a paddle, when he withdrew." Certainly wry, and certainly not lacking courage and panache.
Travel Pick: Travels in West Africa

Isabelle Eberhardt (1877-1904)
Ravaged by drugs and poverty, Eberhardt died at just 28, leaving behind a single work, her diary as a Muslim nomad in North Africa. Dressed as a man, she lived as a partial outcast while immersing herself in the exoticism of Arab society, perhaps as a reaction to her strict Geneva upbringing. I could not put her book down - in it she paints her own tortured inner search as clearly as her fascination with her new surroundings.
Travel Pick: The Passionate Nomad

Vita Sackville-West (1892-1962)
More historian and poet than travel writer, Sackville-West nonetheless penned a breathtaking and exotic tale of travels to Iran during the 1920s and back to Britain overland before the term was ever coined. She rode trains, donkeys, camels and cars - when she wasn't on foot. Perhaps she'll be best remembered not for her travel writing (of which there was unfortunately too little) but for her affairs with other women, despite a strong and happy marriage - with an equally bisexual husband.
Travel Pick: Passenger to Teheran

Freya Stark (1893-1993)
Harking back to Gertrude Bell's passion for things Arabic, Stark was a scholar in Arabic dialects and worked as an expert for the British government during the war. Stark was a true adventuress, venturing not only where no solo women had traveled but to places no Westerner had dared to go, including parts of Iran and the southern part of what is now Saudi Arabia. Named a Dame of the British Empire, she was the prolific author of some 24 travel books, most about Arabian lands, and lived to the grand old age of 100.
Travel Pick: The Valley of the Assassins

Kate O'Brien (1897-1974)
As I grew up in Spain, this Irish feminist (she was a lesbian but didn't come out in the straightlaced Ireland of her day) author's writing about that country speaks to me. More novelist than travel writer, her descriptions of the start of the Civil War are so vivid I felt I was there: "As I write Irun is burning. There is a photograph in this morning's Times of the little plaza with its low iron seats and clipped plane-trees - the commonplace of every Spanish town. The cafe at the corner is a heap of broken stones. A few men stand about dejectedly with guns." Political travel journalism at its best.
Travel Pick: Farewell Spain

These women may have blazed the trails - now it's up to us to walk them! 
DO YOU HAVE A GIRLFRIEND WHO MAKES YOU PROUD? Tell us about her!
Send an e-mail to info@miss-scuba.com !