WHY ON EARTH DID I BECOME A TECH DIVER?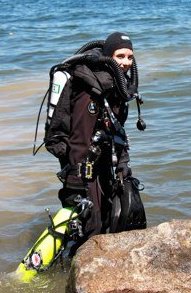 I got certified in winter of 1990, and then summer of 1991 found shipwrecks. Shipwrecks basically consumed my life from that point on. I did whatever it took so that could see that next wreck,  dove all the 30' wrecks I could find in our area, then all the 60' wrecks, all the way down to the recreational limit of 130'. 
I trained in nitrox (the voodo gas back then) so I could stay longer, got double tanks and learned to dive them so I could stay longer deeper, then came decompression training.   
By 1992, we were pushing the wrecks in the 240' range, but knew we needed helium to go further, no dive shop would support what we were doing, so we opened Adventure Diving Inc, the first 'tech' dive shop in the northwest. 
In fall 1993, despite being a broke part time college student and niche market dive shop owner/charter operator/NAUI instructor I scraped up enough cha-ching to drive down to San Francisco for a IANTD Mixed Gas course. Helium opened up the "world" for us so to speak, suddenly the only limits was our endurance... the cold, dive gear at the time (Lights were mediocre at best and scooters were basically non-existant in our area) and our somewhat limited understanding of decompression theory. 
I dove and dove and dove some more. Anywhere there was a target shallower than 300' was basically fair game.  We had a wreck in 330 (the Admiral Sampson), that was my dream, but at the time my dive partners considered it just 'too deep' to dive in our conditions with the dive gear of that era.     
Frustrated by the wreck 'just out of reach', knowing that things were not going to change in the next year or two with regards to equipment (I got a chance to try the MK15 rebreather and felt that CCR technology down the road could be our 'answer') I took a break from diving, and went back to pursue my educational goals and started working in the Medical field. 

Fast forward to 2004. 

I'd been watching the technological advances from afar, watched what the WKPP and "DIR" divers in Florida were doing in the deep caves, and come to the conclusion that a) equipment was finally where it needed to be, and b) I had a job that could help fund my diving as opposed to diving funding my diving which had lead to burnout.   
Knowing that I couldn't just pick up where I left off, I've spent the past 6 years rebuilding myself and my gear to that level of expertise I'd found by doing 450+ dives a year, with a deep wreck or wall done every weekend. When you have a 'real' job, it's much harder to do big dives every weekend :)   
It has been a slower process, but I think a better one, as i've had the opportunity  (and funds) to get more training (GUE Fundamentals, Megalodon CCR and NAUI Cave) that have enhanced my skill set. I'm becoming a better divers than I was before...   My goal these days is to do all the wrecks again, but this time in style,  and not just to do the dive, but to share it, and build awareness of our oceans with cutting edge video and lighting equipment.
Now I have every tool possible in my 'kit' for the dive, state of the art equipment, outstanding training, and most importantly an outstanding team of divers... 
Written by Laura James, Seattle.