THAILAND AFTER THE TSUNAMI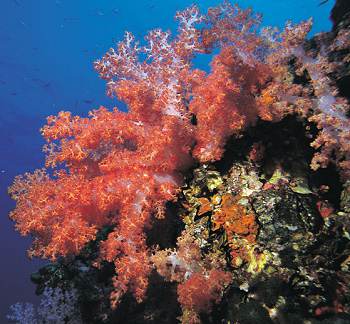 I can actually say that I go home to Thailand. I am not really a farang. I lived there for two years in 2000 and 2001.

Thai people refer to foreigners as "farang," which comes with implied prices and treatment. However, while I worked as a scuba instructor on the Phi Phi Islands, between the larger island of Phuket and the mainland, I was fortunate to get to know the Thai people a little better than tourists on a brief vacation.

I managed a scuba dive center on Phi Phi Don, the largest island — 5 miles ( 8 km) long by 1.5 miles (2.5 km) wide — and the only one with permanent dwellings. Phi Phi Don was made famous by the Hollywood movie The Beach, in 2000. The second largest island, Phi Phi Lee, a short boat ride from Phi Phi Don, has stunning beaches. Many people visit just for the day, since there are no accommodations here. The rest of the islands are mere limestone rocks jutting out of the azure Andaman Sea.

On Phi Phi Don I rented my room from a local gentleman who invited me to his table every evening when he saw me walking home from work. He shared his meals with me and we talked about his country, my country, people, local politics and Buddhism. (Thailand is unique as one of the few places where I have seen Buddhists, Hindus, and Muslims respecting each other's religion and getting along just fine.) I learned more about Thailand and its people from those conversations than from any travel literature.

Most Thai families live a very modest, but happy life. They don't seem to miss a big TV, a big car and a big house. I always love to travel to Asia for a reality check.
I have rarely seen Thai people swimming (not even the boat boys), and during my whole career as a dive instructor I taught only one Thai person. My landlord told me that Thai people stay away from water because they believe it is imbued with bad spirits.
This idea gets a whole new dimension when you think back to the devastating Indian Ocean tsunami that hit Southeast Asia on December 26, 2004, claiming approximately 275,000 lives. Thailand alone mourned the loss of 5,400 people along its Andaman coast, almost half of them foreigners on holiday.
The only time I have seen many Thai people at the edge of the water was on the evening of the annual Loy Krathong Festival, celebrated in November. On the night of a full moon they float krathongs (banana leaves fashioned into lotus-shaped vessels decorated with flowers and candles) on the water.
It is believed that as the krathongs float away with the tide, bad luck goes with them. Krathongs float all over Thailand that night, even in swimming pools. During this one evening, waters of the Phi Phi Islands are aglow with thousands upon thousands of glimmering candles.

Different legends surround the origins. The most popular version is that Loy Krathong is an expression of gratitude to the goddess of water, Phra Mae Kongka, for having extensively used (and sometimes polluted) the water from the rivers and canals. In part it is also a thanksgiving for her bounty in providing water for the livelihood of the people.

On Boxing Day, 2004, as I switched on the TV for some background noise during my morning routine, I heard the words "Phi Phi," "Phuket" and "tsunami" over and over, and could not believe my eyes. Gigantic waves were devouring the very beachfront dive shop where I used to work. The shots in the news were continually repeating the same disturbing images.

People were desperately clinging to palm trees. I saw them climbing higher and higher until there was nowhere to go and the raging waves were growing higher. I saw the terror in their eyes as they had to let go of the trees and hope for the best as they were swept away. Cars and hundreds of holiday bungalows were washed out to violent seas, as well.

Phi Phi Don is like a pancake pinched in the middle. The main village, Ton Sai, is largely built on a sandy isthmus between the island's two long, tall limestone ridges. On both sides of the village are semicircular bays — Loh Dalum Bay in the north and Tonsai Bay in the south — lined with white-sand beaches. The neck of land rises less than six feet (2 m) above sea level.

The deadly tsunami hit at around 10:30 a.m. during the busy holiday season, when the beaches were full of vacationers swimming, waterskiing or just relaxing. Water rushed in from both bays and met in the middle of the isthmus. The larger wave, coming in from the Loh Dalum Bay side, was up to 18 feet (5.5 m) high. The one that hit Tonsai Bay was about 10 feet (3 m) high.
At the time of the tsunami, the island was occupied by about 5,000 Thai residents and workers, and 5,000 tourists. According to the news media, an estimated 850 bodies had been recovered by the end of July 2005, and 1,200 people were still missing. The exact number of how many perished will forever remain unknown.

Approximately 70 percent of the buildings on Phi Phi Don had been destroyed, mostly on the western side. Luckily, the eastern side of the island did not experience the same devastation. Some parts of the beaches were flooded, but nothing more.

Following the tsunami, the ravaged island was evacuated and the government declared it temporarily closed while a new zoning policy was developed. To protect the fragile island environment, the number of tourists was to be limited in the future.

About one year after the tsunami I ventured back to Phi Phi Don. I was torn, scared to see what was left of what was such a dear place to me. On the one hand, I did not really want to see "my" island in ruins, but I wanted to see how my friends had survived, who was still there, how the diving was, and how life was after the devastation wreaked by the tsunami.

I arrived on Phuket for a multiple-day stopover on my way to Phi Phi Don, and exited the airport. The high humidity and warmth felt like a friend's embracing welcome. The 206-square-mile island ( 534 km²) also suffered extensive damage when it was struck by the deadly waves. Patong, Karon and Kata, major beach resorts on the west coast of the island, were especially hard hit. As many as 250 people were killed on Phuket, including foreign tourists.

Strangely, it felt as if nothing had changed since the last time I visited. Most of the undamaged hotels had been back in business since February 2005, and major recovery programs had been underway to get the tourism industry, the region's major moneymaker, quickly back on track.
The efforts had been successful. Beaches, streets, bars and hotels were crowded once again. Everything was booked. It was as if the tsunami had never happened. Everything was rebuilt; the only apparent reminder was a road sign stating that I had entered a "tsunami hazard zone." It was amazing to see people living their lives in such a normal fashion.
Yet, when I asked around, everyone had lost someone to the killer waves. But they were trying to get on with their daily businesses and look forward, being thankful that they had survived. As Thai people say, life on Phuket is "same same, but different."
A week later I boarded the Princess Cruiser ferry to Koh Phi Phi — as the islands are called locally (koh meaning island) — with much anticipation. I had heard different stories from different people, so I was not sure what to expect. As the vessel turned into Tonsai Bay after the 90-minute crossing, I was finally able to see the pier and beach. It was heart wrenching.

I used to work for one of the biggest companies on Phi Phi Don, Hippo Divers. Before the tsunami you could see our beachfront bamboo dive shop from the ferry dock. Now everything was gone. The tall palm trees, the beach houses and the cute little restaurants, everything had vanished, and nothing had been reconstructed.
For a few hours I wandered around in disbelief. Then I visited my old friend, Carl. His bar, Carlito's, is a chill-out place where you can find people playing volleyball or Yahtzee (a dice game), or just taking a nap in a hammock under a palm tree.

Carl used to be a strong, Viking-like Swedish guy with long, blond hair. He is hardly 40, but he looks at least 20 years older these days. Carl was on the island during the tsunami, and he organized recovery and rebuilding efforts after the catastrophe. His eyes tell of much sadness.
He is no longer as conversational; other things occupy his mind. Carl is one of the first foreigners who returned after the initial mandatory evacuation. It was as he was helping plan the reopening of the island for business that he realized that the biggest way of helping the Thai people is to keep tourists coming who can support the local economy.

Next, I tried to find my former landlord, the owner of the Palm Restaurant, my favorite eatery. She always allowed me to peek into the kitchen to learn how the delicious meals were made. I tried to track down the girl who did my laundry and dyed all my clothes pink, because she did not sort colors and washed everything together.
I hoped to meet the blind Siamese man who used to give me massages. Unfortunately, I could not find any of them. However, as I walked the streets, I came across other foreigner and local friends, and listened to their stories of survival and loss. I was impressed to see that companies that had once competed were now working together to bring life and people back to Phi Phi.

I ran into Andrea and Chay from England, who started working as dive instructors on Phi Phi several years ago. They fell in love with the island and with each other, and started a dive center for the Phi Phi Hotel in 2001, while I was managing Hippo Divers. Our company had helped them with the initial setup, and we became friends in the process. Their dive shop was located just 200 feet (60 m) from Hippo Divers, and it disappeared during the tsunami, just like our's.

Andrea and Chay's crew was working with Thai laborers to rebuild the walls for the hotel and their classroom. At the same time, their dive instructors were already conducting scuba training with the clients sitting under umbrellas at a nearby coffee shop. As a wise man once said: "Where is a will, there is a way."

While Phi Phi Don has certainly not fully recovered, many dive operations and resorts are open for business. The beaches are still gorgeous, the locals are still smiling and the diving is still great. As I visited, nearly 1,500 hotel rooms were once again available in a dozen hotels and guest houses, and more than 160 shops had been reopened. With the help of locals and volunteers, the government had cleared the debris and installed a tsunami early-warning alarm system.

To visit or not to visit? Most of Thailand is as safe and fun as it was before. If you are not sure about vacationing on Koh Phi Phi, a day trip by ferry is easy from Phuket or Krabi ( a town on the west coast of southern Thailand), both of which were far less affected by the tsunami.

As for myself, I could only stay for a single day. As much as I felt that I needed to return to see "my island" and my friends again, to ask them how they were doing and see how they were getting on with their lives, it was just too painful to see paradise shattered. I will probably never go back again, because, as Thai people say, it is "same same, but different." I have too many memories of a different Phi Phi Island in my head.
Written by Szilvia Gogh, Hungary. Photo Credit: Szilvia Gogh