WORKING AS A STUNT DOUBLE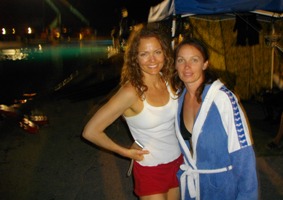 I wanted to become a stunt diver for quite a while, just like millions of other divers. One day the gods smiled on me and I got a phone call to double Dina Meyer for the remake of Piranha.
Working on a movie set is completely different from every other job I have ever done. The unions regulate who can touch what (only grips can move lights), who can do water safety for whom (only SAG members can water safety for talents), when do we need to eat (every 6 hours), when can we start working (12 hours turnaround)…
I was fortunate to work with some of the biggest names in the industry, yet they all helped me to ease into the job.
Day 1:
I had a training day scheduled at the tank. Well, the tank was a man-made lake in the middle of a rock quarry with cave systems, wall drop-offs and several boats. Based on its size, it could easily have been a real lake. It was amazing to me how real it looked.
The fact I knew quite a few people around the water through the dive shop I work was comforting. One of my good friends, which I traveled quite extensively with in the past, Nino Neuboeck, was a camera operator with Pete Zuccarini (he shot Into the Blue, Pirates of the Carribean and many more water movies). He introduced me to all the right people and looked out for me while we were at Lake Havasu, Arizona shooting the horror movie.
Tanner Gill and John Rottger (two well respected stuntmen) designed, and custom made, a crazy-good looking dive set for this production. Picture a scuba tank with two smaller side-mounts and the latest full-face mask with double hose regulator. And if it isn't techy looking already, it was pimped-out with lights inside and out of the mask. They had spent months researching and trying different configurations before it was finalized.
Day 2:
I was so excited I was up when the sun came up. My call time was 6am at the marina. By seven we were heading to Sand Beach to shoot my first scene. I was to do a back-roll entry with another stunt person from a boat and descend quickly into the dark. I have done about 5000 entries in my life, yet when ten people (camera operators, water safety, director…) were watching me with expectation I felt pressure.
It took me a few takes to get what Pete wanted me to do. The other stunt guy, Freeze (Kris Jeffrey) did a better job than I, but eventually they were happy with the shot. I was not too happy with myself.
In the afternoon I was practicing with Freeze in the tank for the cave scene. I was following him through the cave and when I exited, and saw he was chewed up by piranhas, freaked-out and returned into the cave franticly on my back.
Freeze is a lifeguard in Malibu and has been working on movies since Baywatch. He was a great help in learning how to die theater-like. Mike Cameron also gave me tips and was my safety diver for the whole movie. I was glad to always see him from the corner of my eye. Between dives he showed us some breathtaking pictures of his designs. That guy never sleeps, his brain engineered some ground braking camera equipment in movie history (that was used for the Abyss and Titanic).
The actors came down to practice as well. Both Ricardo Chavira (Desperate Housewives) and Dina Meyer (Starship Troopers, Beverly Hills 90210) proved competent divers and quite fun to be around. We watched them dive, so later we can swim in the same style.
Day 3:
Finally, somebody at the make-up/hair department took my hair extensions out. Some hair was glued to my real hair on Day 1, because my hair was shorter than Dina's. As it turned out I didn't really need it in the first place as I was wearing a hood for the dives.
I was at the tank all day. They were shooting a scene where another two stunt persons were pulled out from depth on a water-ski line by a quad. After days of just hanging out with the water safety team, Alex Daniels (the stunt coordinator who hired me) gave Mike and me the job to do water safety for them. We were at the platform (10 ft deep). Mike was holding the actors down and I gave them air on a hooka-hose before the camera was rolling and they were pulled through the water.
In the afternoon we practiced more dying. The guys put ropes on my extremities and pulled on my arms and legs. I was a bit stiff still, but figured I would practice more the next day. Being a good diver is just a beginning when working on movies. I had to act, and I am not an actor. Jonathon Arthur is a stunt person (doubled most guys on Lost) and an actor, so he gave me great demonstrations of dying. It was quite a funny picture seeing he, and I, jerking.
Day 4:
It was an action packed day. First, I was practicing more dying when Pete Zuccarini asked me to hang upside-down on a jet-ski for adjusting his lighting and the height of the jet-ski on a crane before he was shooting an actress. Later I got to do water safety for the shoot as well. I felt so happy that I did not screw anything up.   
I was provided with a trailer (because I was a stunt double), but I did not spend much time in it. I hung-out with the water safety team. I figured this was my opportunity to prove myself and ensure that the stunt guys (I was the only girl on the water safety team) saw my capabilities and willingness to help, and hopefully will call me for future jobs as well. It is a very small community where everybody knows everybody. I was lucky enough to get a chance to work with some of the best in this industry.
Day 5:
A long day.  We worked from Noon till 4am, but because we were busy all day, it went quickly. They were shooting Freeze and I descending by a drop-off. We used a two-way underwater communication system, but I couldn't really hear what they wanted me to do through the hood. When I knew what they wanted, I did well. Mike Cameron was my safety diver all day again.
Day 6:
Day Off. I was going to drive to Sonoma and explore the Vortex sites, but because we worked till 4am, I did not peel myself out of bed before Noon. By then it was quite late to take off for a four hour drive. It was hotter than hell. My computer showed 120 F in the shade. I hung by the pool with Nino for a while, but it was just unbearably hot, so I spent the day watching TV between naps in my room.
Day 7:
I got to be part of making a really cool special effect. The scene was one in which one of the actors flips on a jet-ski and takes a 360 degree turn. The jet-ski was stabilized on a crane, and once again, pulled on a rope by a quad. Mike Cameron and I created the exhaust bubbles with two DPVs and purged octopuses. It looked perfect when it all came together.
Later, I was in the water with the safety team for Jessica Szohr (Gossip Girl). It turned out she was also Hungarian. She was friendly and down to earth. I enjoyed interacting with a girl from my favorite TV show, yet at the same time it was quite surreal.
In the afternoon the special effect guys applied plenty of blood (paint) on my body for my dying scene in the caves. They all said this horror movie had the most blood and gore they have ever worked on.
Director Alexandre Aja is apparently the Fellini of horror movies (I don't watch much horror movies, so I do not know). I have to say he had all the ingredients for a successful movie; young hot guys and girls in bikinis getting eaten by (awesome looking) piranhas while partying during spring break, all in HD.
My scene became a bit more complicated than was first planned. Not only did I have to die in a cave on my back while the piranhas were munching on me, I had to loose my gear as well during my final minutes. Good thing I practiced.
The director's new direction involved me kicking and fighting the sharp-toothed fish gang while taking off my full-face mask, and creating a dramatic look with bubbles and blood mixing together.  I also had to fight the piranhas off my face for a while in the tight cave (holding my breath) and crawling out of the cave with my final strength. 
I have to say it was a bit scary knowing the tight cave's two entrances were both blocked with camera operators, I couldn't see anything, my gear was thrown away and I had one breath. Luckily, John, Tanner, Mike and Alex were there to ensure that I come out in one piece and alive.
I did it and I was "wrapped" as it was my last scene.
Working on this movie was one of the greatest challenges I faced in a while. It gave me a great satisfaction and the feeling of accomplishment. I met some of the industry's leading people. I experienced and learned an enormous amount. I only hope I did well enough where they will call me again to work with them.
Written by Szilvia Gogh, California. Photo Credit: Danielle Della Flora