Scuba Diving with Victoria Secret Supermodel Amber Arbucci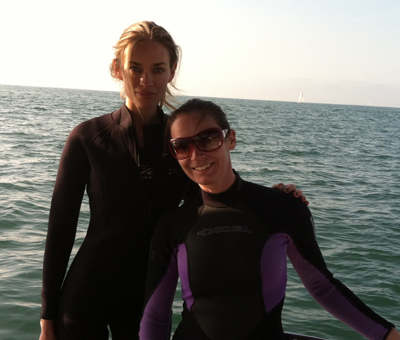 When I was booked to do water safety for a sizzle shoot, I had no idea who was it for. It is not unusual in the movie world.
When I heard at the dock from the producer that it was a Victoria Secret supermodel, I was ready for a long day with a whiny girl. Definitely not excited.
However, it was one of the few times in my life when my gut feeling was wrong. Amber Arbucci turned out a normal, tomboy girl who has the passion for traveling off the beaten path. We spent hours talking about wild life photography, sharks and far away places.
Traveling and photography is what keeps her (and me) dreaming and connected to what is true, real and important. We are similar in a way that love taking pictures while on the road, we even have the same camera (Canon 5D MKII); however our subject matter is a bit different. She loves to take wildlife photos, I prefer taking journalistic photos of people.
Amber was such a natural talent when it came to talk about her life changing encounters front of the camera. She is one of those people who I could hate if I did not like her. It seemed that everything she did was great, looked great and was fun to be around. She is a natural born Miss Scuba!
Written by Szilvia Gogh, California. Photo Credit: Christian Norman