PINK = BARBIE otherwise AN OUTBURST OF A FEMALE SCUBA INSTRUCTOR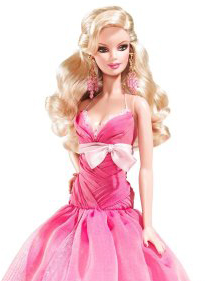 It is impossible to establish a well respected Dive Pro image in a Barbie doll outfit.
Not every girls like pink to start with. I have been wondering for years why do manufactures and retailers seem to associate female divers with the color pink.
As a young female dive instructor, I already had to work twice as hard to be taken half as seriously as my male colleges with the same experience. Just because my "work clothes" were bikinis, things seemed different. As a direct result, to improve my credibility amongst the macho guys on the dive boats around the world, the only self-approved color for my dive gear became black. Dark and dangerous.
Ten years have passed. I no longer worry about establishing a Name and Pro Image in the dive industry. I have over 5000 dives under my belt, including ice, caves, wrecks, re-breather, search and rescue. I have certified over 1000 divers, lived and thought scuba diving in many different countries, such as Malta, Thailand, UK and currently in California, US. I became the youngest female PADI Course Director in the world. I trained the leaders of the LAPD Dive Team, Fire Fighters and Sheriffs, and worked in the movie business as a stunt woman.
During these years I came across numerous strong headed, tomboy yet stylish and chick female dive educators. None of whom wears pink dive gear with the exception of one guy in our dive center who wears a pink weight belt for some strange reason. We do love colors, don't get us wrong. We yearn to find the perfect fitting petite scuba equipment made with girls in mind.
Luckily, we have some great choices these days -thanks to some forward thinking manufactures. Now, I just wish that the dive store owners would order red, orange, turquoise fins for their stocks; not only that ever-so-hated pink.
Miss-Scuba posts equipment by all manufacturers that create gear making girls' life easier and more comfortable. Tusa has the greatest selection of colors when it comes to fins and masks. Atomic introduced a whole range of cool colored regulators (I dive the blue). Pinnacle, Excel and Waterproof have the best fitting burgundy and other cool colored wetsuit selections offering over 30 sizes. Mares has a whole "She Dives" line.
What is common in these companies? They all did market research amongst divers and instructors from the fairest sex. I know it. I was asked by some of them during the various development stages to test their equipments.
What is the problem than? The problem is that most retail stores I walk in, still make only two color choices available: black and pink. The answer to my upset outburst is usually "We can order it and have it here for you in red by Friday".
I realize that most dive operations are owned and run by guys, however one does not have to be a market researcher to notice the increased number of woman students, instructors and divers. Shop owners should invest in stocking gear appealing for these independent, adventure loving stylish chick clientele.
Written by Szilvia Gogh, California.