THE GOOD AND THE BAD ABOUT DIVING IN THE PHILIPPINES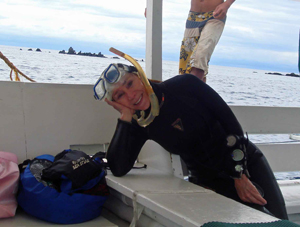 I am most recently back from diving in the Philippines.  Having to return to Puerto Princesa, Palawan Island after two days of diving in the Sulu Sea at the Tubbataha Reefs (on-coming typhoon)   I saw enough to know I will return (on the MV Stella Maris,  rather than the awful-food Borneo Explorer). 
Diving off of Negros Island,  from Atlantis Dumaguete Dive Resort was VERY good for macro and small creatures and from off of nearby (45 minutes) APO ISLAND was superb.  Glorious hard and soft coral.  I had never really thought of hard coral as fascinating and varied, full of color, textures, patterns and shapes.  NOW I DO.  The dive masters at Atlantis Dumaguete were good to excellent in  spotting the tiniest of creatures (like baby spiny devilfish - "inimicus didactylus"  the size of your thumbnail that made me squeal with delight).  Many kinds of scorpion fish were seen ,  including weedy scorpionfish- "rhinopias frondosa",  one excellent reticulate stargazer, gazing up in the clear light of the afternoon (the dive master carefully "tickled it" by disturbing the sand underneath it and it swam off about 10 yards,  with us in pursuit, where we watched it wriggle itself about in the sand to relocate and re-cover itself).  We saw several kinds of pipefish and seahorses regularly, a few kinds of lionfish, many frogfish, catfish, blue ribbon eels, banded sea snakes, a variety of eels.  Both green and hawksbill turtles were often seen.
There was one excellent drift dive with schooling barracuda, snappers, large coral heads, blue spotted rays, puffers.
The accommodations were comfortable (AC in the bedrooms, private bath-shower of a good size), the grounds were beautiful, although limited in size, very well maintained, and there was a small attractive fresh water swimming pool with a  waterfall.  The food was good to very good.  
The dive shop large, good sized cubbies for each diver, good fills of air or nitrox (and tri-mix if anyone wanted or needed it).
A marine biologist is on staff and gave informative talks a couple of times a week and was always available to provide information and discussion.  8 divemasters and 8 diveboat staff were available from about 7 a.m. to 8 p.m.
The boat pier was MARVELOUS for creatures and  soft coral living packed together on the support pillars of the pier and in the sand living cheek by jowl.
The administrative aspect at Atlantis Dumaguete was disorganized, although ultimately it worked in our favor.
If you are looking for current and large fish life,   more variety in your dive choices and more dive sites,   you may be better off at Atlantis Puerto Galera,  about 2-3 hours  drive south of Manila, although it is even more poorly managed, very crowded,  and doesn't offer the ratio of divemaster to divers that we had at Dumaguete (4:1,  3:1,  2:1  even  1:1).  There isn't much to do at Dumaguete apart from diving.  At Puerto Galera,  there is a lot of action and night life,  rental motocycles, in addition to diving.   But a diver described their dive boats as "cattle boats".
Written by Roberta Finke, New York.