BEACH DIVING IN NEW ZEALAND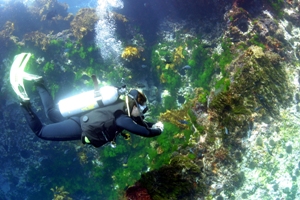 Alex and AnnaR and I planned to go for a dive today.  Nothing super special as I wanted to make sure that my ears were okay because I am teaching tomorrow.  The doctor had told me that I would be able to dive at Easter and I have been counting down the days.
We had planned to go out yesterday and what an amazing day yesterday was.  With the long weekend (and some courses on), there was a little shortage of tanks so moved it to today.  When I woke up this morning I thought that the weather wasnt looking all that fabulous but it turned out to be really only a few spits of rain.
We packed up our gear and headed up to Matheson Bay.  The traffic coming into Matakana was horrendous but expected.  We were very patient and finally cruised through the town.  Coming down the hill to Matheson Bay, we were rewarded for our patience.  No wind, no waves … no people!!!
We got geared up and headed out.  The plan was to drop down before the channel and head around the right side of the island and see how far around we would get.  I took my camera and wanted to check out the video capability of the DX-1200HD and the girls were just quite happy to cruise at my place.  We dropped down in about 3m - I could see Alex had her eyes on me the whole time and I signalled that my ears were fine and I could equalise great.  We were team diving and just looking for things.  Matheson Bay is in no way the barren sandy corner that some people believe it to be.
There were many brittle stars out as well as hiwihiwi, blue eyed triplefins and goatfish.
We came up on a small group of goatfish - mainly juveniles but two or three larger fish.  The larger fish were in their night colours - pink and purple - whereas the juveniles were white and yellow.  There were a couple of small snapper and only two clown nudibranchs.
As we were cruising around the island, I took video. I'm pleasantly surprised that you dont hear my regulator as much as with other video.
Alex was not feeling all that great - she was a little congested and having problems with her ears combined with needing to pee so she ascended and headed back in at about the 50min mark.

Anna and I decided that we would continue around to the back of the island so we dropped back down and continued on.

The back of the island has some very cool rock formations and you can get a little more depth (even with the low low tide).  We played in the channels for a while making more video and taking some more photographs.
We checked our air and decided to head back the way we came.  I checked my compass and we headed off.  Anna and I lost each other but we were so shallow that it wasnt a problem.

I almost swam right through the middle of a rescue course and finally when I was basically snorkelling I decided to stand up.
I checked my computer - the short shallow dive turned into a 110min dive! A great day out for my first dive in nearly a month!
Written by Tara Sutherland, New Zealand. Photo Credit: Nino Neuboeck.