BIKINI DIVING IN JAMAICA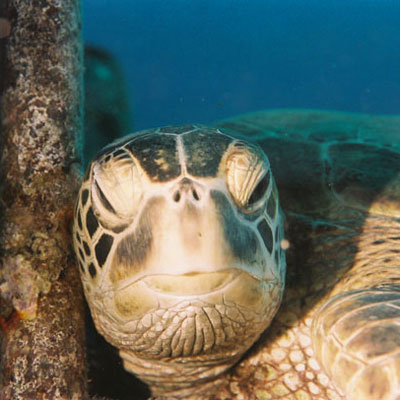 No, I'm not talking about diving the Bikini Islands, I'm talking about diving IN a bikini. I always thought, no, I'd never do that. I always professed that I would not dive without protection from the elements, whether they were cold, creature or crevice (by that I mean rough surfaces, but I was going for the alliteration). And then I went to Jamaica.
It's funny, I don't know if it was being in Jamaica where everything is "Irie" and "no problem, mon" or if it was being on Honeymoon, but there I was, boarding the boat with a BC I'd barely tried on (!) to go diving with....err.... a few people I'd never met before.... with a camera I'd never used before.... to a place they called Couples Caverns. Now, I not only LOVE cavern diving, but I am actually a certified cave diver, so I was really looking forward to the dive, but everyone else in the boat had just received their Resort Course training that morning and had never dove before. Eh? I thought, we were only going to 30 feet (so they said) and I'm sure these guys (the divemasters) do this all the time. I spit in my mask and did my giant stride.
What's funny, is that it didn't occur to me until several DAYS later that I'd been diving in just a bikini. Ok, in all fairness, I was also wearing a thin, white t-shirt, but that was just to keep the sun off my tattooed shoulders when I was swimming earlier. All I knew in the moments after I hit the water was that I WAS DIVING AGAIN. It had been over a year since my last dive, something that had never happened to me before.
Ever since I was first certified in June 2001, I had been diving at LEAST once every two months until November 2005. Then, suddenly, I developed extreme allergies and had swollen sinuses for the next 6 months until I saw an allergists who put me on the right medication. The rest of the year was taken up with wedding plans and various activities that didn't leave any time for diving. Until the Honeymoon. We had actually floated the idea of putting my new husband in the Resort Course that morning and diving together, but he decided he'd rather take his time and do it right later on. So off I went, the divemasters as my buddies, and found that 85 degree water is about the perfect temperature to completely forget that you're not wearing a wetsuit.
As it turned out, the dive site wasn't ACTUALLY caverns, just some intricate swim-thrus on a big coral head, but it was just my cup of tea. The buoyancy skills exhibited by the rest of the group, however, left something to be desired, but considering their complete lack of experience, they did pretty well. I actually expected some of the girls to chicken out and not do the swim-thrus, but they did fine with their husbands/boyfriends coaxing them along. In the end, I got a few good photos (thanks mostly to the camera being idiot-proof) and a dive I'll always remember.
Written by Erika Tucker, Portland. Photo Credit: Erika Tucker