GRENADA - THE ISLE OF SPICE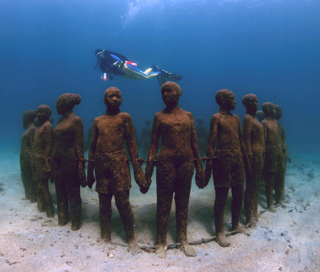 Grenada – also famed the "Isle of Spice" for its production of nutmeg, cinnamon, cloves and other - is the undiscovered beauty among the Caribbean islands, for divers anyway.

Besides the famous "Bianca C" wreck of a cruise ship for advanced divers, a dive girl also finds an interesting UW-Sculpture Exhibition and great reefs to explore. The marine life is abundant and ranges from big staff like nurse sharks, rays and many turtles to small well camouflaged critters like frog fish and seahorses.

Grenada's people are the friendliest in the Caribbean, always smiling and very helpful. Girls may safely travel around the country exploring. Very knowledgably guides are available for all kinds of interest. Besides great diving you may want to hike through lush rain forest, do some history tours or go shopping for local crafts and spices.
True Blue Bay Resort on the picturesque south coast, is Grenada's only diver dedicated resort, the dive dock just steps from your room, two pools for relaxation, boutique for great souvenir shopping, Dodgy Dock Bar & restaurant with live music and theme nights featuring West Indian style dishes. The rooms are beautifully decorated, and have balcony or terrace overlooking the bay, kitchenette, air-conditioning, ceiling fan, Telephone, TV and FREE wireless internet access.
They have a Hurricane Guarantee: If your vacation is interrupted or prevented by a named storm, you will get a full refund on all unused package features including accommodation.
Written by Gerlinde Seupel, Grenada. Photo credit: Gerlinde Seupel