LOBSTER HUNTING IN FLORIDA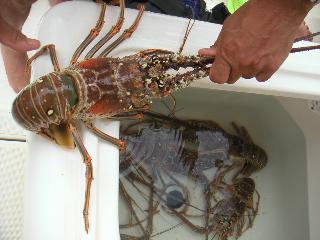 Since diving has been my passion all these years, I really couldn't wait to spend my Ocean Florida holidays, so right after getting certified, I took a "dive vacation" to South Florida.  After 3 days there, I was hooked and returned back to  busy L.A. to quit my job, pack my bags and said goodbye to the  traffic and smog.  I lived in Florida for the next 6 years and felt like everyday was a vacation.  Eventually reality hit and I returned to California and went on as many "warm water" dive trips as possible.

Three years later, I was back in Florida where the water is warm most of the year and a 7mm wetsuit is unnecessary.  I learned that some of the most beautiful and vivid reefs in the world were in 
my backyard.  Every dive was a surprise in what I would see...sharks, moray eels, huge turtles, rays, barracuda, beautiful butterfly fish and enormous jew fish, just to name a few! 
There are also wrecks to dive at all different depths and man-made reefs if you'd like.  The most rewarding dives were the ones when you'd bring up dinner!!  On this dive, my dive buddy and I took turns "playing hide and seek" with the lobster that would later be swimming in butter and lemon....yummy!  I think my dives in Florida waters from Jupiter south to Key West, were some of the best underwater experiences I've ever had.  When I'm feeling I need a little vacation in the sun, a short 5 hour flight will get me back in the Florida waters for more underwater adventures!
Written by Lisette Ruggiero, Florida/California