RETURNING TO FIJI TWICE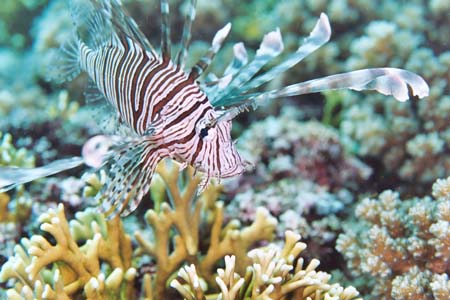 One of the only places I've been diving twice (besides California, where I lived for 11 years) is Fiji. When I went the first time, I considered it a "once in a lifetime" thing, and had the most amazing time. I was in the middle of a divorce from my first husband, and I went on the trip with a girlfriend and a group of friends from my local dive shop, including my SCUBA instructor.
I was already an instructor myself, and was giving an Advanced class to my girlfriend on the trip. We had so much fun, and enjoyed it so immensely, that when a trip 2 years later that was supposed to go to Thailand fell through (tsunami anyone?) and we were re-routed to Fiji, I was not complaining. So my "once in a lifetime" trip was going to be twice.
Anyone hear 3 times? I wouldn't mind. Of the four islands and 3 resorts I've been to, I would be hard pressed to pick a favorite. Vanua Levu and the Koro Sun Resort where I was in 02 was the most spectacular place I'd ever been at the time. That left me with high expectations…
Written by Erika Tucker, Portland. Photo Credit: Erika Tucker