LEARNING SOMETING NEW LATER IN LIFE AND BECOMING A DIVEMASTER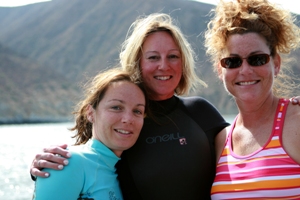 It's hard for me to believe that just shy of two years from getting certified for my open water, I became a certified Divemaster. I am really proud of my accomplishment, being a little older than most of the other candidates I had some physical obstacles to overcome as well as the fact that I really haven't studied Physics or Physiology since school many years ago (Not that I was that interested in it then).  
The last test I took that mattered was probably 20 plus years ago.
Originally, I talked my boyfriend into taking SCUBA lessons. We were taking lots of trips to Hawaii and the Mexican Rivera. Seeing the divers down below while snorkeling was making me jealous. He was actually pretty apprehensive at first, but not for long. Both of us were hooked. The opportunity for exotic travel that includes diving is abundant, and I have loved every adventure.
Immediately I started taking advanced courses one by one. Then I took more specialty classes which I loved. I didn't really start out in the direction of Divemaster, but a persuasive PADI Course Director helped me decide that I should pursue it.  Working on weekends in the dive shop helped me learn a lot about the business and marketing side of diving.
Having a sales background made that really fun for me. I enjoy helping the instructors with their classes including rescue, advanced and open water. It is interesting to see each instructors own way of teaching, but they all share the same basic philosophy and the same end result; safe confident divers. 
I am really pleased to now be a part of that. It has been a rewarding experience all around.
Written by Lisa Jover, California. Photo Credit: Steve Hull