CYPRUS - PICTURE POSTCARD ISLAND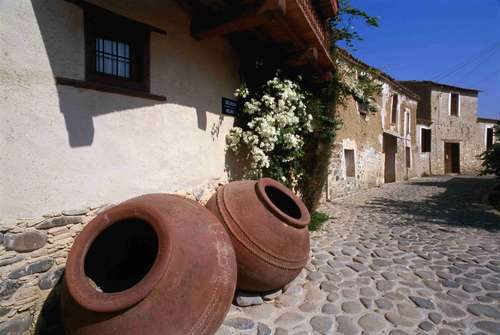 Most people, especially when they come from a landlocked country, like myself, will sight with satisfaction as soon as they arrive on an island and see palm trees –at last I am on a holiday!
And when the exit is signed 'exodos' it is absolutely sure that some exceptional place has been reached.
This feeling of exceptionality is further increased when I sit in the rented car for the first time and notice there is no steering wheel. A bit embarrassed and alarmed I move to the other side and within a relatively short time I get used to not opening the window when changing gears and firmly sticking to the side where at home a policeman would ban me from driving.
Cities, of course, are like cities everywhere –cars, traffic and familiar shops. Yet, in Cyprus, they have retained much of the past.
In the capital, Nicosia, for example, the public transport does not quite work. Buses run, only not too regularly, but in return, fares are reasonable. No underground trains or trams, and rumor has it that it will remain so for a while.
By noon every day it is boiling hot and the streets become empty. Only tourist wonder around persistently. Now, the empty city takes us back into another century. No doubt, these houses have been here for a long time, standing exactly as they stand now.
Despite the absence of people, they do not seem dead, rather as if they were preparing for the evening. Indeed, when it cools down, the city fills with life.
Everyone is out on the streets. People occupy the benches as well as the bonnets of parked cars, while those in the know have their own chairs in front of their houses.
The next day, when I get in the car again, a little bit more daringly, and leave the city behind, I suddenly find myself surrounded by picture postcard scenes.
By the roadside there are oleanders and cypresses. Small churches greet me at every turn.
As the curving way reaches a steep rise, the car gets obstinate. I show mercy, get out, and continue on foot. Mountains surround me, the silence becomes palpable and the expression "not a soul in sight" receives a new meaning.  As an over-civilized urban person, I am almost embarrassed. I have not seen such beauty for a long time.
As I continue on my way in the car, the picture perfect scenes follow one another.
Hearing Cyprus's Name, almost everybody pictures the classic beach vacation. Sunshine, blue sky, white sandy beaches. "Oh, how nice it is!" –however, Aphrodite's playground has so much more to offer.
The island provides the perfect escape for active vacationers all-year-round.
Due to its special climate and seas, Cyprus has a constant water temperature between 16 to 28 °C, and its 600 km long stretch of  beach is one of the cleanest ones in the European Union.
Finally, it is time for diving.
Numerous dive sites and trips are available around Cyprus, ranging from a full-day trip to the wreck of the Zenobia to many exciting smaller shore and boat dives around the Paphos coast.
Rated one of the ten best wreck dives in the world, the Zenobia is a real treat for the experienced diver. A Swedish Ro-Ro ferry of 172m which sank in 1980, she lies on her port side with 108 articulated lorries intact on the lorry deck. The seabed is at 42m and the highest point is at 16m.

With a visibility up to 50 m, Zenobia is an exciting dive that will guarantee you the adrenaline rush.
As soon as you put your face underwater you will be breathless and the sheer size of the wreck will entice you.

I can not believe how quick time passes when one is on vacation. After a few days of diving, partying and driving around, it is already time to return home.

I will miss Cyprus.
Written by Anna Nagy and Csilla Gogh, Hungary.