Adventures with Miss Scuba throughout Asia - Part 1: Hong Kong
One month journey through Asia with destination Similan Islands. Start our trip in Hong Kong, where East meet West to ease into our Vietnam and Thailand trecking and diving trip spiced up with local markets, cooking classes, temple visits and massages.
Traveling through Asia is my favorite thing to do as I love the people, the culture and the food, not to mention the Thai massages. I also realized over the years that getting used to Asia can take some time for those less traveled, so decided to ease Hilaire into this one month long journey through Asia with Hong Kong.

Hong Kong to me doesn't really feel like Asia just yet. It is not hot and humid and the city center is swamped with designer stores. I would not know that I left Europe or the US if it was not for the faces looking back at me.

I love Hong Kong. Getting around the city via the metro system is easy for even those who visiting for the first time. The signs are clear and at every corner someone points you to the right direction. We purchased an Octopus card that gave us three day unlimited travel and airport transfers (also via metro). Once the three days are up, we can put more money in the card and use it for further travel as well as in stores to pay with just a touch to a magnetic board. A cool thing about this card is that as you stroll through the city, you find stations that give you 2 HKG$ credit for walking!

Once on the streets however navigating was a bit trickier. I followed the map while Hilaire navigated with the compass (Only guys will think of bringing a compass, but it came handy) and it still took us a few rounds to locate places we were aiming for.

Travel books recommended not to miss dim sum in downtown Kowloon, so we made sure to follow the advice. The restaurant was on the second floor of a fancy hotel (can't remember the Name) behind the Peninsula Hotel. No signs outside. It felt like attending a secret event. We started our meal with jasmine tea and tofu snacks. Being vegetarian (well, most of the time) I was afraid to stay hungry after our luncheon, but the menu listed several meals with vegies only. Hilaire indulged in the duck, pig and beef dumplings while I enjoyed spinach, corn and carrot rolls.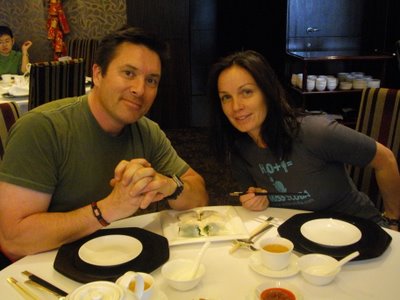 The nice thing about dim sum is that after eating it I still have energy and will to explore the neighborhood.
Next, we visited the local markets...
Exploring Street Markets and Happy Hours in Hong Kong with Miss Scuba
One of the things that I am most shocked about is the fact that a few blocks apart from one another you can buy the authentic Gucci, Chanel, Tory Burch, Armani, Dolce & Gabbana, Coach... pretty much anything you desire and a few blocks away you find the exact copy of these trademarked goodies for the fraction of the price department store labels advertise. Every year the trend is slightly shifted compare to the previous season. This year the biggest sellers are the Tory Burch and Marc Jacobs purses on the "Ladies Market".

Unlike most street markets around the world where I always feel the need of covering my pockets and hiding my valuables, in Hong Kong not once did I see or experienced pick pocketers or any sort of molestation of travelers.

Hong Kong puts out more street markets than any other part of Asia. It offers bird market, flower market, night market, ladies market and a huge electronic market just to name a few.

I found most exhilarating the bargaining. As a general rule, if they offer the good I want for 400, I will say 100. Then the seller will shake her head and I walk away. Than she she say: OK, give you discount, 380.
I say 120, she say 350, I say 150. She say: Can not.
I walk away. She say: OK, 320. Last price. I say 160.
In the end I can probably buy it for 200. So, whatever they ask for, you can pretty much get if for half of that.
We ended up buying four purses "made by" Marc Jacobs and Tory Burch for my girlfriends, some Bruce Lee t-shirts for Hilliar's guy friends, a cute pair of leather shoes for me for less than US$100. I have to say I easily could have spent another $200, but restrained myself knowing that we are still going to Vietnam and Thailand where I most likely will find even better deals.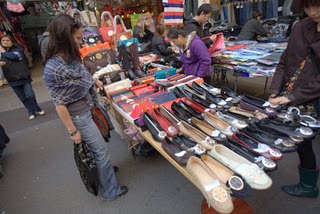 After bargain hunting we took the metro back to Hong Kong and bar hopped during happy hour (4-8pm). My favorite was a corner bar where everyone was sitting outside on the steps while drinking (in my opinion still pretty pricey) cocktails and beers while people watching. This spot is right where in rush hour well dressed locals and tons of tourist go up and down the escalator/steps. I loved checking out the thousands of by passer woman walking uphill in well polished high heal leather shoes and the man all wearing tailored slacks and jackets. Hong Kong reminds me more of London than Asia.

This week the Tandori Chicken Pizza was special of the week, which fast became my new favorite flavor.
Pizza Special: HKG$98 (US$12)
Beer Special HKG$48 (US$7)

10 most remarkable thing about Hong Kong
I have not seen any women drivers in five days. Wonder why?
Escalators go through the city with steps next. In the morning they are going down (and people walking up) and the afternoon the escalator takes people up while others walk down. Very efficient!
Octopus card: use one card to travel the metro system and as a debit card to pay at shops. Bonus: get extra points for walking!
Tailored suits are ready in a day! Pick out the fabric, style. Get measured and a have a custom suit ready the next day at a reasonable price.
Dim Sum. Wherever you eat in Hong Kong, you can not go wrong.
No napkins are provided in restaurants and most public bathrooms. Wonder why?
There is absolutely no graffiti, cigarette butts or stickers can be found anywhere. I was tempted to mark the city with www.miss-scuba.com stickers, but Hilaire made sure I did not have the Hong Kong policy hunt me down.
People love fashion and shoes. Wearing polished leather shoes are essential stylish street wear.
Find authentic Prada bags for thousands in the stores or pick a copy for 20 bucks a few blocks away at the Ladies Market.
Polite people. Everybody in Hong Kong was helpful and nobody cut lines. First time in my life, I felt compelled to stay in line to wait for my turn as well.

Next on the way to our final destination, getting on a liveaboard with friends to the Similan Islands in Thailand, camera operator Hilaire Brosio and Miss Scuba will stop in Hanoi, Vietnam. Follow their adventures here
Written by Szilvia Gogh, California. Photo Credit: Szilvia Gogh