FEMALE DIVERS HALL OF FAME 2009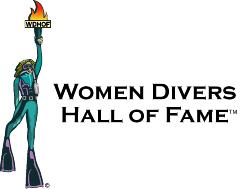 The Women Divers Hall of Fame has announced the addition of 10 New Members for their 10th Anniversary year in 2010.
The Women Divers Hall of Fame (WDHOF), the non profit organization whose members are the most accomplished and renowned women divers in the world, has just selected ten new Members:

• Jane Bowman, advanced cave diver, trainer & examiner, tech diver;
• Sheri Daye, accomplished scuba diver, freediver and spearfisher;
• Annie Crawley, filmmaker, motivational speaker, photographer and writer;
• Joan Forsberg, shipwreck diver & researcher; underwater archaeologist;
• Deb Greenhalgh, undersea engineer, instructor, author;
• Anne Davis Hasson, co-founder of the Aggressor Fleet;
• Diane Scullion Littler, Ph.D., research associate & senior scientist; authority on tropical-marine botany;
• Chief Petty Officer Roseanne Oliveros, US Navy underwater construction technician (SeaBee) diver;
• Faith Ortins, developed the first women's drysuits, now leads DUI's sales team worldwide;
• Leslie Rochat, founder of AfriOceans Conservation Alliance, established the SOS Shark Centre in South Africa, documentary producer and environmental journalist.
Jane Bowman
Of the 8000 dives Jane has made, 2000 have been in caves. One of Australia's leading female cave divers and instructors, Jane's diving highlights include diving in Mexico, Florida, the Nullarbor Cave systems (in central Australian desert), Palau, Vanuatu and too many other exotic dive destinations to list. Jane has issued 4000 diving certifications through PADI and the Cave Divers Association of Australia (CDAA), many at the upper limit of Australian cave diver training. Jane is the current Standards Director for the CDAA, the first woman to hold this challenging position since the association officially formed in 1974.

Sheri Daye
Sheri is an accomplished scuba diver, freediver, and spearfisher. She is trimix certified with many dives to 250 feet. She has been a Freedive Spearfishing National Champion and has over a dozen world record fish to her name. Sheri is the host of "Speargun Hunter" on Outdoor Channel, bringing the sport to millions of viewers. She teaches spearfishing with an emphasis on safety and selectivity, and she organizes "The Blue Wild Spearfishing Expo" -- an annual event with proceeds to charity. Sheri is a corporate manager with a mechanical engineering degree and an MBA. She promotes "Dive Flag Awareness" and "Freediver Blackout Education".
Annie Crawley
Annie Crawley is a filmmaker, motivational speaker, photographer and writer, as well as Master Scuba Diving Instructor and USCG (United States Coast Guard) 100-ton boat captain! She created the company, Dive Into Your Imagination, and has launched a series of illustrated books and DVDs to entertain, educate, and awe children and their parents about life within our ocean. Annie launched www.DiveIntoYourImagination.com creating an online community to educate and entertain all ages about our Ocean. Annie has worked throughout the world for nearly two decades; her work has been published and broadcast worldwide.

Joan Forsberg
Joan Forsberg has spent much of her life exploring and researching shipwrecks, and promoting shipwreck diving through public speaking, articles, books, and underwater videography. She was the very first woman to be published in the international Wreck Diving Magazine, for which she now works as Copy Editor. Re-elected to an unprecedented third term as President of the Underwater Archaeological Society of Chicago, she has spearheaded research and/or survey work on over 35 shipwrecks, plus 16 shipwrecks in Hawaii and the US coasts. Joan is one of the first women to have successfully completed formal training in underwater archaeology from Great Britain's Nautical Archaeology Society (NAS), as well as becoming an NAS tutor's assistant.

Deb Greenhalgh
Founder of Scuba Made Easy LLC NAUI Training Facility and NAUI Course Director and Instructor (NITROX, International Handicap Scuba Association and National Instructors Association of Divers with Disabilities), Deb is dedicated to teaching SCUBA to the general public, municipalities, scientific divers, and disabled/adaptive divers. As a Program Manager for the US Department of Defense she leads an international technical team producing products and systems for the US Military. She is a WDHOF Trustee and a NAUI Board of Director, Executive Board officer and Awards Committee Chairman.

Anne Davis Hasson
Anne Davis Hasson is co-Founder of Aggressor Fleet – an international live-aboard dive yacht company. Anne and her husband Wayne Hasson are the modern architects of the luxury live-aboard that began in 1984 with the launching of the Cayman Aggressor. Anne is responsible for Marketing and Sales at Aggressor Fleet and has spearheaded many innovative programs to keep divers diving, accommodating more than 100,000 divers and their children on Aggressor Fleet yachts. Aggressor Fleet has vessels at 11 dive destinations including Cayman, Belize, Turks & Caicos, Utila, Dominican Republic, Kona, Cocos Island, Galapagos, Fiji, Palau and
the Maldives.

Diane Scullion Littler, Ph.D.
Diane Littler is a Research Associate in the Department of Botany at the Smithsonian Institution's National Museum of Natural History and also Adjunct Senior Scientist at Harbor Branch Oceanographic Institute at Florida Atlantic University. She is a respected authority on marine biology, especially tropical-marine botany. Current research focuses on relative dominance theory, functional morphology, and complex top-down (predation) vs. bottom-up (eutrophication) interactions in coral-reef systems. Other active research includes: monographic and phylogenetic systematics; seaweed experimental taxonomy; biodiversity, ecology, and conservation of tropical marine ecosystems.

Chief Petty Officer Roseanne Oliveros
Chief Roseanne Oliveros became the third woman SeaBee to graduate from Second Class Dive School in April 2000. She also attended First Class Dive School in 2004 and graduated as the Honor Grad. From there she went on to be the first and only enlisted woman in the US Navy to become the Officer in Charge (OIC) of a Diving Detachment in May 2009 and lead her 15 man team
through a grueling 6 month deployment to the Pacific Fleet. She has also volunteered twice to deploy for six months to Iraq in
2003 and 2007.

Faith Ortins
Faith has spent her life educating people about diving through her love and enthusiasm for the ocean. Whether as a biology teacher, Dive Master, dive store retailer, charter operator, equipment manufacturer and distributor, she inspires people and instills in them a passion for local diving. Twenty years ago she worked with DUI to develop the first women's drysuits and now leads DUI's Sales Team worldwide. She created the DUI DOG Rally and Demo Tour Program which promotes local diving facilities across the US, teaming dive retailers together while divers test dive DUI products. Certified in 1979, she has over 2500 divers including 700 technical dives.

Lesley Rochat
Lesley Rochat, founder of AfriOceans Conservation Alliance, established the SOS Shark Centre in South Africa, and is director of media productions at the Shark Research Institute. She is responsible for the M-Sea Programme, which involves the satellite tagging and releasing of sharks from the Two Oceans Aquarium. Equipped with a diverse range of skills, this award-winning documentary producer is also the creative director of educational and awareness initiatives, including the development of campaigns such as the award winning Rethink the Shark campaign. She is also a well-published environmental journalist, underwater photographer, and authored educational and children's books about the oceans.

For more information about the Women Divers Hall of Fame and for 2011 membership application information, log on to the www.wdhof.org website.
WDHOF Members are the leaders, pioneers and record-setting champions in every sector of the diving community, including arts, science, deep sea exploration, marine archeology, medicine, free diving, equipment technology, cave diving, wreck diving, military diving, commercial diving, media, training and education, and business.