The Greatest South Africa Adventure You Can Imagine ...continued
If you want to catch up with my adventures up to this point, read about the scuba dives and safaris we did on the East Coast of South Africa.
After two days of safaris in Ubizane we were ready to jump into the water.  We flew across the country to Cape Town for an opportunity to dive with Great White Sharks.  I love nothing more than sharks and was thrilled to be getting into the water with these magnificent creatures. During our stay in Gansbaai, we were hosted by Saxon Lodge, the logical choice for shark diving enthusiasts. The owners, Caron & Dave go out of their ways to ensure the guests enjoy their stay with them. Caron is a great cook and both are enthusiastic and willing to stay up late and chat with their guests over home cooked dinner.
  Shark Diving Unlimited is situated in the Great White Shark capital of the world,
Gansbaai, only 2 hours from South Africa's mother city, Cape Town.
We signed the waivers and boarded a 12 meter (40 feet) vessel with our 23 fellow adrenalin junkies and 6 crew. Most of these individuals were not only not divers, but had never been on a boat in their life before.
A cage with seven slots awaited us on the port side of the vessel. Seven people were loaded into their slots and at the command of the crew all had to take a deep breath and pull themselves down to look at the sharks passing by.  We had about five submersions before it was time to rotate and get in the next group.  The visibility was about 3 feet, but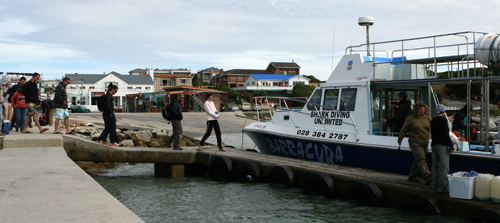 I managed to get one decent shot of a shark swimming at arms-length away from me. I ended up taking my GoPro into the cage as my big camera with the housing would not have had enough space.
This two hour experience, in my mind, was designed for those who are not divers but have "swimming with great white sharks" on their "bucket list."
Just as soon as we returned to the hotel after our shark encounter, our driver picked us up and we took a two hour trip back to Cape Town. Here we stayed for another two nights.  It gave us an opportunity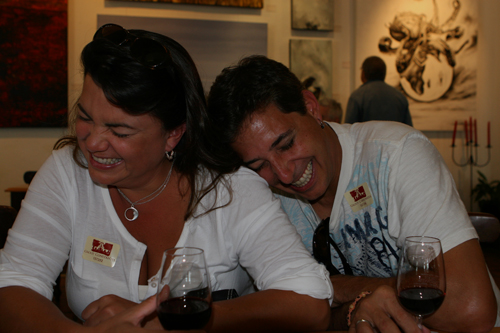 to tour the peninsula and take pictures of the Cape Agulhas lighthouse, the southern most tip of Africa. We rode the cable car to the top of Table Mountain in the morning, photographed outrageous Baboons stealing tourists' backpacks in the afternoon and ended our day in the oldest vineyard in South Africa, Groot Constantia.  South Africa's very own wine, the Pinotage, was the favorite amongst our group. It is a cross between Pinot Noir and Hermitage.  This red wine had a smoky, bramble and earthy flavor mixed with tropical fruit.  It proved to be a successful mixture of smoothness and flavor. Apparently this blend is not commonly sold in the U.S; so we ended up buying a couple of bottles and schlepped it back with us. 
During our stay in Cape Town we found our urban sanctuary at the Welgelegen Guest House. I loved the tasteful décor of the rooms, terrace and the lobby.  Staying in this Bed & Breakfast felt more like visiting a friend rather than staying in a hotel.  The omelets and the spread of salamis,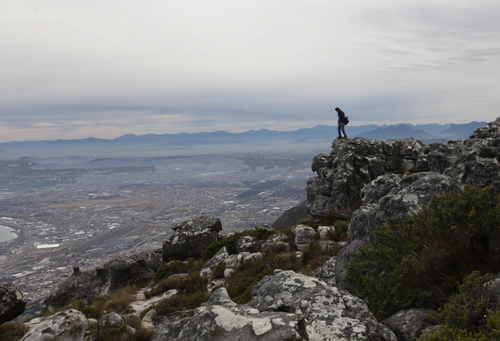 cheeses, avocado and locally grown fruits were a healthy and tasty way to fuel up for our day in the mornings.
 The Cape Town Boutique Hotel is well situated and is located within a short walk to some of Cape Towns best local restaurants, bars and museums.
A few days later I was happy to head back to the East Coast, the more "African Side" of the country in my mind. I loved Cape Town, but it felt more European than African to me. We flew to Nelspruit near the Kruger National Park and continued our journey with more safaris.
Our first stop was the Tanamera Lodge.  Tanamera Lodge has been designed to maximize the spectacular views of the Sabie River Valley and to provide privacy and solitude.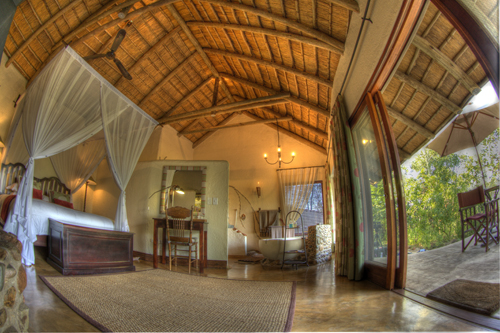 This place is truly one of a kind. It offers seven luxurious chalets, all with their own secluded deck.  I fell in love with the en-suite stone bath with the garden view and opted to take a warm bubble bath in the afternoon while listening lounge music, reading my book and sipping a chilled cocktail. Life could not have been any better at that very moment.
The experience of an afternoon drink in the lobby while watching the sunset was indescribable.  Sitting at the terrace I had the most amazing view of the valley below over the infinity pool.  The forest was colored with every shade of green. The river that surges through the valley runs rapidly, thanks to the large amount of rain they had the past months.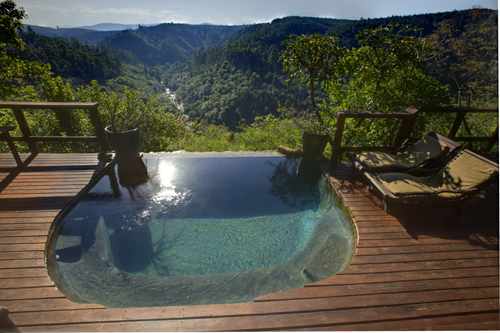 Tanamera (place of the red earth) was my ideal destination to find peace and unite with nature.  I have to say, all in all, this was the nicest hotel I have stayed in my whole life.  I felt I moved into a place from the most luxurious travel magazine.
We took a short drive the next morning and relocated to Plains Camp with Rhino Walking Safari, inside the Kruger National Park.
It would be hard to imagine a visit to South Africa without a stop to the oldest and best known national park, the Kruger.  One thing I really wanted to do during this trip was to see the Big Five. Big Five refers to five of Africa's greatest wild animals - lion, leopard, elephant, buffalo and rhino. This was the place to do it. 
The Kruger was everything I imagined it would be. We drove around the yellow savanna with our guide Bernard Nhlagan. He felt our best chance to see lions would be by the water hole, so we headed that way.  The first water hole we came upon was crowded with elephants. They were drinking and playfully spritzing one another with water.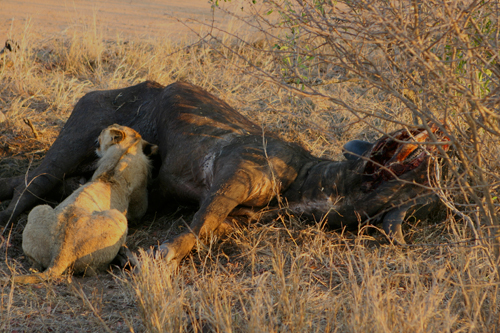 There was an elephant baby, (maybe four days old according to Bernard,) who tried to reach into the water hole, but kept falling on his knees.  He looked incredibly cute trying.
A little while later we saw a lion drinking at another water hole from a distance. We snuck up slowly and as quietly as we could.  Before long we discovered that they caught a buffalo. The big cats have been snacking on it since the morning.  The inside of the buffalo was almost completely gone and all seven lion's faces were greasy, unlike their well groomed zoo counterparts.  Their bellies were so stuffed, they looked pregnant.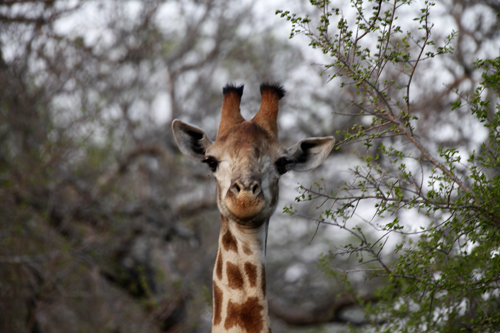 I do not know why, but I found the giraffes fascinating in particular. They look soclumsy but adorable at the same time. A giraffe has a 45 cm / 1.5 feet tongue, so it can lick its own nose.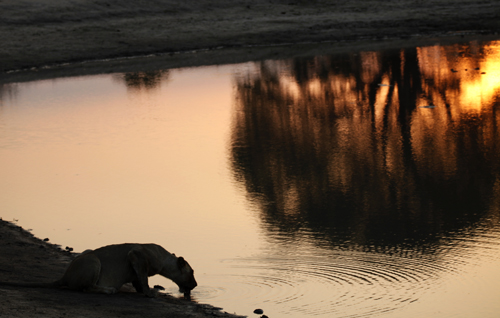 The afternoon shifted into sunset and before long our evening drive became a sensory overload.  I could not decide on what to take a picture of; the lions drinking in the pink sunset by the tree, the elephant family walking by the lake in a straight line, the half-eaten buffalo with lions' legs hanging out from it or the hyenas waiting for their turn a short distance away.  I stopped taking pictures and just soaked in my surroundings.  I will always remember that night. It was an insanely cool experience, like we were part of an adventure movie.
The next morning we woke at 5am and took off for a walking safari.  We saw piles of all sorts of animal dung. Bernard identified each enthusiastically after a quick examination.  We watched birds, saw more lions and zebras. Locals called zebras "pajama donkeys." I loved it.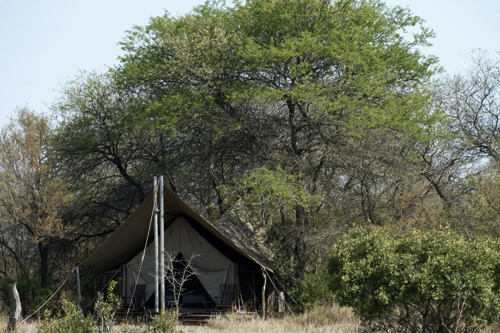 The air got rather hot by 9am, so we were happy to lounge in the shade, for the rest of the day, until it was time to head out to the bush for our "sleep out." It started off as a regular night in the park next to a water hole, but turned into a mission.

There was no water left in the watering hole, so we had to turn the generators on to replenish it.  The place was crowded with confused thirsty elephants, rhinos and buffalos.  The animals were looking at us suspiciously and quickly formed a protective circle around their youth as we got out of the jeep and approached them.  The elephants were waving their ears, turning their heads. They were confused about what was going on, so Bernard talked to them (in elephant language) and they calmed down.  They seemed to approve our activity and gave us permission to come closer. Bernard turned the generator on while we were following his footsteps very closely. It was magical to watch them relax as the minutes passed. We spent the next twenty minutes to take the most amazing up-close photos of the buffalos, elephants and giraffes now only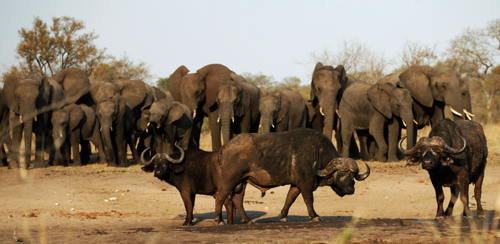 a few steps away from us. Bernard kept a 360 degree watch around us making sure the animals stayed at a safe distance. Well, to be honest, if the 100 or so wild creatures wanted to crush the ten of us, they could have done it easily. It seemed to me they were curious to figure out what were we doing there. But as soon as the water started to flow, they lost interest in us.  
While we were snapping photos, the crew prepared an outside dinner for us. We had a Bri (BBQ) for dinner with sausage, potato paste and salad.  The smoky wild meat had an unparalleled flavor to it that the fresh greens complemented perfectly.  We ate on the top of our tree in a designated communal dining area. We drank white wine and chatted around the fire for hours.
We ended the night stargazing from our tree house - 30 feet high with a see through top. The sky looked like a piece of black velvet covered with shiny diamonds. I have never seen so many stars before. The night was warm and humid. Throughout the night we heard all sorts of animals walking by, insects buzzing and birds fighting.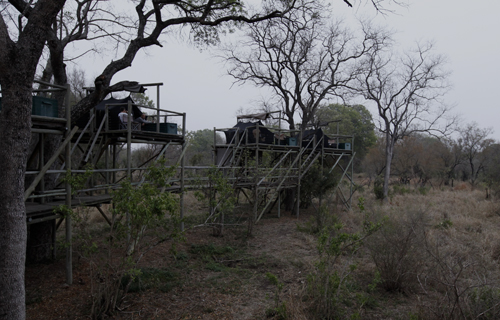 The next morning Mother Nature woke up at 5am, so did we.  After a cup of tea on our tree house balcony we drove back to base camp.  Rhino Walking Safari's Base provides a barefoot luxury in this exclusive sanctuary.  The camp offers a unique mix of rustic and luxury elements, thus providing an underlying sense of bonding with nature.
On our way to exiting the national park the next morning (heading to the airport for our flight home), we came across four beautifully groomed lions lounging in the bush. We ended up staying there for 30 minutes taking pictures as Bernard said they were about to mate.  We did not want to miss that photo opportunity, but apparently they weren't quite ready.  Regardless, it was a beautiful scene. As the sun was crawling up behind them, the lighting was picture perfect.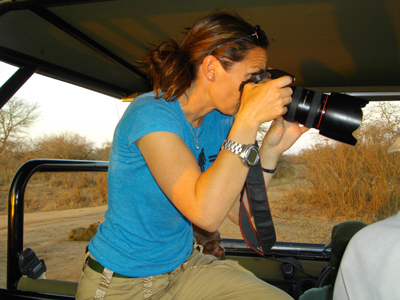 I can't believe almost a month was gone since we left home.  I missed Los Angeles and not at the same time.  I was ready to sleep in my own bed, wear my clean clothes as wearing the 4 t-shirts I brought were getting really dirty and boring. Yet I felt there was so much more to explore and experience in Africa.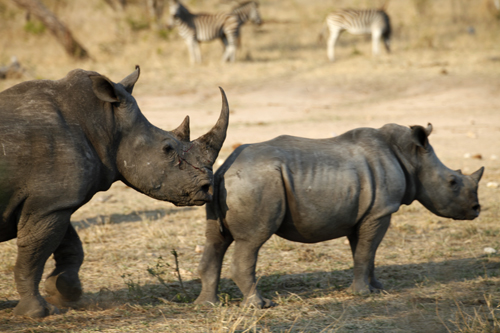 The amount of activities and providers in South Africa were overwhelming. I suggest everyone planning on visiting the region to do a lot of research prior to their trip as there is only so much one can fit into one vacation. Our journey was put together by Sonja at Africa Tour. She did a great job at picking out the highlights of each region. Mixing wilderness and convenience, city and safari, scuba and land based activities.
As they say, Africa bit me. I know that I will revisit the red earth covered friendly continent. Until then, I compiled a list of my favorites from this trip that I want to share with you. Hope it helps you plan your trip ;-)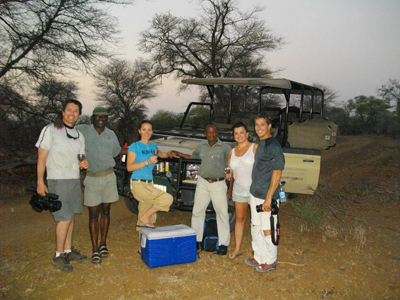 My Best Experience: Drives with Bernard in the Kruger National park
My Best Place to Stay: It is a tie between two places. When it comes to the "Africa Experience: Rhino Safari, as for Luxury: Tanamera
My Best Dive Spot: Rocktail Bay
My Best Dining Experience: Ubizane
Resources to the places we visited:
Sonja Newlands, our travel coordinator at Africa Tour www.africatour.co.za
Umkomaas Guest House www.umkomaasguesthouse.com
Blue Vision Dive Center www.bluevision.co.za     
African Dive Adventures www.africandiveadventures.co.za
Sodwana Bay Lodge www.sodwanabaylodge.com
Mokarran Dive Charters www.mokarrandivecharters.com
Ubizane Tree Lodge www.ubizane.co.za
Saxon Lodge www.saxonlodge.com
Shark Diving Unlimited www.sharkdivingunlimited.com
Welgelegen Guest House www.welgelegen.co.za 
Tanamera Lodge www.tanamera.co.za
Rhino Walking Safari www.isibindiafrica.co.za
We spent a magical month traveling through South Africa. Check out some photos here
Written by Szilvia Gogh, California. Photo Credit: Szilvia Gogh