WINTER ESCAPE TO ASIA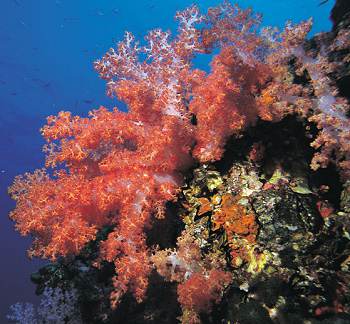 Winter has its charm –for example, we can fly into summer. There is nothing like leaving the snow and rain on a Friday night and arrive into sunshine the next morning.
This coming November will be my fifth time returning to Asia. I normally fly into Bangkok, Thailand. It is a magical place. This exotic destination is made even more attractive by sunshine and sea, as well as countless sights and cultural events.
I dove the Andaman Sea countless times, and the last time I was there I had an opportunity to visit Thailand's Favorite National Marine Park, the Similan Islands.
Comprising nine granite islands covered in tropical jungle, washed by a clear blue tropical ocean and blessed with fine beaches, the Similan Islands provide the most beautiful and diverse dive destination in Thailand. I used several dive companies over the years. My favorites are: Dive Asia, White and Blue, Princess Divers and Hippo Divers. I can recommend them all.
It takes a while to get there. From Phuket, it is about 100km. Therefore all the dives are done from liveaboard boats.
The eastern fringes of the islands feature pretty hard coral gardens in the shallows and sloping reef banks down to thirty meters. At some dive sites such as East of Eden, large coral heads rise from the sea bed and are blanketed with soft corals, fan corals, and swarms of smaller tropical fish. East coast Similan Islands diving is relatively easy-going, allowing plenty of time to explore the sites at your own leisurely pace.
The western side of the Similans along with the north and south points can offer more exciting diving as currents swirl around huge sunken granite boulders, which form a series of arches, tunnels and swim-throughs at sites such as Christmas Point and Elephant Head Rock.
Growing on, and between, these enormous rocks you find a tapestry of colorful soft corals. In the channels between the boulders, sea fans can grow to some three meters across, and in such numbers that you cannot possibly swim through. The contrast between the east and west coasts and the variety of underwater topography is one of the reasons the Similan Islands are so popular - every dive offers you something different.
There is plenty to do in Thailand aside from the diving. In November wild sunflowers bloom in Mae Hong Son province, Thailand's biggest elephant show is held in Surin province and the Festival of the Lights, representing one of the oldest traditions in the kingdom, is also celebrated in the month.
Thailand, the Land of Smiles, holds the promise of exotic adventures in beautiful natural settings.     
Written by Rita Grayson, Montenegro.