How did an un-operational sub benefitted me in the long run and made me want to become an Underwater Explorer?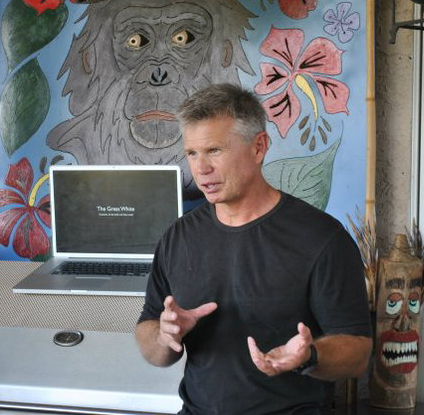 Last October I received an email from a diver I met one day in Laguna. She sent me this link to a contest for high school students. The contest? Write a three page essay on something I would like to study for one week in the water around Catalina. I decided to do it. Why not? What did I have to lose? Spending a week in Catalina and not in school sounded good to me! Moreover, I would get to spend time with some top scientists and researchers, and get to dive in a submersible.  
One of the researchers was a guy who is president of the non-profit organization Undersea Voyager Project. His name is Scott Cassell.  Having no idea who he was I looked him up. Come to find out he was an underwater/wildlife filmmaker, undersea explorer, a sub pilot,  has been featured on Animal Planet, Discovery Channel, History Channel and much more. Sounded like a fun person to meet. I sent in my essay on the disphotic zone, or the point in the water column where light starts to fade.  I was one of the eight winners.

I always knew that I would want to do something with the ocean, but I thought the only way was marine biology. Little did I know there was much, much more I could do! That week in Catalina changed the direction I wanted to head in my education and career. More than just the time spent in Catalina changed my outlook, Scott Cassell did. The more I talked to him, the more I wanted to do what he does. I fell in love with the idea of becoming an underwater explorer! Becoming a submersible pilot sounded like one great adventure!  Unfortunately due to technical difficulties, the sub at Catalina was not operational when I was there, but that did not put a damper on my week. In fact, having an un-operational sub almost benefitted me in the long run.

After that week in Catalina I made a conscious effort to stay in contact with Scott. Whatever he did I wanted to be a part of. Well keeping in touch paid off. Scott was refurbishing a two person sub and welcomed any help he could get. I jumped at the opportunity. We worked out a weekend where I could come down to Escondido and help out. I didn't care what I did, I was just happy to help. My job was to figure out the surface area of the sub and optimize it so Scott could cover it with logos from his sponsors.  Finally my AP Calculus would come in handy!

When I wasn't crunching numbers, I was running quick little errands around town with Scott. These car rides gave me a greater respect for him than I already had. I learned that Scott is easily made happy; the topic of squids always brings a smile to his face! He also appreciates every bit of help given; even my seemingly small job of calculating surface area was of great help. Instead of worrying about that himself, he could work on other parts of the sub. I learned that Scott also has a great respect for those who make their own way in the world, and not just go through life with things being handed to them. Listening to Scott tell me stories of either filming shows for Discovery Channel, or his poacher hunter missions, or when a Humboldt squid dislocated his shoulder and ruptured his eardrum when it dragged him down while he was filming… I realized that Scott is one of those people who you can listen to talk and never get tired of hearing his stories! And he is definitely someone I want to know for the rest of my life.

Scott has offered to teach me to become a sub pilot. I am honored that he would offer this. I plan to keep in touch and hopefully tag along on some of his ventures. One that is coming up soon is his 24 hour, non-stop, 30-mile dive to Catalina in the Fall. As dangerous as this is, I know that he is prepared to do it. He is training for this every chance he gets.

There are few people who are as driven as Scott Cassell. His hard work and dedication to what he loves- bringing awareness to the condition of our oceans and actively doing something to save them. Scott's passion and commitment is something that I look up to. It is hard to believe that only nine months ago I did not even know who Scott Cassell was.

Scott is a hardworking, dedicated man who loves the ocean. His passion is for exploring the unknown parts of the ocean and bringing awareness to the critical condition that our seas are in. Scott Cassell is my hero, mentor and friend. He is a person that if you meet him, you are just in awe of what he has accomplished and what he hopes to accomplish in the future. He not only dreams big, but he goes after his dreams full throttle. Scott Cassell is a man you can't help but look up to.
Written by Rebecca Ziegler, California.