Scientific Diving with Captain Nancy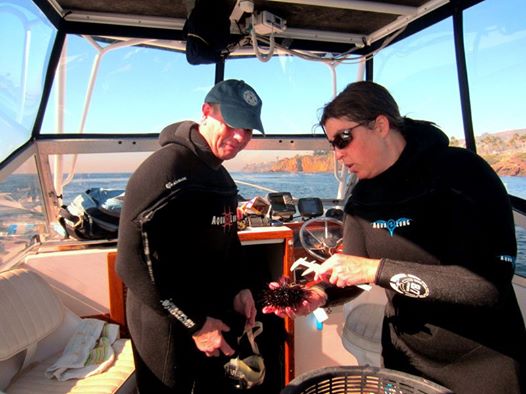 A few years ago (okay, many to be exact) I was ready to take my diving to another level.  But the question was how.  I was pretty sure the instructor/divemaster route wasn't for me (even though I have a divemaster certification) and I can only take so many pictures with my point-and-shoot that will never compete with my professional underwater photographer friend's photos.  So that left scientific and research diving since I'm somewhat of a biology nerd anyway.

To that end I started volunteering with a variety of organizations such as a couple of Aquariums, the Catalina Conservancy Divers and Reef Check.  However the one person (who also exemplifies Miss Scuba actually) I dove with a lot is Captain Nancy Caruso the founder and CEO of Get Inspired.
 There was the time when it was just her and me taking the boat out to plant kelp.  There was a part of me that went "This is just like Sea Hunt".  Then I realized "Oh, that's right.  In the days of Sea Hunt both the divers would have been male".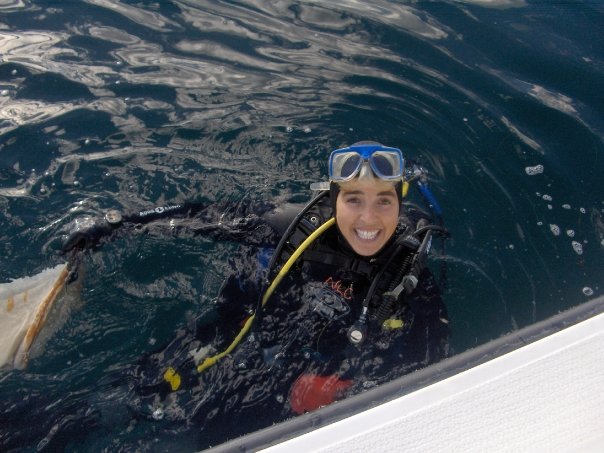 Nancy trained as a marine biologist on the east coast and made her way to California where she landed a job as a chemist at the Aquarium of the Pacific in Long Beach. That is where I met her.  While there she attracted a following (myself included) that seems to have followed her everywhere since.   Nancy, through a variety of positions, developed and implemented a kelp restoration project in the Laguna Beach area of California.  Quite a few of us were in her volunteer army of divers and we spend many days and hours surveying reefs, planting young kelp and maintaining the reef (often by simply removing sea urchins who feed on kelp).  
Thanks to these efforts there is again a healthy bed of kelp in that region.   Through her current non-profit, Get Inspired, Nancy has started and sustained a variety of underwater research projects in that area, taken responsibility for Reef Check monitoring in Shaws Cove and does a variety of other projects both above and underwater.  
Her above water projects include teaching school children about the environment, Having them grow kelp and other organisms and taking them on field trips to the Sierras.  She also has developed Kelpfest which is an annual event in Orange County.  She and her husband, Tom, even recreated the trip of Lewis and Clark from Pennsylvania to Oregon a couple of years ago.  Her underwater projects include taking students on multi-day oceanography trips to Catalina where dive instruction can be included.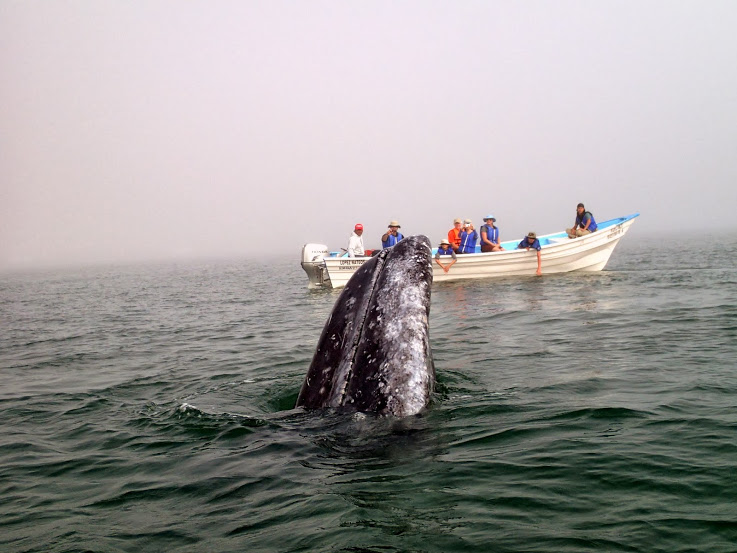 On a personal level I have had many adventures with Nancy. There was the time I lost my weightbelt because it slid off the swimstep of the boat.  We made five or six dives around the boat and never found it.  A couple of months later Nancy took another group out, anchored in the same area, and one of the divers found my weight belt right at the anchor. That wonderful person even cleaned the belt before he returned it to me!
Last fall several of us got an email from Nancy entitled "Want to go kiss whales?"  So a couple of months later a group of us were off to Baja and spent three days interacting with grey whale cows and calfs.  It was the experience of a lifetime!
Then there was the time we were done diving and the boat engine wouldn't start.  Now we were in sight of Laguna Beach so we were never in any danger however we were also told we were third in line for Vessel Assist.  That meant we spent the entire afternoon on the boat.  We had a lot of fun while we waited but there were two women and no head on board.  You get the picture!

So many dive adventures and so many more to come!  Here's hoping to continue diving with Captain Nancy for a long, long time!

Written by Susy Horowitz, Photo by Steve Lang and Susy Horowitz