DIARY OF A MOTHER AND SON ADVENTURE IN ROATAN, HONDURAS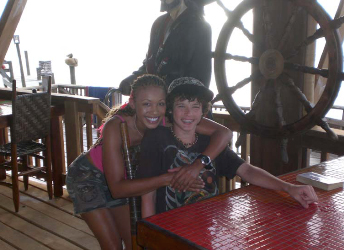 Day 1: Arrived in Roatan and was shuttled to Las Rocas Resort, a quaint 16 room/cabin resort. It was 85 degrees out and we are enjoying our surroundings. Seven (my son) spent quite a bit of time in our hammock, which I gave up fighting over. I never got to lay in it, but oh well, what's a mother to do?
Day 2: Woke up at 7.30 and prepared to go down and have the free breakfast included in the package. Spoke to the dive shop and signed up for the 11.30 dive (I had missed the 8.30 as I was having breakfast). The dive was uneventful. Seven got his introduction to scuba. I was hoping he will like it and make a diver out of him.
He liked it, but wasn't really into sitting in class over the Christmas holiday and having to study, but he asked to come on the second dive with the group. We went to 35 ft.
Day 3: We walked up from the resort to West Beach. It offered a slew of hotels and good places to eat. It was a nice beach to snorkel. Seven spent his mornings here when I would be diving.
Day 4: Rained all last night. Ate breakfast and went on the morning dive. It was a wreck dive. The vessel was resting at 100 ft. It was my first wreck dive and the huge steel remaining was really interesting.
We had lunch at the Bite on the Beach, which was right next door to our resort.
By now I am looking three shades browner than before we left.
It rained some more that night, followed by intermittent tremors and aftershocks all night long.
Day 5: Seven asked again to come on a dive. It was again 35 ft. I lost my mask in the ocean on the way back to the boat after the dive. Christian, the wonderful boat captain went all the way back and surprisingly found it.
Bugs are starting to bite a lot.
We went to Anthony's Key Resort for their dolphin encounter. It cost $65, but worth every penny of it.
Day 6: Today was the SHARK dive. I barely slept at all. The dive was at 70 ft, the water temperature was 79 degrees. Was I scared? Not at all. We got to swim with twelve Caribbean Reef Sharks. At the end of the dive we could look for shark teeth at the bottom, we had been told. I was too enthralled in getting to pet a Tiger Grouper that I forgot to look for teeth… darn.
Did three dives that day, ending the day with a night dive. The water was still 79 degrees.  I did not find much to see other than tiny things like cleaner shrimp, some sort of fuzzy nudibranch, a crab, a sleeping turtle and these weird luminescent shrimps called String of Pearls. We turned our lights off and waved our hands in the water and it would 'break up' the strings and cause the whole light show of tiny lights. It was pretty cool.
Day 7: Still tired from the night dive I opted to skip the morning dive and woke up only 15 minutes before the 11.30 dive was taking off.
That afternoon I scheduled us for a zip line canopy tour. It cost $45 per person. We zip lined over 13 platforms and through the forest –hundreds of feet up in the air. It was awesome! The views were breathtaking and it went so fast. There was just so much adrenalin going, you couldn't help but smile. It was our first time and I know we would both do it again and again. I think it is my new favorite thing –next to diving of course.
Day 8: Grabbed a water taxi to West End and did some last minute souvenir shopping. West End was the 'hip part' of town, located only five minutes north of the resort.
Overall, the trip was a blast and allowed some great mother/son time, which was the point of this trip on the first place. Seven's eyes were opened to some new things and I made some new friends with the resort staff and people from the dive boat. The locals were very helpful and friendly.
Written by Valentina, Denmark.