NEW JERSEY'S HISTORICAL WRECK DIVING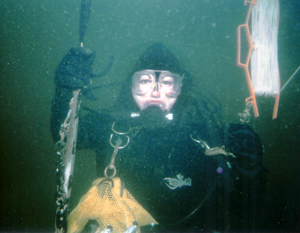 So many trips, so little time.  Its hard to pick one single trip  to write about. Each one has its own flavor.. One can be vibrating with excitement the minute you go down the line. Another can be a most peaceful experience.  One of my most memorable trips happened in my own back yard.
Being born and raised in the "Garden State" its especially gratifying to be a part of New Jersey's Maritime History.
Long Branch New Jersey, summer of '07  aboard the research vessle "The Venture"  I was chosen to accompany our NJ Historic Diver Association president to measure, compile , catelogue and recover the debris field around a local historic site. 
This site is a wreck of two  Steam Locomotives circa 1854 lost at sea during a storm. . From the information we have gathered so far they seem to have been loaded on a cargo barge in Boston headed for Baltimore.  Needless to say, they never made it.
There is much spectulation as to whether  the trains were pushed off or fell off the barge.  At this juncture in the research, that question still remains unanswered. Routinely in storms, many captains off loaded their cargo in fear of losing their lives or the transport vessel. Time and money were paramount to ship owners.
One interesting thing about these locomotives is they both landed upright in almost 90 ft of water.
The site been arrested by The New Jersey Museum of Transportation which means anyone can dive the site but  only the NJ Historic Divers Assn. is authorized to remove any artifacts.
The day was perfect, sunny summer conditions, no wind, water temperature in the low 60's.The viz was upward of 30-40ft. A rare day to be sure anywhere along the NJ coastline. 
As I decended the line I became  so excited to see the Locomotive in all their glory,  I jumped off and swam right to them!!
Fortunately, I had an idea of the general condition and knew the area to be about 30x20.  From the drawings   I recognized the smoke stacks and cow catchers.There was no mistaking what kind of wreck this was...
As I tagged, measured  and photographed each artifact, I watched large sea bass and black fish  swim in and out of openings on this man made reef.  It looked like a giant aquarium!!  One Silver eel peaked in and out of his hole curious about what we were up to. The eel was so long, I never saw his tail!! 
After we were done our work, I had about 10 minutes to take a little tour around both wrecks. What they lacked in length they made up in height.  An amazing sight.  Looking  in every opening and  I tried to catch every detail,  I thought to myself.these locomotives are the last survivors of their era .I am part of a small group who have ever seen these trains in person. Gave me the chills!! .Living history for sure..
Being a Jersey Girl, has taken on a whole other meaning as I dive the sunken treasures of the NJ Shore. 
Written by Angela O'Reilly, Lake Como, New Jersey.