The tail of an "Entrepremermaid:" The birth of the Mermaid Linden by Body Glove Monofin

In 2015, the Mermaid Linden by Body Glove line of children's swim products was introduced on the global market. The monofins were designed by a real life mermaid, Linden Wolbert, with the dream of helping children all over the world experience swimming in a new way; with a sense of mermaid and merman magic in the water, encouraging kids to become explorers and ambassadors of our oceans.
With a love for all aquatic creatures great and small, Linden's web series, Mermaid Minute as well as her years of experience as a mermaid performer, played a crucial role in the birth of this product. Miss Scuba recently caught up with Linden and wanted to learn more about how this all came to be.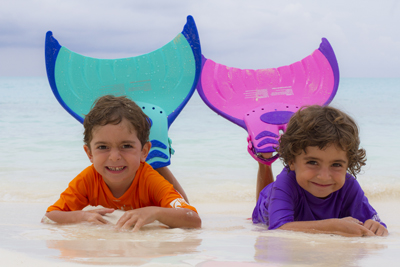 MISS SCUBA: How did your idea for the Mermaid Linden Monofin emerge?
MERMAID LINDEN: The idea of a different kind of children's monofin came to me over the many years I have been performing...er...merforming at children's birthday parties around the globe.
Since kids want to become mermaids just as much as anyone, they naturally excite over the idea of trying on a monofin for the first time. Usually, they're hooked after the first lap! Before the "mermaid tail" craze began over the past couple of years, there were a small number of kid's monofins available on the market.
Needless to say, I had lots of improvements in mind for making them more safe, comfortable, powerful, fun, and to actually stay put on a child's feet as they traverse their imaginary underwater seascape...AKA the backyard swimming pool  Since I had tons of experience watching kids use them, it was like a mental beta-test for my imagined monofins.
MS: So what was the catalyst that made them become a reality?
ML: I am on the board of an amazing ocean non-profit called Reef Check and met the truly wonderful Russ Lesser, who is the long-time President of Body Glove International and fellow board member. Russ is a man of integrity who makes things HAPPEN! Talk about a guy to look up to....Russ is a force of nature. The world is a better place because he is in it!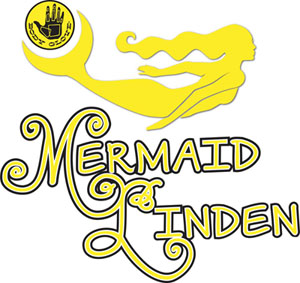 Everyone has to do their best just to keep up with him! He is 75 years old and has the energy of a 20-something and a heart of pure gold. We got along famously as fellow left-handed water folks and musicians, and one day he asked me more about my mermaid work.
I mentioned using monofins at kid's parties and how inefficiently they worked. It then dawned on me that Russ might be a
great person to ask about product development. I had no intention or inkling of working with Body Glove at that moment, I simply thought he was a great brain to pick on the subject. He quickly said, "Let's discuss this next week and set up a meeting. How's Wednesday?"
The following week, when I turned up at Russ's office in Redondo Beach at Body Glove Headquarters for what I thought was a casual meeting, I discovered Russ had much bigger plans. He proposed a full line of mermaid-inspired products with my (whaaaat??) name on them, "designed by a real life mermaid with ocean education in mind."
He wanted to tie in my Mermaid Minute ocean educational series, which had gone viral on YouTube, with the products; encouraging children to learn to swim and protect our oceans all at once. I was flabbergasted. This is the moment when the Mermaid Linden by Body Glove children's swim line bubbled up out of the ether...all thanks to Russ.
MS: How long did the design and creation process take? What was involved?
ML: From inception of the idea to holding a product prototype in my hands, it took about two years. I first designed and sketched out my concepts. I hand-drew over 30 product possibilities, all with a mermaid twist.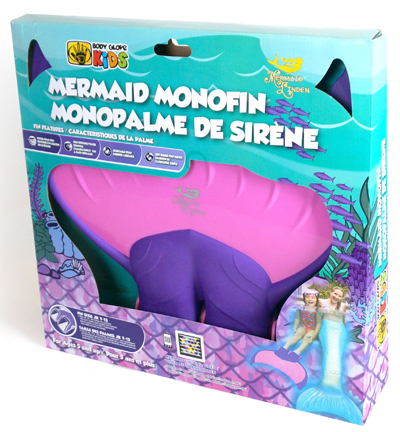 We knew the monofins would become our top-seller, so the focus was on them from the get-go. Tooling and molding, beta testing, design trial and error, aesthetic, comfort, functionality...these things all take time and patience to achieve and achieve successfully. My wish was for the tail to look much like my own silicone tail, an original design with a crescent fluke that some of the fastest fish in the world possess.
I worked with an awesome design team who were wonderful. After months and months of back and forth sketches, emails, digital renderings and upgrades, I finally held the prototype of one of my monofins in my hands in late 2014. It was a truly exciting moment! I learned immeasurable things throughout the process. What a ride!
MS: How cool! How does it feel now that they're out in the world?
ML: Even after all of the hard work put into making my vision a reality, I still myself when I look at the boxed product with my picture on it.
How did this happen?!? My mind boggles as I watch kids all over the world posting up videos on YouTube of them unboxing and wearing my monofins. I get tagged in lots of photos on Instagram as well! I created them with an amazing company I have always admired and loved, Body Glove.
It is even more surreal to see kids wearing a monofin based on the mermaid tail I designed even longer ago and still use to this day. I have been professionally mermaiding for over a decade now, so I guess you could say I'm starting to feel "well seasoned" by the salt of experience! Yup, queen of bad ocean puns in the house!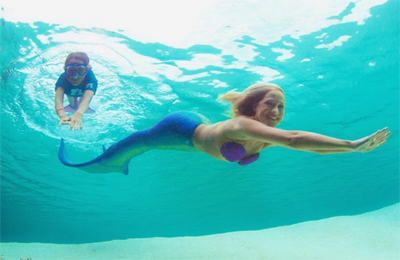 MS: Where can people (sea fans) buy your Mermaid Linden by Body Glove Monofins?
ML: My website, www.mermaidsinmotion.com, Amazon.com, Sam's Club US and Mexico, and various other outlets around the world. Right now they are selling like hot crab cakes in the Philippines, which is so neat! I have "met" so many amazing little sea fans through social media thanks to the monofins making their way around the planet. Just the coolest thing!!! You can watch the monofins in action here
Mermaid Linden is a pioneer of the profession of being a mermaid. She has been featured in countless media outlets around the world including for her ocean-related educational work and philanthropic efforts with children. Her passion is "edutaining" and enchanting children around the globe about our oceans and the creatures in it, and encouraging swimming and diving as a means of recreation, conservation and exploration of our blue planet. See more at www.MermaidsInMotion.com