LORETO - THE OTHER BAJA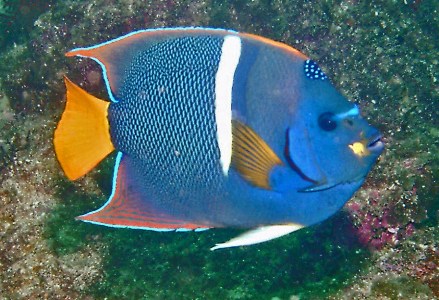 What if you want to dive somewhere in Mexico without crowds and tourist shock; eat great food; visit missions; ride mountain bikes or horses in the desert; and shop for (or at least admire) high-quality arts & crafts?  It's getting increasingly difficult to do all of those things in one place on a reasonable budget, but I'd heard that Loreto had all of that to offer plus laid-back, old Mexico charm.  I decided to make a one-week winter escape there in early March.
Located on the Sea of Cortez side of Baja about 200 miles north of La Paz, Loreto was the first permanent Spanish settlement and capital of the Californias. The Misión Nuestra Señora de Loreto, founded in 1697 and renowned as the birthplace of the California mission movement, has been beautifully restored.   Loreto's more recent visitor attraction is Baja's second national marine park, Parque Marino Nacional Bahía de Loreto.  This park is a wonderful gift for Baja marine life, divers, whale watchers, and the people of Mexico.  The citizens of Loreto are extremely proud of their local waters and committed to protecting marine life rather than exploiting it to ruin.  If only such a refreshing and inspiring attitude could be exported to the rest of the Americas.
The town of Loreto is the karmic opposite of Cabo San Lucas, and even considerably more low key than La Paz.  I met some Mexican dive masters from Cabo who told me they liked coming to Loreto whenever they wanted to "chill" and dive just for pleasure for themselves. 
There are a handful of dive operators in Loreto, and two in particular were recommended to me:  Dolphin Dive Center and Cormorant Divers.  I went with Dolphin because they were located less than a hundred feet away from the guesthouse I was staying at.  Dolphin is also a PADI center.  It's owned by a trio of American and Mexican partners, but the full-time manager and dive master is a local Loreto boy, Rafael.  "Rafa" is extremely knowledgeable about all of the local dive sites, thoroughly safety conscious, and an all-around nice guy. 
The diving was better than I expected for March, since early spring is generally not the best time for dive conditions in the Sea of Cortez.  Pufferfish, sharks, dolphins, whole fleets of stingrays, angelfish, other unidentified but lovely fish, soft corals, and even a fin whale were spotted on my dives.  Rates were decent ($80/2 dives, $100/3 dives if you have your own gear), and equipment rental is available.
While some ambitious development projects are afoot in and around Loreto, it so far remains a relaxing, peaceful harbor village with cobblestone streets lined with bougainvillea and laurel arches.  I had probably the best octopus dish I've ever tasted, delicately sautéed with vegetables in a zesty chipotle sauce, at a restaurant called Las Islas on the main seafront promenade.  Rafa at Dolphin Dive Center recommends October as a superb time to visit because the high heat of summer has passed but the water is still warm with excellent visibility.  I'm keeping that in mind for a return trip.
Written by Lori Osmundsen, Oregon. Photo Credit: Lori Osmundsen