TWO OF INDIA'S THOUSAND FACES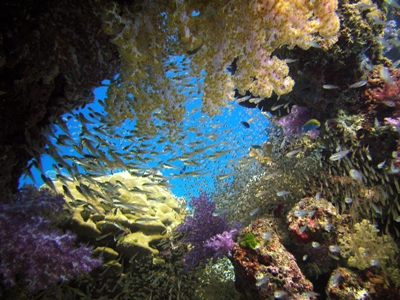 TRAVEL
It is worth first flying to the capital, Delhi. Immediately on arrival the visitor familiar with Europe can sense that everything in India is different. If, for example, you have the feeling that the whole city has gathered in the airport waiting lounge or you catch sight of cows grazing on newspapers, then you are in the right place. This is India with its huge number of people, its ancient traditions even in the modern world, its exuberant life and its multitude of extraordinary things to see.

You can experience a real taste of the Indian capital in Chandni Chowk, the high street of Old Delhi. This extremely busy thoroughfare
is crowded with tradesmen, barbers, fast food restaurants, cars, cyclists and an incredible number of people, not forgetting the inevitable cacophony of blowing horns and screeching brakes. Although luxury hotels are also found here, Chandni is lined by battered albeit atmospheric two or three storey buildings with small balconies and barred windows. Cars are parked in complete disarray, as if a playful Indian god had scattered them.
The ground floors of houses provide home to rows of mini shops compressed against each other. Diversity characterises everything, from the colour of the buildings to the range of goods. Meanwhile, cows and goats lie peacefully amidst the bustle. This is genuine time travel – or have you more likely dropped in on a peculiar fairy-tale world?
After sampling the hustle and bustle of the old city, the famous sights are next in line. India's largest mosque, Jama Masjid, is situated near Chandni Chowk. It was built over a span of six years in the middle of the 17th century. Apart from the open place for prayer, suitable for accommodating 25,000 people, other temples are also worth visiting in Delhi – for example, the Bahai Faith's house of worship, which resembles a lotus flower, or one of the Hindu temples.

The Red Fort, a gem of Mughal architecture built about four hundred years ago, is Delhi's largest and most significant monument. There is much to see in the huge building – the former bath, council hall, mosque, bedrooms, fountains and burial monument. Most are decorated by lace carved of marble.

Tourists hungry for curiosities can experience a light and sound show in the evenings. The tomb of Mughal emperor Humayun is also a spectacular building. Built of red sandstone and white marble in the middle of the 16th century, it served as a prototype for the architects of the Taj Mahal. Similarly to other sights in India, at this memorial, which is surrounded by a wall encircling water canals, shadowy trees and charming gardens, we encounter hordes of monkeys and squirrels alongside the tourists.

One of the seven wonders of the modern world, the Taj Mahal, which everybody wants to see on their first visit to India, is located in Agra, 200 kilometres south of Delhi. The monument can be reached from Delhi by road or rail. In this connection it is worth noting that India has the second most extensive railway network in the world, with more than 7000 stations. Although you can still find steam engines, the main cities are connected by express trains. It is a curiosity that Indian Railways, with its 1.6 million employees, is the largest company in the world in terms of employment statistics. In India 11 million people travel by train every day. And there is a real wonder waiting to transport tourists. For a week you can travel on the maharajas' legendary train, the Palace on Wheels, for example, in the state of Rajasthan. The lavishly decorated train boasts full comfort and luxury.

The Taj Mahal itself is a 'memorial for love' and was built in perfect symmetry, broken only by Shah Jahan's tomb set next to his wife's resting place. The Taj, which 'changes' colour from snow white through pink to light grey, was commissioned by Shah Jahan for his beloved wife, Mumtaz Mahal, after she had died giving birth to their fourteenth child. Construction lasted twelve years. The beauty of the building enthrals every visitor. Not so well known is that the emperor also intended to build a 'black' Taj to express his sorrow, but his desire was never realised. Dawn is the best time to see the tomb, known also as the symbol of India, because the sweltering heat is not yet unbeaamely nor have the tourists completely crowded the park.
DIVING

Located in the Bay of Bengal about 900km from India, the Andaman & Nicobar Islands are one of the few undiscovered gems that have escaped the clutches of mass tourism. There are no concrete-and-glass resorts offering all-inclusive deals, no nightclubs / discotheques, no shopping malls and no fancy restaurants. There aren't even any street salesmen offering to sell you trinkets at "a special price, my friend - just for you."

What the Andamans do have to offer is clear, warm water with one of the largest variety of coral and fish life anywhere on the planet.

The Andamans are a magical place. Life moves more slowly here, untouched by commercialism and modern intrusions. Unwind after a day's diving by relaxing on a hammock or sunning yourself on the beach. Spend the evenings dining on the "catch du jour" around a bonfire (ignore the cat if she comes by and wants some food – she's been hanging out with the dogs and has learned bad habits from them!).

As far as the islands go, Havelock is one of the more "developed" destinations: it recently got phone lines and electricity, it has a handful of vehicles plying its roads (or rather, road, as there is only one – well, one and a half – real road on the island), and as per now-verified rumor, it even has someone who sells ice-cream! And of course, it has great white sand beaches, diving, snorkeling, fishing and a lot more.
The main sources of livelihood in Havelock are farming and fishing. Until recently, timber-logging was a popular occupation as well; however, a recent Supreme Court ruling has put an end to all logging activities. This has resulted in not only several local timber operations shutting down, but has also caused the island's few elephants to become jobless.
Havelock still has a lot of undiscovered sites and hidden potential, but we are taking it one step further: as of January 2009, we have started diving safaris to the two new, pristine locations in the North Andamans: Long Island and Mayabunder. There is very limited tourism infrastructure in the North, especially the region we will be visiting. The Lonely Planet doesn't have any info on it. Even the dive sites don't have names (U2 would be proud). This is about as undiscovered as it can get.
Travel part written by A. Hegedus, Hungary and information about diving in India from www.diveindia.com