FROM RAT RACE TO PARADISE - PART 2.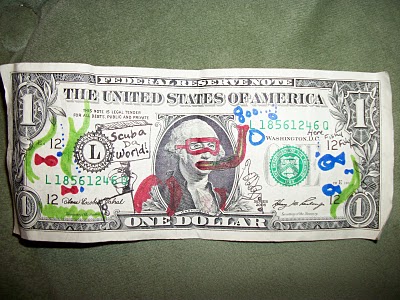 To read Part 1 of "From Rate Race to Paradise" click here
Wednesday, June 9, 2010:
UGH!!! im so exhausted! So, unfortunately this will be a short entry. Today was my first day of Dive Master training, DAMN IM GETTING CLOSE!!!!! It was refreshing to go over everything ive learned over the past year. We went over so much, and I realized how much I actually know!!! (and a few things I still need to practice) =P

Ive been spending the last week or so getting my apartment organized. Im moving out in just 2-3 weeks and need to get rid of EVERYTHING! Do you know how difficult it is to photograph EVERYTHING you own??? Im selling almost of my stuff, and putting some things in storage. Normally I would throw out most of the stuff, but every dollar counts, right! Below is the first dollar I made toward my dream!!!! Thanks to my BFF, Estee. XOXOXOXOX

I found out today that I will need all my own dive gear by 2 weeks from now. This set up will cost me about $1200 on average. SOOOOOOOOOO! Im taking donations!!! And, I will be posting my virtual garage sale next week. Please support me! Tell your friends!
Saturday, June 12, 2010
Get the Picture?
If a natural disaster took place, and you lost EVERYTHING, what would you be most upset about? It wouldn't be your $3000 leather couch, or your flat screen tvs, (well maybe a little LOL). The most precious thing to loose would be mementos, and memories, photos, and keepsakes. As I continued to pack and throw away unnecessary items, I found myself keeping the photos and tossing everything else. If your house caught on fire, and you needed to grab just one thing, it would be your photos, right? Wouldn't it feel better if all you had to worry about was your photos.
Since I have been simplifying, I have noticed a huge weight lifted from my shoulders. When I am finished minimizing my "baggage" I hope to feel light, and free of excess materials. I look around my house and start too look at my possessions with money signs in my eyes. "this lamp could get me $10, this DVD burner I never used could get me $150".
My goal is to make enough money to purchase a plane ticket to Rarotonga, and then from Rarotonga to New Zealand. In addition, i would like to raise enough money to purchase my own dive equipment, which I will need to finish my Dive master program. I will keep track of my earnings.
I would like to share a special photo with all of you. This photo was take about 42 years ago. Its is a photo of my mother. She was 28 (the same age I am) and had just taken off on her own adventure to live in Italy. I have always loved this photo, and now it hold more meaning for me.
Sunday, June 13, 2010
One mans trash...
Well, today was day one of the virtual sale, and i rocked!!!!! The Grand total $688. I still have a lot more stuff to get rid of too! YEAH! My house looks like all my drawers decided to turn inside out! hahaha. What a relief it will be to rid myself of all this stuff!
Tuesday, June 15, 2010
Live the Life you Love
Ill start with a quote I posted on Facebook just a few days ago....

Love the Life you Live
Live the Life you Love
-Bob Marley

What that means to me, is that i should appreciate what I have no matter what, but also, that I make my life what I want it to be. I have the control, everybody does. If you want an adventure, create one. Ive also learned that in doing what you love, you cant help but radiate good energy. I think its really simple, if your happy, everyone around you will be happy. Good Energy begets good energy. Ive met so many beautiful people since I began this journey one year ago, and as the days go by and my adventure starts to become a reality, my energy gets stronger, and the social magnetism gets stronger. People are attracted to what im doing and the energy I'm
giving off.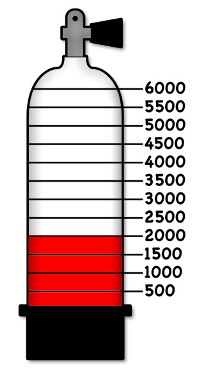 On that note... I think my energy has brought more than good people into my life, but has also brought good shoppers into my home! The virtual garage sale has been a HIT!!!! I have estimated I need to save, accrue, have donated, etc.... at least $6000 for travel expenses, dive equipment and some other misc. expenses. So, I am going to keep track on the "SCUBA METER"!!!! Check it out!!!!

In addition, after going through some of my stuff, I found these paintings. The first is one I painted from the porch of my fale at Janes Beach in Samoa last year. The second painting was done last January in Rarotonga, Its of a Muri Beach. I hope to do a lot more painting when I get to the island.......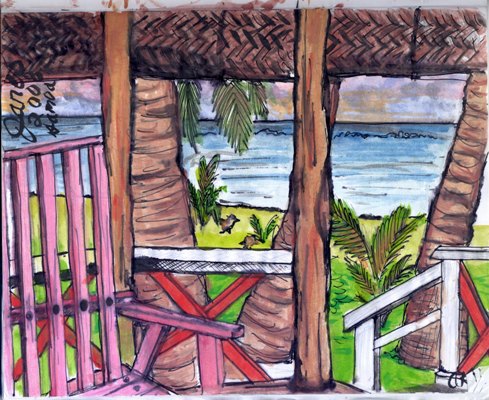 To be continnued... in the meanwhile, follow her journey at http://www.fromratracetoparadise.com
Written by Alex Kasdan, still in California.