My journey from orienteering diving in zero visibility lakes in central Europe to
becoming the youngest female PADI Course Director in the World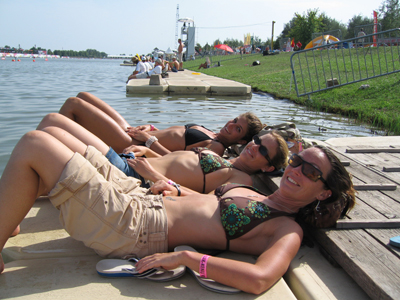 I grew up in Hungary, in a landlocked country in central Europe.

I was 13 years old when started competing in a sport called orienteering diving, which takes place in lakes with almost no visibility. The object of the sport is to find predetermined destinations using a compass, map and a distance accounting device. It was pretty much like an underwater treasure hunt.
Plenty of my team mates were superior swimmers, so I worked diligently to develop my navigational skills. In clear water my competitors could outswim me, but in bad visibility I would usually excel because of my ability to be fairly precise with my compass.
The military sponsored us, provided that we worked hard. I trained 4-5 times a week and spent every weekend and summer camping by the lakes and rivers of Hungary with my teammates. I had about 500 logged dives in murky waters before I first saw an ocean. This occurred one summer when our team visited Corfu for a dive trip. I was 18 years old.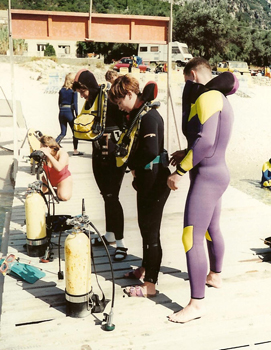 I remember the first dive in the clear ocean water with a multitude of critters. Afterwards, while standing on the beach I decided that I wanted to live in a place with an ocean and sandy beaches, where it is summer all year round. The summer part was the most important as I passionately hated the cold after spending my childhood in the harsh Budapest winters (often with -20 Celsius and no sunshine for weeks).
After I declared this to my friends they suggested that I watch the Jacques Cousteau movies, because it is much less dangerous than actually scuba diving. But I did not want to just watch his movies. I wanted to make my own.

When I told my mother that I wanted to become a scuba instructor, she said that is a great hobby but I should pick a real job. So I went to the University of Engineering in Budapest where I majored in marketing and management.
The more people told me that I could not go and live in exotic places while making a living with my passion (scuba diving), the more determined I became to prove to myself that I could do anything I put my mind to. Once I made up my mind I felt like I was writing my own story, directing my own movie and fulfilling my destiny.
One of my mottos is the famous Churchill quote Never, Never, Never Give Up. I created several inspirational dog tag variations of this quote to inspire myself and others to keep on going during the difficult times in this journey of life. I did not give up.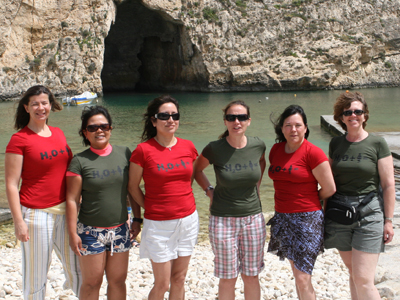 During the last semester of my studies we all had to work for a company and write a thesis.  I moved to Malta and completed my PADI Divemaster course while studying English. I ended up writing my thesis about financial planning in seasonable markets (yup! scuba diving for the holiday crowd in Malta). Later, when I graduated, I returned to Malta to complete my PADI Instructor course and work as a scuba instructor.
Next, I spent a few years traveling and working through Thailand, England, Australia and California.
I get to do what I love and to me this means everything. My job is to change lives and to open a new world to those who sign up to learn scuba dive.

My passion for scuba diving and travel is also translated into my hand crafted jewelry line that is available at www.GoghJewelryDesign.com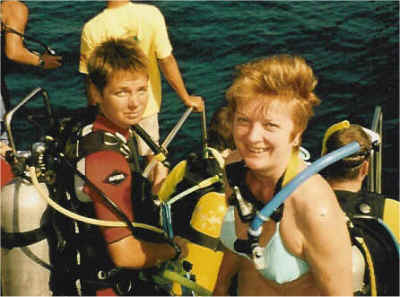 I collect natural elements such as turquoise from our liveaboard dive trip to Egypt, shark teeth from diving the extreme waters of South Africa and mala beads from Nepal that I acquired while trekking in Annapurna.   Once back in California, I combine these precious treasures with silver and transform them into meaningful accessories that garnish mind, body and soul.
After years of hard work I became the youngest female PADI course director in the world, logged 5,000+ dives, certified over a 1,000 divers (including the LAPD dive team leaders, movie stars and stunt coordinators), and worked as a stunt woman in Hollywood.
I was training several of the LAPD Dive Team leaders to become PADI instructors.

I was a pretty young PADI Course Director at the time. Being respected as a young female scuba instructor did not come easy. Most diver guys were somewhat macho alphas and skeptical of a young girl teaching them anything. I had to work twice as hard to be appreciated half as much, but the hard work eventually paid off. There days nobody questions my experience, but it took a long time to get here.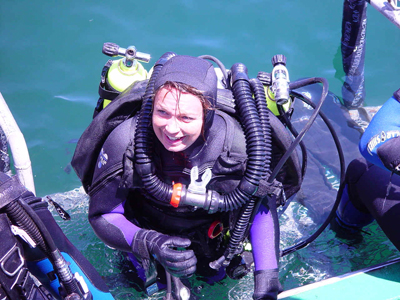 At first the LAPD team veterans did not think that a female scuba trainer could show them any new tricks. But after a day of diving at Castaic Lake, their navigational skills got more accurate in the zero visibility water.  Then their take of me started to change.
After that, training the guys was really fun. I've got to experience diving off their fast boats. Then their lieutenant (whom I also trained to become a PADI Scuba Instructor) invited me aboard their Navy Seal like scuba training day as an advisor. Policemen from all around the world were there training to be on their Dive Team.  They were blowing things up over the water and then practicing their search and rescue skills retrieving for survivors and remains. It was like being in a real-life videogame.   
My life is better because I get to do what I am passionate about and call it work. I love the variety of skill sets that of my job requires. No two days are ever the same. One day I am teaching a brand new diver, another day I am working with future dive instructors. I train some of the LAPD and sheriff's dive team leaders, work on movie sets as a safety diver and have worked as a stunt double for Drew Barrymore. Other days I get to dive and shoot in exotic dive destinations like Antarctica and South Africa for my online Adventures with Miss Scuba video series.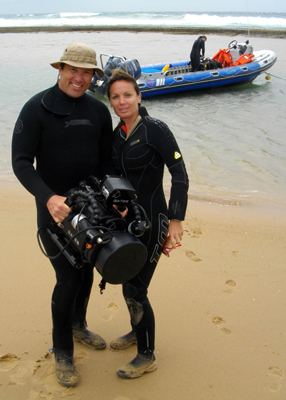 The best thing about my life is that I get to share these adventures with my husband, Hilaire Brosio. We met on a dive boat in 2002 in Anacapa, California . Over the course of a few years we dove together in a number of countries. And a period of traveling together we realized that we were becoming more than just dive buddies and best friends.
He is the camera operator and director of the Adventures with Miss Scuba video series. Together we've traveled everywhere from Sudan,scuba diving Komodo Island in Indonesia, explored Antarctica above and below surface and South Africa.  We've produced pieces while diving with sharks, exploring the underside of ice bergs, and while riding camels. (not all at once, that would be silly)
Sharing the most exciting things in life, with someone you love, is priceless.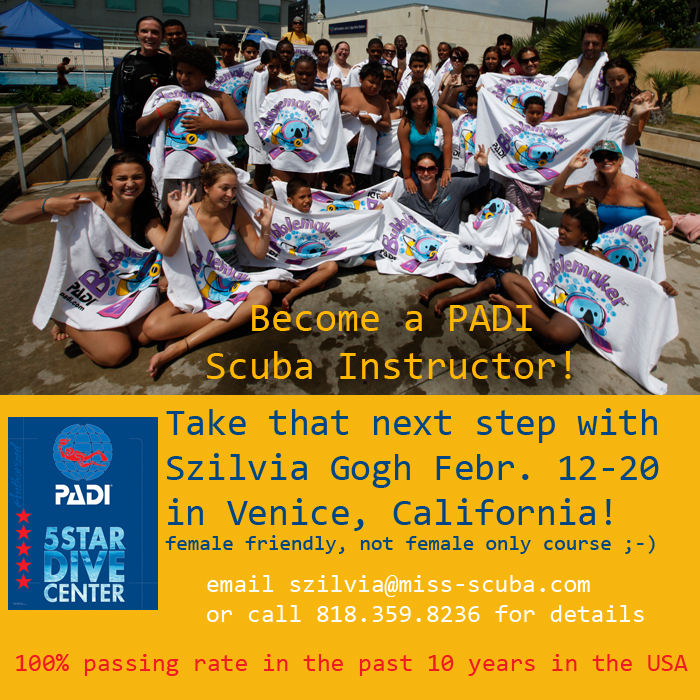 Written by Szilvia Gogh, California.