OVER 200 SHARKS ARE KILLED EACH MINUTE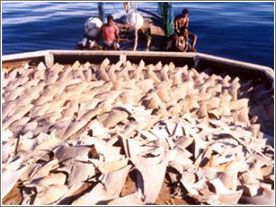 It's estimated that between 100 – 150 million sharks are killed each year; primarily for use in shark fin soup. Shark fin soup is a delicacy in some cultures and has increased dramatically in popularity over the past two decades. It's a symbol of wealth and served as a display of respect. Unfortunately, the demand for this soup is causing the decimation of an entire species and is tipping the balance scales of our ocean's ecosystem at a terrifying rate.

Unsustainable fishing practices have developed to keep up with the demand of shark fin soup. Long-lining is the most common way to catch sharks, and shark finning has rapidly become the predominant and most profitable method for obtaining shark fins. The practice of "finning" involves catching a shark, cutting off the fins, and then throwing the live shark back into the ocean. Unable to swim or to propel themselves forward, finned sharks sink to the bottom of the ocean and since most species of shark need to move forward in order to breathe, they eventually die of suffocation; a slow and agonizing death.

Sharks are the world's oldest apex predator and have been on the planet virtually unchanged for approximately 400 million years. Since all life on this planet began in the ocean, the shark has shaped the evolution of nearly all other living things. They keep the oceans in balance and are an essential part of the ecosystem. Without sharks, we will most certainly be affected and are bound to create an ecological disaster.

The ocean is the life support system of this planet and nearly 80% of all life on Earth exists underwater. There is a wide range of species dying as a direct result of the finning industry that extends way beyond sharks. It is estimated that the shark population has already declined 80% and many species are already on the endangered list.
The first step to fixing a problem is realizing that it exists, so naturally we are spreading awareness of the current decimation of shark populations around the world. We are meeting with local politicians to let them know our concerns and have launched a new petition to stop the sale of shark fins and products starting in Los Angeles County. If we are able to pass this ban, Los Angeles will be the first county in the nation to stop the sale of shark fins and products and will lead the way for other counties and states to do the same.

Dorsal Friends was proud to be part of the Blue Vision Summit Conference held in Washington D.C. March 7 – 10 in which we joined forces with other individuals and organizations ranging from National Geographic, and Surfrider's Foundation, to Phillipe Cousteau, and Sylvia Earle to encourage the President and Congress to take positive action on our public seas and discussed solutions to marine environmental threats. At the end of this conference, Dorsal Friends met with other environmentalists, scientists, and concerned individuals on Capitol Hill and held meetings with the offices of both Dianne Feinstein and Barbara Boxer. In these meetings both local and federal policy was a topic of discussion including the Shark Conservation Act, climate change impact on the oceans, off shore drilling concerns, and the overall health of the seas. Both Feinstein and Boxer are champions of the ocean and are "on-board" with our concerns.
There are many ways to get involved in protecting sharks and their environment. Here are some suggestions:

DON'T EAT SHARK FIN SOUP
Making a difference starts with each one of us.
DON'T EAT ANYWHERE THAT SERVES SHARK FIN SOUP, AND TELL THEM WHY
You can help spread awareness to restaurant owners by voicing your concerns and refusing to eat at any that continue to serve shark.
EAT SUSTAINABLY
Your choices make a significant difference. Inform yourself on the consequences of your seafood eating habits. Download your free
Guide to Ocean Friendly Seafood
, or
Ocean Friendly Sushi
provided by Blue Ocean Institute.
HELP SPREAD AWARENESS – TELL YOUR FRIENDS ABOUT THE CURRENT SITUATION
Nothing is as contagious as information being spread by someone that is truly passionate about the cause. Your enthusiasm is so powerful! Please tell your family and friends all about shark finning and the consequences it has on the ocean and the rest of the world.
VOLUNTEER FOR DORSAL FRIENDS AND OTHER ENVIRONMENTAL ORGANIZATIONS
To Volunteer for Dorsal Friends, please send us a quick message including any specific skills or interests. If no special talents apply, no worries! We can always use your enthusiasm and love for the environment. It's infectious!
Written by Erika Marchino, Director of Dorsal Friends. www.dorsalfriends.org