EXERCISING AT THE BEACH - AND SAVING A DOLPHIN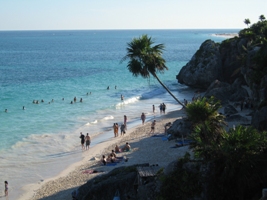 Exercising at the beach has many benefits!
The sea brought us a gift during our Sunday evening walk at Tamarack Beach in Carlsbad.
A small bottlenose dolphin (perhaps 4 feet in length) became caught in the surf. We came upon it rolling in and out with each swell, but stranded completely on the sand between waves. It appeared healthy and determined to get back in the water.
Slightly fatiqued and disoriented, it's tail and fins were of little use out of the water. To prevent it from further injury, we held it in an upright position perpendicular to the beach for a couple of small swells.
Within a few minutes a wave broke with enough water to lift the dolphin off the sand. The dolphin immediately tried to swim, moving it's tail vigorously. It took two attempts and the assistance of two other passersby, but with a good push we sent the dolphin back into the surf.
It lingered just off shore in shallow water; first going south a few yards, then north a few yards. We weren't sure the event was a success until the dolphin turned jumped over the top of an incoming swell and headed straight off into the sunset.
We cheered and clapped and waved. What an awesome gift!
See a full report on the importance of physical fitness for scuba diving at www.scubafit.com Overview of Physical Fitness in the Scuba Diving Industry, and Exercise Program Recommendations for Scuba Divers Based on Correlation Between Diver's Alert Network (DAN) Reported Medical Conditions in Scuba Divers, and the American Heart Association (AHA) and American College of Sports Medicine (ACSM) Guidelines for Physical Activity, by Gretchen M. Ashton, CFT, NBFE, www.thefitnesscoach.net
Written by Gretchen Ashton, San Diego, California. Photo Credit: Szilvia Gogh