BEING PAMPERED WHILE DIVING AT UTILA, HONDURAS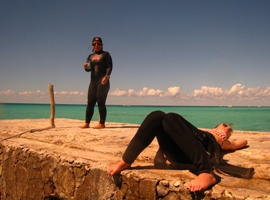 We have travelled all over the world diving and we have never experienced anything like Deep Blue. They are all about service to the customer. I can honestly say from the moment we arrived I have never been so well looked after.
The first morning we left our dive equipment outside our room while we have breakfast and it was collected, taken to the boat and set up for us. Every day between dives they changed our equipment, and at the end of each day our equipment was washed and put away. They took great care of our gear.

Apart from that the diving was great in Utila as well. It offered a huge variety of dive sites from shallow fringing reefs to huge walls and sea mounds. We were lucky enough to see whale sharks. The crew on the boat are excellent, the best I have seen. They know where all the critters hang out. We saw six sea horses on one dive! Wonderful three long dives a day, fantastic fish and other creatures!

The resort is homely and very inviting. The rooms were spacious well decorated and exceptionally clean, our room had its own private balcony overlooking the ocean. It is a place you truly feel comfortable in. The rooms are all ocean front and are about 30ft from the sea with a fantastic view, they are immaculately clean and well looked after.
The food is excellent and I could not fault it with a great selection every day. At times we had to ask Jasmine, one of the owners, to give us less food. There is a selection every day of meats fish and vegetarian, desserts were amazing especially the tres leche (I think that is how its spelt).

The staff in the resort are welcoming and the owners are great, we really did leave Deep Blue feeling like friends. The owners are divers and do come out diving with the guests about once or twice a week.
The resort's motto is "a dive resort for divers built by divers.'' This, I would fully agree with. We met a couple who were back for their fourth time. I can fully understand why. We will also be returning to this stunning place.
Written by Amanda and Sadie. Photo Credit: Lisa Jover