TAHITI'S ISLANDS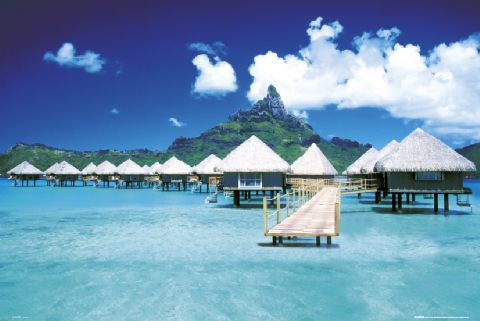 What we call Tahiti is really a group of islands, or actually several groups of islands, such as the Society Islands, the Tuamotus, etc. 
One flies into Papeete, the capital city of this French province, from LAX or SFO. 
The islands are a real part of France, not a "colony" at all, but a "province d'outre-mer'" like Guadeloupe and Martinique.  It is a very long flight, but not quite as long as going to Fiji. Then you take a small plane to whatever islands you are going to. 

I went to Moorea and Bora Bora.  In both islands I stayed at the Club Med, where single women can be comfortable. The Club in Moorea had a fantastic on-site dive operation.  In Bora Bora, which had the most amazing food, used an off-site dive operation, Top Dive, which seemed to be quite good. I didn't have the best weather so, unfortunately I couldn't give Bora Bora a fair chance. 
In Bora Bora the manta dive wasn't great, because there was so much plankton in the water that it made for bad visibility and I could hardly see the rays themselves, except as vague shapes. 
On Moorea I did a couple of shark-feeding dives, which were conducted very well, although I am now against this sort of activity.

Both islands are to die for in terms of scenery.  Mountains with odd shapes in the midst of lush green are used as the setting for movies, such as South Pacific. There is plenty to see after diving.

The people are remarkable for their warmth and friendliness.  I have found this to be true all over the South Pacific; in Fiji and Hawaii as well. 
Tahiti is also famous for their tattoo artistry.  I resisted to get one.


I loved diving there.  Forget soft corals; at least on the two islands where I dived, Moorea and Bora Bora. This is not Fiji or even the Caribbean. 

The diving is wonderful.  Lots of sharks and Pacific specialties. White-tip and black-tip sharks are more interested in fish than in you! The islands themselves are so so so so beautiful -- lush and spectacular -- and the people are so darling and hospitable.


Every woman should buy a floral "crown" from the local ladies.  You will be gorgeous in your flower tiara!  Love to all, Diana

Written by Diana Abrashkin, Boston.