Scuba Diving in Morro Bay with Sea Otters - A Hidden Gem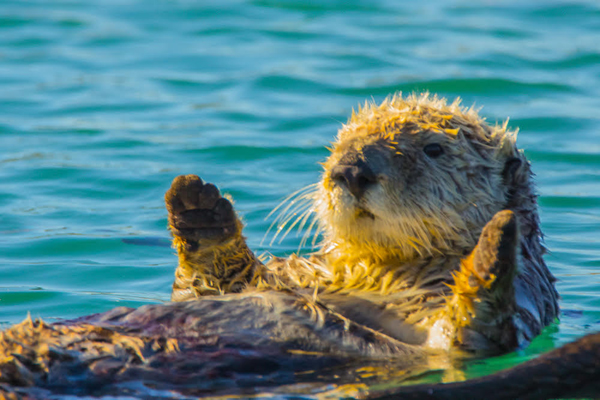 Half way between Los Angeles and San Francisco, there is scuba divers dream, hiding in plain sight. San Luis Obispo County isn't thought of for it's diving and is usually only a stop for people on their way up or down the Pacific Coast Highway.
Locals call this the "Central Coast", even though we are still considered Southern California.
Littered with whimsical coastal towns, the sea life here, is the "Salt of the Earth/Ocean", real deal. It's up close and it's personal. Fishermen make their living on squid boats, rockfish, farmed abalone, oysters, and clams. We get annual migrations of epic proportions.
Monarch Butterflies flock by the thousands to Pismo Beach eucalyptus trees. The mighty Elephant Seals come to mate and then again to give birth at Piedras Blancas.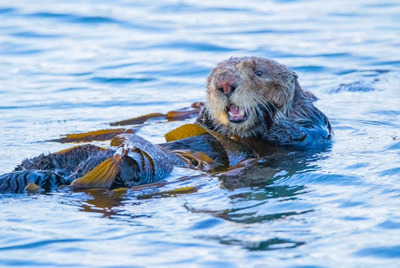 The parade of whales is quite active. Our waters have Humpbacks, Grays, Blue's and even the occasional Fin and Orca whales. Over the past few years, we have had our share of viral YOUTUBE sensations. Videos of Humpbacks almost "swallowing" up a few divers while feeding, knocking paddle boarders and kayakers off of their boards/boats while feeding or putting on their show.
For now though, this article is about our famous and loved, Morro Bay Sea Otters.
IT'S THEIR TIME! California sea otters are in the midst of their prime pupping season. Sea otter pups can be born anytime of the year, but prime pupping season is considered to be between the months of January and March. During this time, Sea Otters largely congregate inside the Bay and it isn't rare that you may find anywhere from 12-18 sea otters huddled or rafted together.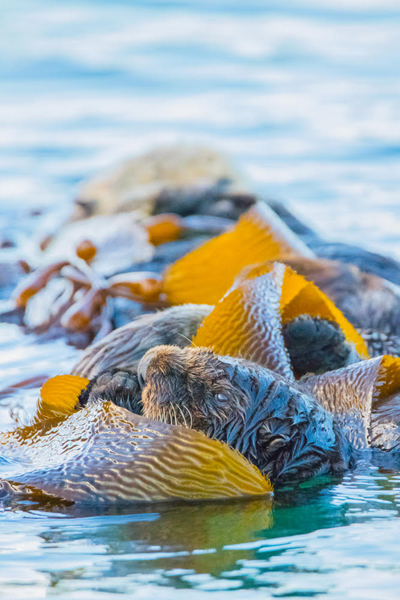 Here, inside Morro Bay itself, they are protected from large predators, swells, the elements and have plenty of sustenance to rely on for energy.
The otters main area is a sandy bottom with large sea grass beds and kelp fronds attached to scattered boulders. The mother's give birth to their pups and spend up to 50% of their time foraging for food, while the rest of her time is spent protecting her pup from thieves (as other otters may try to take her pup), primping/grooming her pups fur to keep it fluffy for buoyancy and warmth characteristics and she keeps her pup lying on her stomach as much as possible it's first month or so.
Sea otters don't learn to swim until they are around 4 weeks old and can't dive for food for quite some time. You can drive your vehicle up onto a dirt parking lot and watch in awe. You can even step down the few feet of boulders and sit on the water's edge. YOU can see these magnificent, amusing, and intelligent creatures up close. No, really... I mean close!
My husband and I learned to scuba dive and we took our first open water classes, in this very bay! We have done more dives than I can count inside the bay and although we now choose to brave the open waters of the Central Coast, the bay is a special place.
The sea grass is covered in nudibranchs. A few of the largest sea hares to be seen seem to live here. The floor of the bay is littered with shells, a sand dollar bed, a small wooden boat wreck, sand dabs, leopard sharks, small eagle rays, angel sharks, decorator crabs, sheep crabs, tiny octopi, etc. We have had a few brave otters approach us and the rest... well, not so much.
We even had one try to jump onto the swim platform of our boat (and we have video proof)! Of course, we will never condone intentionally trying to interact with sea otters. It can really stress them out and during pupping season, may cause them to abandon a pup. We always recommend, to any diver, that a dive in the bay, is a dive well spent.
During the summer, the sea otters spread their horizons. While some stay in the protection of the bay, others head out into the open ocean. Our kelp forests are thick and rich here. Even during the El Nino event, you would have been hard pressed to find any good dive spot that DIDN'T have huge patches of kelp.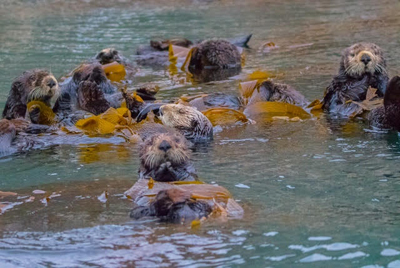 If you took a boat ride out of the harbor and up the coast, Cayucos, Cambria, and San Simeon didn't disappoint. Even in the open ocean, the sea otters roll themselves up in the kelp and drift with the top of the kelp patty's to rest. When it's time for a snack, they dive down and grab themselves a bite to eat. Huge clams, sea stars, crabs and we witnessed an interesting battle of a sea otter with an octopus! Yes, ladies and gentlemen, those cute and cuddly balls of fur can, indeed, win the battle with an octopus.
Diving one of the Channel Islands kelp forests is gorgeous, Monterey is a force to be reckoned with, but as a diver, don't let this place pass you by! There are diving spots on this coast too beautiful for words. Get on a little charter and check them out!
Written by Selena Rich Photo Credit: Selena Rich