(S)HE SAID, SHE SAID
A FUN BUT TRUE REVIEW ABOUT OUR TRIP TO MEXICO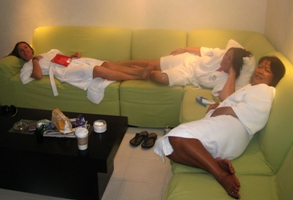 (S)he said:      Well, should we let the cat out of the bag about the Magic House in Playa Del Carmen and the adventures of Charlie's Angels underwater!?

She said:        Carmen, Mamasita, our personal Mayan god on the Ultimate Girls Getaway who fed us, cleaned for us, and made sure that we had whatever we needed during our 7 day Diving and Yoga week.  She really did make the villa, the 6 bedroom accommodations at Hotel Tropical CasaBlanca, a great and wonderful place to stay.

(S)he said:      Yes Carmen was great, but what about Pepe, dear, dear Pepe? Could we have had a more beautiful instructor dive with us on the second largest Barrier Reef in the world?  Eo has the pictures of the turtles, and other sea life to prove that we just did not sit on lounge chairs, have someone feed us fruits and sip margaritas. Though that is not a bad idea for next time.  Did we get pictures of Pepe?

She said:        I am sure somewhere amongst the hundreds we took, we have at least one of Pepe. Okay, lets really think about the week.  This is supposed to be a trip report, not a dreamscape.  The accommodations were great, breakfast and lunch included, 5 days of diving and 5 yoga classes.  The yoga classes on the roof facing the ocean at sundown being surrounded with candles, super great.  We wont mention the night when we sat on the roof top after class and enjoyed chick bonding time with a glass of wine and of course talked about what else, but the boys. Though it seems counterproductive, what a luxurious way to end a yoga class. The dive instructors were fab to dive with, Katy from Russia, fitting in really well with the Girls Getaway. What a workhorse she was, not letting any of us carry our bags. It was strange, but truly felt like a vacation, as most of us are dive professionals and have to lug tanks each and every day. 

(S)he said:      Oh, oh, Martini Bar….combined with the Abyss Evening BBQ.  Julia kicked it in with the marshmallow roasting over candles. She introduced our Eastern Block girls (Kathy from Russia and Szilvia from Hungary) to marshmallow. Unbelievable, but they never had it before. I have never seen so many people enthused by an old childhood activity.  Who would have ever guessed.  We will have to try and make up a recipe for a 'Marshmallow Martini' to go with Julia's great meals she whipped up in the house during the evenings.  Carmen by day, Julia by night.
 
She said:        Focus, remember trip report.  So we discovered on this trip that we did some super diverse diving, a surprise for all.  The second largest barrier reef was 15 minutes from our boat launching site, and went all the way down to Honduras. Lisa can report on how the reef is when she returns from the Honduras trip scheduled (put in dates). Cozumel was completely different from Playa del Carmen, and we did get into the cenotes, large fresh water pools and caverns that is something completely different from the ocean. The visibility is forever in the caverns, and something that should not be missed. The diving was completed by the Abyss Dive Center, a dive outfit that has been in Playa Del Carmen for over 13 years. Great staff, great service and a super fun time. We appreciated the small and intimate groups that this center provided. Their evening BBQ is a great way to get to know other divers, their experiences and what they are doing on their dive excursions. We had met two guys doing their cave course, and it was great to understand their experience and watch them study hard during their technical course (while we relaxed).

(S) he said:     And their experiences outside the water as well.  Did someone say Tequila?

She said:        All in all for our first Ultimate Girls Getaway, the experience was super.  Our Host, Nicola, a dive instructor from Canada, was fun to be with, and she gave us some great information.  Though it would have been great if she could have done more yoga with us, having dinner, or just chatting in the warmth of the evening was fun.  The villa does allow for some great chick bonding and I don't think we would have had it any other way.  It really was the magic house, with food, drinks and other things just popping up. It is great to not have to worry about all of those details. 

(S)he said:      We are coming back, aren't we? When is the next one?  First week of November 2009, right?

She said:        There are actually two trips to Mexico next year, one shorter weekend, The Cinco de Mayo diving trip, and another in Playa Del Carmen, the Second Ultimate Girls Getaway, the first week of November in the Magic House. Check the TRAVEL section for the dates! 

(S)he said:      Carmen and Pepe should be there… I am in so that I can see more turtles, fish and dive in super warm waters.  Ahhhhh, Pepe………
Written by the GIRLS, Playa de Carmen, Mexico.