THE ULTIMATE GIRLS GETAWAY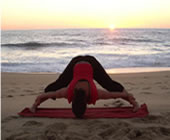 I have an idea for The Ultimate Girls Getaway. I am not suggesting the Mayan Riviera simply, because I live her, but because it is really my favorite.
How about 7 nights in a private villa, 7 days of yoga with a private instructor and 5 days of diving in Playa del Carmen, Cozumel and the Cenotes.
I do yoga actively, the diving, well what can I say… is awesome here, get a variety of experiences in Mexico besides the diving and you don't have to find a buddy. This for me is super great as I travel alone and hate having to find a buddy or having to pay extra.
Playa del Carmen is located 45 minutes South of Cancun and has the second largest barrier reef in the world at our doorstep.  
One of my favorite dive spot is the famous Turtle Reef, where there is anywhere from 6 to 30 giant green turtles. In September there are huge schools of tarpons to see and lots of sealife on all the reefs.
 The diving is done via boats and is drift diving over the huge gardens of corals.  Playa Del Carmen is a very chic boutique Mexican town that attracts a diversity of people from all over the world. It is quite a colorful place.
 The beaches are beautiful, the food is eclectic due to the variety of people who have opened up restaurants in the area, and the people are super gentile and welcoming.
I love having BBQs, as it provides a great opportunity to chat about travels, getting to know new people and share fresh food off the fire and cold drinks while waiting.
This trip I think we should elect our first "Miss Scuba Trip" includes a cavern dive in Angelita, a very famous cenote in Tulum that takes you to 30 m depth and has you diving through an angel cloud.
Girls will have their own cook, daily maid service, private bedrooms, two communal areas, full kitchen, pool, across the street from the beach…
I propose November 1 to 8, 2008.
Let me know what you think… Send an e-mail to szgogh@hotmail.com with your comments!
Written by Nicole, Playa de Carmen, Mexico.