PADI Women's Dive Day 2017 to Celebrate Female Divers was a Blast.
Our Women's Water Sports and PADI Women's Dive Day Weekend schedule:

We are kicking off the event with SurfWalking™ on Friday, July 14 at 3:00 p.m. with Gretchen.

Meet at the main lifeguard tower at La Jolla Shores. We will exercise in the surf using waves, currents and tidal action as resistance to strengthen and tone our bodies and condition us for our upcoming water activities. Depending on the depth of the water and the intensity of the surf, the workout changes in difficulty, focus and results.

We will be getting wet and the weather forecast is clear and sunny. Wear water shoes, rash guards, and shorts or preferred protection from elements, hats, sunscreen and sunglasses. Bring water and snack (if you wish) for during or after, water proof backpack or pouch to carry small items during SurfWalking™ and dry comfortable clothes and shoes for after our workout.
Here is a helpful link to the La Jolla Shores are. You can call or text Gretchen at (760) 271-6069. You can call or text Szilvia at 818-359-8236.

https://www.sandiego.com/beaches/la-jolla-shores

After SurfWalking™ we will head to our fabulous hotel, Hotel La Jolla and check in, get situated, have a shower and freshen up after our workout.

Address: 7955 La Jolla Shores Dr, La Jolla, CA 92037
Phone: (858) 551-3600

http://curiocollection3.hilton.com/en/hotels/california/hotel-la-jolla-curio-collection-by-hilton-SANCUQQ/index.html

We are having an early dinner at 5.30pm in the traditional Italian restaurant, Osteria Romantica. It will provide a great setting to get to know each-other over a delicious meal and wine, chat about everyone's plan for the actual PADI Women Dive Day, whether you are going to scuba dive, freedive or snorkel… Please remember to bring EVERYTHING that you will need (including tanks and weight) as we will be on a beach quite far from any dive centers. However, should you need to grab anything last minute, go to Ocean Enterprises. We are collaborating with them to celebrate the adventurous female divers. We will meet up with the ladies from their group at the dive day (July 15) on the beach.

The actual PADI Women's Dive Day is a FREE event. Even if you can not commit for the full weekend with the girls, at least join us Saturday at the beach!

https://www.oceanenterprises.com/

We are planning a picnic lunch at La Jolla Shores during the dive day, so bring your blanket and favorite snack to share! We will provide European style food with cheese, bread, fruits and vegies. Feel free to bring anything you like to share.

In the afternoon, after we got a chance to wash off the sand, we will head to Surf Diva Boutique for an exclusive VIP Champagne & Shopping Party with Miss Scuba Discount. At this event we will also finalize everybody's desire for the next day. Who wants to surf? Who wants to SUP? Who needs lessons? If you already know what your heart is set on, please let me know!

We will kick off Sunday morning, before breakfast, with yoga on the beach.  

After the hearty buffet breakfast and checking out of the hotel, we will spend the early part of the day surfing and/or Stand Up Paddleboarding with Surf Diva.

As part of this fun weekend, you will get a customized Miss Scuba Swag Bag filled with apparel and other gifts to celebrate women divers.

Should you have any questions, please contact me! Call or text me at 818-359-8236 or email me at szilvia@miss-scuba.com

I sure look forward to seeing you and spending an adventure filled luxurious weekend with you in La Jolla,

Szilvia Gogh
Founder of Miss-Scuba.com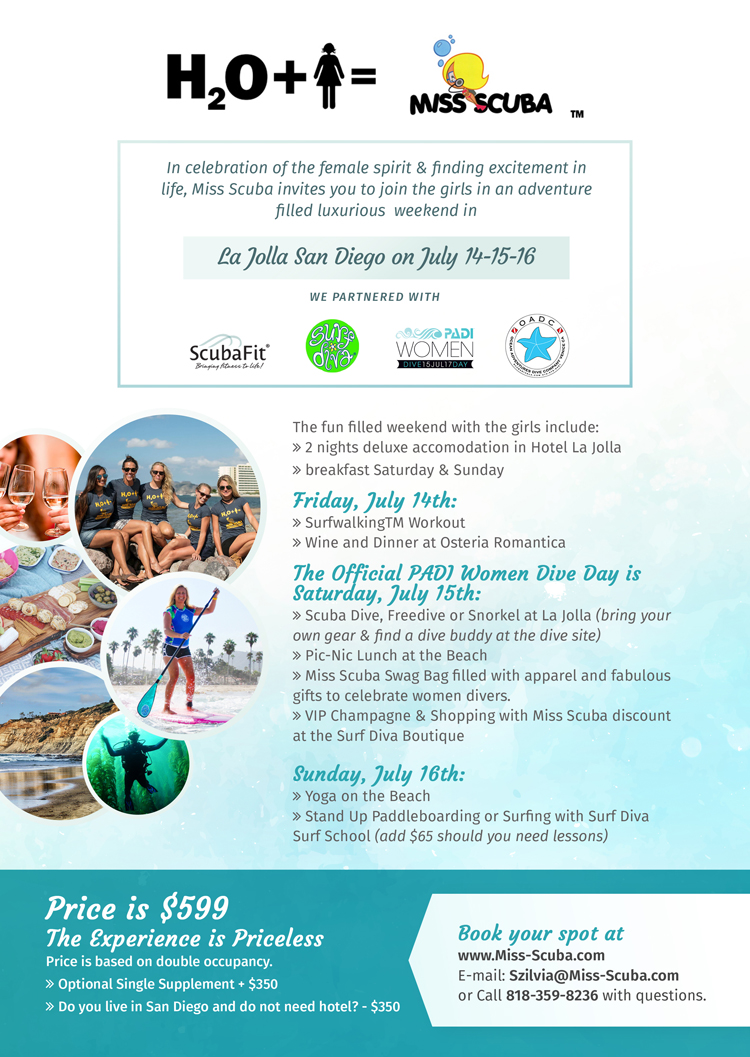 Women's Water Sports Weekend and Dive Day in La Jolla, California
by Gretchen M. Ashton, CFT, SFT, SFN, SSC, NBFE
Szilvia Gogh, founder of Miss-Scuba™, has partnered with Gretchen M. Ashton of ScubaFit®, Isabelle "Izzy" Tihanyi and her partner and twin sister Caroline "Coco" of Surf Diva®, the annual PADI Women's Dive Day 2017, and Ocean Adventures Dive Company to create a celebration of the female spirit and finding excitement in life.

Event Information
The fun-filled weekend in the spectacular vacation destination of La Jolla, California, July 14, 15 and 16, 2017, is hosted by these leading ladies of adventure, and is about watersports, wellness and friendship. Activities include scuba diving or free diving and snorkeling; surfing; stand-up paddling; a SurfWalking™ workout; yoga on the beach, a picnic lunch and a relaxing dinner at Fabio's Italian Restaurant.
Accommodations are arranged at Hotel La Jolla with breakfast included for Saturday and Sunday. This luxurious weekend is only $599 based on double occupancy. There is an optional single supplement, and for gals living nearby that do not need the hotel, the cost is $249. For more information and to reserve a spot visit www.miss-scuba.com, email: Szilvia@Miss-Scuba.com or call: (818) 359-8236 with questions.

Meet the Hosts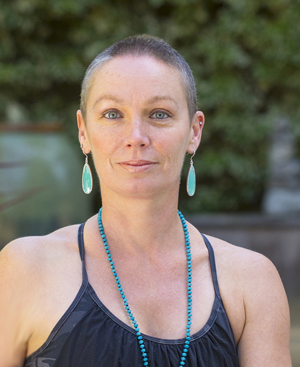 Szilvia's life is about creativity, inspiration, travel and survival. She was recently inducted into the Women Divers Hall of Fame and was the youngest female in the world to become a PADI Course Director. Featured by PADI for the 2016 Women's Dive Day, she has been teaching scuba diving from beginners to dive instructors for over nearly two decades in Malta, UK, Thailand and now in California.
She also works in front of the camera as an adventure show host and stunt women in movies and television. She provides water safety and trains talent to breath underwater when working behind the scenes. Szilvia is a photojournalist taking pictures of faces and places above and below the water for numerous international travel, scuba, lifestyle and adventure publications.
She openly shares her personal story as a breast cancer survivor through feature stories and short films. She takes great pride in designing and creating unique, one of a kind jewelry inspired by the ocean and creatures living in it for her Gogh Jewelry Design. Each hand-crafted piece reflects the artist's sense of mystery and individuality, and beckons the free spirit in every self-made woman. Read more about Szilvia and her adventures at www.szilviagogh.com.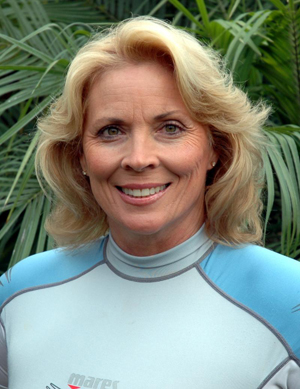 Gretchen started ScubaFit® to inspire scuba divers and water sports enthusiasts toward fitness. She is an advanced scuba diver, nitrox diver, paddler, sailor and fitness professional. She is registered with the National Board of Fitness Examiners, is an International Sports Sciences Association Preferred Education Provider and Elite Trainer with credentials in personal training, fitness therapy, nutrition, strength and conditioning.
As a lifetime drug-free strength athlete Gretchen set 21 World and American records and is the second woman inducted into the AAU Power Lifting Hall of Fame. Gretchen is founder of ScubaFit LLC, and developed the ScubaFit®, FitDiver®, DiveFit® and SurfWalking™ exercise programs. She co-authored the PADI ScubaFit® Diver Distinctive Specialty, designed FitDiver® mobile fitness apps and publishes FitDiver® Magazine.
She shares her fitness message with the diving community as a mentor with Water Women Inc., through public speaking at dive shows and for dive clubs and dive medicine conferences. She is the dive fitness editor or contributor for many dive publications and websites including California Diver, Florida Diver, Scuba Diving Resource, Scuba Diving Life, Alert Diver and her FitDiver® blog.
Gretchen has been featured in the training section of Scuba Diving Magazine, as a guest on Jill Heinerth's Into the Planet Blog, interviewed by PADI® as part of their Women in Diving series 2015, recognized in the President's Council of Physical Fitness and Sports newsletter for inspiring and innovative accomplishments in fitness and in the Margaritaville Key West website culinary column. For more information about fitness for watersports visit www.scubafit.com.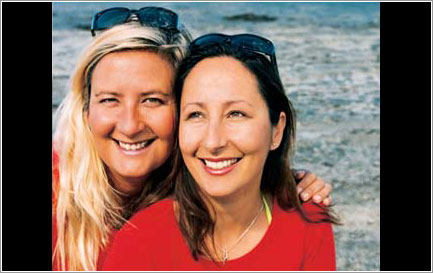 Isabelle "Izzy" Tihanyi, founder of Surf Diva, started surfing when she was eight years old. She is a competitive surfer and began teaching surfing while in college at the University of California, San Diego. Surf Diva brings together the things she loves most: the ocean and teaching. Her partner and twin sister, Caroline "Coco" also loves the ocean and has a business and communication background.
What they say about Surf Diva: "It's about fun, being together, and meeting so many cool people!" Surf Diva has introduced women of all ages to the sport and spirit of surfing in a fun and encouraging environment. From competitive coaching to lessons for the beginner, Surf Diva offers it all. Surf Diva has built a solid reputation for professional, educated, and passionate surfing instructors. The team boasts individuals with sideline careers such as firefighters, paramedics, nurses, teachers, lawyers, and snowboarders. Quoted "The Starbucks of surf schools" by Newsweek Magazine, Surf Diva Surf School is considered the pillar of women's surfing and offers surfing and standup paddleboard (SUP) lessons year-round for women, men, and children. Located in La Jolla, California with operations also in Costa Rica, Surf Diva is actively involved in charities and outreach to support both the local community and to raise awareness to protect the environment. Surf Diva Surf School has been featured in many TV shows and on numerous local and national news stations including CNN, The Today Show, MTV, ESPN, MSNBC, KUSI and The Travel Channel, to name but a few.
Surf Diva has also been featured in many magazine and newspapers including The New York Times, Vogue, Glamour, Cosmo, GQ, Newsweek, Oprah's Magazine, and Condé Nast Travel Magazine. The Surf Diva Boutique was awarded #1 WOMEN'S RETAILER OF THE YEAR IN THE US 2013 by the Surfing Industry Manufacturing Association (SIMA). In 2005, the twins released the Nation's Best Selling Surf book, "Surf Diva: A Girl's Guide to Getting Good Waves."  For more information about Surf Diva visit: www.surfdiva.com.

Ocean Adventures Dive Company (OADC) was Voted 2014 Best Family Owned Dive Shop by the Argonaut Newspaper. The mission of OADC is to introduce people to diving, improve their skills and teach them about the aquatic environment and how divers become stewards of that realm.  The OADC goal is to ensure every person they train becomes a competent, confident and safe diver.
OADC is recognized by the Professional Association of Diving Instructors (PADI) the world leader in scuba training, as both a 5 Star Instructor Development Facility and Green Star Award recipient for commitment to environmental conservation. PADI Five Star Dive Centers are progressive dive shops that provide a full range of PADI scuba diving education programs, equipment selection and experience opportunities, while encouraging aquatic environmental responsibility. The Green Star Award demonstrates a dedication to conservation across a wide range of business functions, including: water conservation, energy use, "Environmentally friendly" transportation practices, optimized waste management, use of sustainable materials, conservation leadership, paperless interactions with their PADI Regional Headquarters, donations to Project AWARE. OADC is also a Technical Diving Facility, offering scuba courses ranging from beginner to professional levels in both Recreational and Technical Diving and is the only Do It Right (DIR) technical diver training facility fully equipped with an in-house Trimix Blending Station in West Los Angeles. OADC proudly supports local law enforcement and fire departments. For more information about OADC visit: www.oceanadventuresdiveco.com. 

PADI Women's Dive Day
This is the third year the Professional Association of Dive Instructors (PADI) is hosting an Annual Women's Dive Day. For the past two years, divers from every corner of the globe have come together for PADI Women's Dive Day to bond over their love of the ocean and a passion for diving. This growing tradition will continue July 15, 2017, further strengthening and supporting the female dive community through a day of fun, adventure and comradery.
PADI Dive Centers and Resorts hosted more than 700 events in 77 countries last year for the second annual PADI Women's Dive Day on July 16, 2016. Since the 2015 inaugural event, the celebration has continued to gain momentum as new and experienced divers gear up for everything from high tea on the high seas to shark dives and underwater cleanups. For more information about PADI Women's Dive Day CLICK HERE. Read more about women and diving in PADI stories about Szilvia Gogh and Gretchen M. Ashton.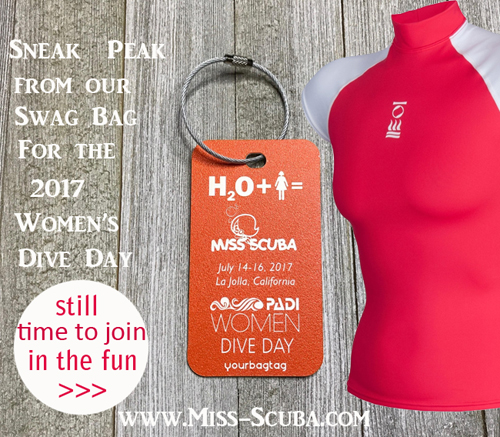 Read the report from last year's event HERE