Meet Michele Hall - the petite and prominent dive legend every scuba diver girl admires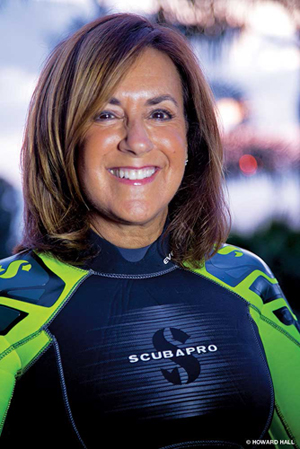 I came across a wonderful write up on Michele Hall in the Divers Alert Network Online Magazine that I want to share.
She has long been my idol not only because of the fantastic underwater movies she and her husband produced over the years. Michele is a genuinely lovely, full of passion for life lady. She smiles a lot. She lives her dreams.
_______________________________________________________
Hometown: Born in Binghamton, N.Y.; have lived in San Diego since 1973
Years Diving: 40+
Favorite Dive Destination: California — on a good day!
Why I'm a DAN Member: I value and support what DAN has provided to the diving community for decades. Knowing DAN will be there in the event of a medical emergency during my travels around the world brings me tremendous peace of mind.
Underwater filmmaker Michele Hall has produced 16 documentaries and won numerous awards, including the Antibes Film Festival Grand Prize, a Golden Reel award, an IMAX Hall of Fame award and an Emmy. In addition to her many accolades, she is a member of the Women Divers Hall of Fame, the Coral Reef Alliance, Ships to Reefs International, BlueVoice.org and Shark Savers, and she serves on the board of directors for the Academy of Underwater Arts and Sciences. In 2011 she and her husband were inducted into the International Scuba Diving Hall of Fame.

Although Hall's work has been firmly rooted in diving for almost four decades, her first career was in pediatric nursing. Everything changed in 1975 when she signed up for a scuba course at Chuck Nicklin's Diving Locker in San Diego, Calif., where she met the man she would eventually marry — her diving instructor, Howard.

While Hall has her own work responsibilities, she and her husband share several mutual business ventures, including a stock-footage library that licenses their productions for television, theater and exhibition. They recently began making films in nontraditional formats — three- to five-minute shorts and hourlong art videos — and are licensing these to entities such as Sony Entertainment and Netflix.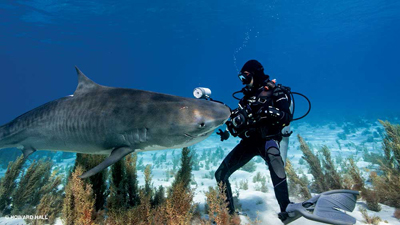 Whereas many people find it difficult to work with their spouse, for Hall it is just the opposite: "It was difficult when Howard and I were not working together, and he was away on filming assignments, sometimes for four or more weeks at a time," she explained. "Now we work at home together and travel together for dive, road, camping and filming trips."

Their upcoming adventures include filming thresher sharks in Malapascua, Philippines, along with a few nondiving trips on the horizon. The duo also enjoys capturing aerial footage from their experimental aircraft known as an ultralight trike, which they keep at an airport a few hours from their home in Del Mar, Calif. From the trike, they film breathtaking scenes of the desert and the surrounding areas. "We love filming and have incorporated it into all aspects of our lives and travels," Hall explained. "We love taking road trips, hiking and camping in our van. As the opportunities arise, we capture time-lapse sequences of sunrises, sunsets, clouds, the night sky and even the Milky Way."

When asked to name her favorite among her film productions, Hall found it difficult to decide. She mentioned the 1997 PBS release of a television series called Secrets of the Ocean Realm. "I love that the series was composed of 10 half hours of programming, allowing us to explore a number of locations and a large variety of animal behavior," she said. "It was a fulfilling challenge to produce this lengthy series, which continues to be well received."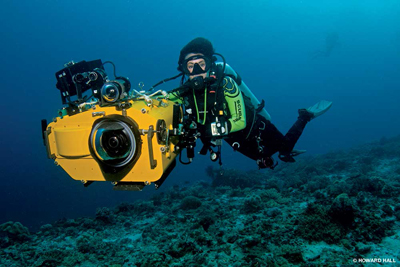 She also enjoys producing IMAX films, such as Deep Sea 3D and Under the Sea 3D, which were filmed in the South Pacific. Hall says that IMAX films present unique challenges: The production package weighs 8,000 pounds, it requires a field production team of 12 people, and it involves lengthy postproduction. The camera system weighs 250 pounds for standard 2D IMAX and 1,300 pounds for 3D IMAX.

Hall fondly recalls her first IMAX film, Island of the Sharks, which required a five-month-long filming expedition to Cocos Island. It was in 1998 during an intense El Niño event, and the water warmed to such an extent that the hammerheads disappeared from the island's diveable depths. "We dived 66 days over eight months before we saw even one hammerhead," she said. "What's more, the IMAX camera roared like a lawnmower with a bad ball bearing. It took five seconds to ramp up to speed, and by that time the school has scattered! During that time we considered aborting — or at least postponing — production. When we realized that we could make an even stronger film by incorporating the meteorological event into the story, we surged forward. The result is a film that I'm very proud of."

Reminiscent of her work in pediatrics, Hall has also produced films and books for children, including Secrets of the Ocean Realm, The Shark Project Book and The Shark Sticker Book. "I love that my films and writings might have a positive impact on younger generations," she said. "Exposure to the wonder of the natural world increases awareness and hopefully increases appreciation for the marine environment as well as conservation efforts."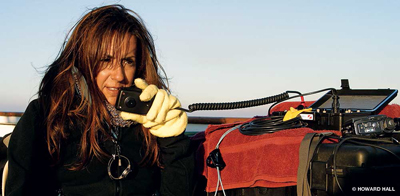 Often asked to name her scariest dive experience, Hall says that her recent shark diving has been pretty daring: "From diving with oceanic whitetips and tiger sharks in the Bahamas to bull sharks in Fiji, my heart rate has increased a few times."

As far as scary filming situations, she cites the trimix technical dives Howard and other members of their team did for Greg MacGillivray's Coral Reef Adventure. During production, they made 21 dives below 350 feet. Richard Pyle, who trained the divers and was a member of their "deep team," said that there was a 30 percent chance that someone would get decompression sickness (DCS) on any given dive below 350 feet.

As it turned out, Howard got DCS during a 372-foot dive. A 3.5-hour in-water recompression session followed by a series of chamber treatments left him with virtually no residual effects.

Hall recalls how DAN played an important role in this ordeal. She called DAN at night from the dive boat, and the DAN staff stayed in phone contact with her throughout the next six days while Howard underwent the recommended chamber treatments. "DAN's reassurance and referrals were really helpful," she said. "They made themselves available to us even in the remote offshore waters of Fiji."

At present, Hall's exciting career is in full gear, and she has no desire to slow down: "I plan to continue diving, hiking, traveling and having as much fun as I can every day."

Written by By Hillary Viders, Ph.D. for Divers Alert Network