THE FULL MEXICAN EXPERIENCE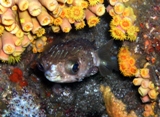 The best part of traveling is seeing different parts of the world.  Scuba diving provides a great opportunity to meet local people, as usually they are the crew on the boat or at the hotel/resort.  One of my favorite parts about scuba diving in Mexico, specifically Cozumel, is the lunch from the dive operation we use.  We are provided with a fresh, authentic Mexican lunch each day.   However, this love of food can also be a downturn on your vacation.   Sometimes, the native food is not necessarily something that your stomach agrees with.  I find that the experience is better than the potential pain.  I know that at home, I may not have this opportunity again.  I want to make sure I have a full experience while on vacation.

Another opportunity that traveling provides, is the joy of escaping daily life.  Generally, the places that I travel to are remote which means no cell phone or internet.  It can be tough to adjust to at first; however it ends up being a better experience.  My fiancée and I are extremely busy when we are at home, and sometimes we don't have the opportunity to spend the time with each other, without these interruptions.  The time on vacation allows us to reconnect and not be distracted.
Written by Hillary Drennan, California. Photo Credit: Szilvia Gogh