FATHER-DAUGHTER SPEARFISHING TRIP TO LA PAZ, MEXICO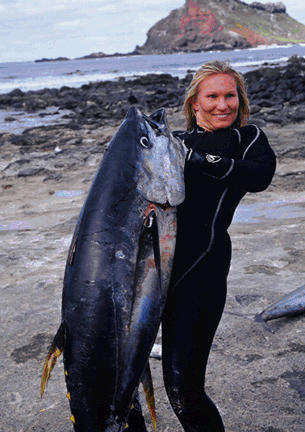 June 24th. 2008, my dad and I just arrived in La Paz, Baja California Mexico. This trip to La Paz is a special one, I'm spending it with my dad on a "father-daughter" spearfishing trip, I couldn't ask for anything better. My dad's good friend Beto from Brazil is whom we met up with in La Paz as well as his friend Arnaldo Bourges, 79 years old. 

Arnaldo was a Champion Spearfisherman in the 50's for Brazil.

Beto has a beautiful 100ft. cruiser called the "Trindade" This is a spearfisherman's dream boat equip just for spearfishing with two 22ft. chase boats that aloud you to hit many spots in a day. Beto had called us at RIFFE International a week before and asked if we would like to join him on a spearfishing trip with his friends. That wasn't hard to answer and we called on tickets that same day.
The Trindade just came from Panama weeks before and spends most of its time going to and from Costa Rica, Panama, PV, and La Paz. A spearfisherman dream come true.

DAY 1
The first day we arrived, Capt. Bill picked us up and went directly to the boat and cracked open a corona with lime and relaxed a bit. Beto was expected to arrive the fallowing night so DAY 2 my dad and I took one of the little boats out to dive on my uncle's plaque off the salvatera ship that was sunk years ago by my uncle, John Riffe. My dad and I grabbed some tools, a wool pad and some stucco tools so we could bump off any critters that made a home on the monument. With 2 tanks we headed out to the Salvatera , it was flat calm and beautiful out.
My dad and I have not made a dive on the plaque for some time so it was do for a cleaning. We got our gear on and made our dive. The current was moving so we had to dive quickly and be on target. As we hit 10ft. the water went from green to brown, bad visibility. We made it to the bottom and no ship, so we headed back to the surface. We waved for the boat but it didn't move and the Capt. Just waved back. I realized the current was moving toward the boat so we just swam a small ways and took our dive on the buoy we dropped to mark our spot.
We finally find the ship and work our way to the front where we dropped the plaque, back in March 2005. The snapper and grouper were big and all over the ship, the ones we could see anyway. Right about that time I wish I had a gun or a camera to land some killer fish or snap a picture or two. The plaque was covered with growth but not to bad, it looked like some one had been whipping it off.
This ship was sunk for scuba divers to enjoy so we assumed that divers saw the plaque and respectfully cleaned it. THANKS! We spent a good 15 + minutes chipping away some of the barnacles and we managed to clean it perfect. As we were about to head up my dad nudged me and gave me a handshake for a job well done. The plack was glowing and John was smiling back. My dad felt so good and so did I.
When we got to the surface we noticed the boat wasn't coming to get us, it was a ways away, the boat had some engine trouble and luckily the boat driver dropped anchor when he did. Thank god the current heading toward the boat because it would have been hell to swim agents it. We got on the boat and had to wait for an hour + in the hot sun until the other boat came for us.  We got to the big boat and washed all our gear, it was time for a beer and relax, we felt good after visiting my uncles plaque. Beto arrived late that night 11:30pm.  Beto's first wordsout of his mouth was, Hello and time to get some rest because we are heading to Cerallvo in the morning with the Trindade.
DAY 3
Today is beautiful out, we all had breakfast, got our gear ready and headed to the south end of Carollvo Island. There we accompanied a fleet of Mexican fisherman at the crack of light. Our first jump in the water we saw Wahoo, my dad took a shot off and hit one, I looked up and there he was getting towed, it took him for a nice ride and the fish swam my way like a missile, but to my surprise the fish tore off and got away, I was expecting a fat Wahoo on the boat.
I had a shot on one as well, but missed, it was too far away and I judged it wrong with the clear water we had. Pop's and I were both a bit rusty since we hadn't been in the water in some time spearing so we had to get warmed up a bit. We went back to the boat and had some lunch. We decided to go north this time and hit up La Riana. We got dropped off ahead of the current and there was Wahoo again, YES!
Both my dad and I had Wahoo come up but no shots taken, too far away. With in 15 minutes the water was changing, the visibility was getting bad. The Wahoo took off never to be seen again and so we worked the reef for grouper and snapper or a possible AJ. With many passes we had AJ's, Pargo, Yellow Snapper and the common reef fish boiling on La Riana. The visibility was getting really bad at this point and it was getting later in the day so we had to start pulling the trigger, get that monkey off our backs and land some fish. I had a pargo hole below me in about 50 feet of water and so I took my dive and approached the pargo hole from behind sitting on a rock and counted the fish, 2 big one and a handful of 30+ pounders. The big ones looked like 50+ pounds, we all know what they do to our gear.
I took a shot on the one that smiled at me and it took off for the rocks, but I was able to give him a big tug as I swam up and to his surprise, I won. Fish on! The boat came to retrieve my fish and I reloaded. As I got dropped back off ahead of current my dad had a fish on I could see him working a nice AJ, when the boat picked him up I could see the Capt. Pull up a fat AJ 53lbs. Way to go dad, kicking ass at 70 years of age.
When I put my head in the water I was schooled with AJ's too, so I lined up on one and took the shot, Nice! The fish had a short fight and gave up; mine wasn't as big as my dad's but 45 lbs. of muscle was a fun fight. We had a few nice fish for dinner so we headed in to the Trindade to clean them. We had a delicious dinner prepped by our personal chef; it couldn't get any better then that. Beto, Arnaldo, my dad and I all talked over dinner on where to go in the morning, we needed clear water and better conditions so we checked the charts. Dinner was amazing and it was time for our nightcap.
The boat cruised all night and … 
DAY 4
We arrived at Los Animas, That morning we all ate our healthy breakfast geared up or out dive. Something had come over my by the second day and my head felt like a vice was getting tighter and my sinuses were getting really bad. I took some decongestants so I sat out on this mornings dive. Well, I wish I didn't because, when Beto, Arnaldo and my dad returned, all I saw was big fish. Damn! 45 lb. Dog Snapper my dad got, a 42lb. Dog Snapper Beto got. Between the both of them they shot spotted Cabrilla ranging from 10 lbs. to 25 lbs. a total of 7 grouper.
It was a great morning, now I wished I had gone.  The boat pulled anchor and headed in to San Diego Island, there we had lunch and relaxed for an hour before diving again. There we all got in the water and we were looking for big grouper and snapper. The sun was 2 hours away from setting so we had to keep our eyes on the bait & fish and stay in the shade from the island. It's easier to see the fish plus you don't cast a shadow for the fish to see you. We had a good current; we made lots of passes along the island, and saw lots of fish.
The first drop in the water as my bubbles cleared I had a grouper come strait up at me so I dove down maybe 10ft. and pulled the trigger. BooYaa! Stoned him with my Island gun. Popped my head up before the boat could even move to let us dive and handed the Capt. a 12 lb. grouper.
It's really nice when you have a Capt. that hands you another gun all rigged and ready to go, I was rigged ready for combat just like that. Beto was landing some nice grouper same with my dad, all about 10 lbs. By this time the sun was on the horizon and it was getting darker in the water as the brown suet was creeping in on us from the bottom. I had made a few passes on a big Pargo whole and Beto and I were the only ones in the water at this time. I dove on the spot with Beto not far and lined up on a fish BAAMMM! The fish takes off and the breakaway goes to work.
The Dog Snapper went right for the rocks and the bungie got out of my hand and he took 2 feet of line too many, so into the rocks he went. CRAP!
All I was thinking is a head full of SNOT and I have to dive 50 plus feet to get this fish out of the rocks. I shot him in 25 feet that wasn't to bad for me but I was feeling the pressure on every dive I made that squeaking in the forehead, ouch! Well, with an audience on the boat and fighting the current and had to see what the damages were so I dove. I saw the fish on its side and no shaft, all I could thing is the shaft is in and around the rocks, so I got my knife in one hand and I'm ready for action. I got to 30 ft. and the squeaking started bad, but I still thought I could do it. Yes! I got to the fish and my shaft was off to the side the ice pick was caught on some line on the rock.
Once I grabbed the tip and wiggled it loose the fish went ballistic back for the rocks. With a few strong kicks I was able to keep him from going back. Beto was there to greet me at the surface and make sure I was ok. I'm OK! What a rush and a fun catch. That snapper was 15 lbs., a fun way to end the day. Beto wasn't finished yet; he was set on landing one last grouper. The sun was setting and we were all on the boat waiting for him to land something nice.
After 20 minutes and the sky is darkening when we see the torpedo float take off, Beto had been working one area so we new there was some good fish below. He hit the surface with a big breath and asked for the gaff, he told us to hold the float line. He took one more dive on this fish and said, he is ready to come out, if no go then we cut the line. We started to pull on the line and back the boat up at the same time, then…. Snap! The line broke and no fish. Beto estimated it to be a 30 lb. grouper.  The day came to an end and we enjoyed a perfect Grouper dinner and a glass of fancy wine. 
That night we powered over to EL Bajo Where we woke up to a beautiful cove on Isla Espiritu Santo. We took the small boats out to EL Bajo where we had some green cold water, we jumped in once and new it was not our choice of diving so we took the small boats to the North end of Cerralvo Island. It's a far run but much faster then the big boat that cruses at 12 knots.  We hit all the good spots around the north end of the island and to no luck we saw nada.
We had a great trip with good people and a lifetime memory, spending it with my dad enjoying what we love sharing so much, spearfishing together. It was long overdue. As the Trindade headed to the city of La Paz we all cracked open a Pacifico and socked in the magical sunset listening to some nice music as we in hailed the smell of our fresh catch of the day being BBQ'ed up on the Barbi.
Thank you Beto for a great trip and Arnaldo you are a true Champion great diver. Thanks Dad for letting me take the time off work to have some fun with you, that's so important to me spending time with you when we have it.
Written by Julie Riffe, San Clemente, California.