KOSRAE - MICRONESIA'S HIDDEN GEM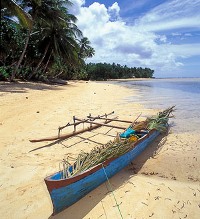 Imagine a remote tropical island with high mountains covered in rainforest, ancient mangrove forests at their feet and miles of pristine hard coral tropical reefs right off the beach. Everybody's dream, right? 
BUT, Kosrae isn't a dream; it's a real tropical Pacific island. Located 5 degrees North of the equator is a little known island in the Federated States of Micronesia, about half way between Hawaii and Australia.
A Continental 737 lands at the Kosrae "International" airport 6 days a week, 3 days the flight originates in Honolulu and the other 3 the flight originates in Guam.
It's about a half an hour drive to "KVR" as it's known locally.  On the way you will get to see the famous Sleeping Lady mountain profile and Lelu Island where the Lelu Ruins are found. 
Crossing the footbridge into KVR you truly go back in time.  Each thatched oceanfront cottage is hidden in large trees. The power lines are hidden, but each cottage in the resort has a small refrigerator and coffee maker and a huge private garden shower.
Wireless Internet access is available too, so you can sit on your cottage porch, watching the ocean and emailing your friends.
The restaurant is fantastic (vegetarian, vegan and special diets are all handled with grace).
The Kosrae Village dive operation is a PADI 5 star operation and lives up to the 5 star expectations. Nitrox is available and the dive guides (PADI Dive Masters and Rescue Divers) will wash your gear, set up your tanks and help you find all of the marvelous animals on the reef.
If you are a photographer, bring your camera, the reef is amazing!
There are lots of other things to do aside from diving: hiking, climbing, kayaking and canoeing just to list a few.
Kosrae is a perfect place for ladies traveling alone or with friends, it's totally safe and you will find that the Kosraean people are among the friendliest in the world.
Written by Katrina Adams, Kosrae.