MY FIRST IMPRESSION OF KONA, HI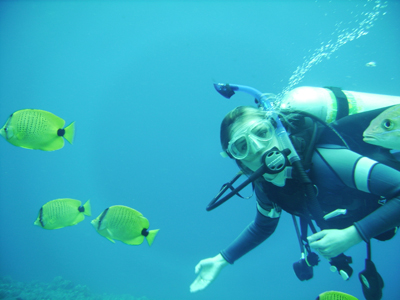 Just mention Hawaii to any diver and their first query will be, "did you do the Manta night dive?"  Although the Manta dive can be the highlight of any trip to the Hawaiian Islands it definitely isn't the end all of diving.  At least not for this diver.
The itinerary for our trip was set. We were to fly out Wednesday night, arrive in Kona at 9 PM, check in and get settled that night,  start diving Thursday, Friday and Saturday and use Sunday to recoup, decompress and fly out on a red eye that night back to Los Angeles.
My previous dives in Hawaii had taken place off of Oahu exclusively due to the fact that I was working on that Island.  Oahu is known for many choice wreck dives including a 1942 Corsair plane and the abundance of Giant Sea Turtles.  But this trip was to go to the Big Island for pleasure and to dive off of Kona.  No work was to be done other than donning my equipment.  Our dives were scheduled through Bottom Time, and our stay was at the Outrigger Keauhou Beach Resort. 
Since our trip was scheduled during the off peak season, many amenities were not available.  Full serve lunches and breakfasts were lacking.  Buffet breakfasts were the only option in the morning. And pre-wrapped sandwiches were the only things available for lunch. 
You also have to be weary of the "Ocean View" suites.  Our suite had an ocean view, which meant to see the ocean you had to walk out on to the balcony and turn right.  The best "amenity" of the hotel, by far, was the turtles.  During mid-afternoon, the turtles would come and play in the small inlet right next to the hotel.  A few of us photographed and watched them for hours.  Since hotels are really only a place to rest your head and assemble your camera equipment, we overlooked these deficiencies and moved on to the diving.
As stated above, our dive operator was Bottom Time.  There shop is located in the hotel so pick up in the morning was quite effortless. The crew on the Bottom Time boat was excellent, knowledgeable, and fun.  They were very attentive to what we wanted to do and see and were truly great dive leaders and fun to be around.  The owner of Bottom Time was bit overbearing and condescending at times, but luckily most of the time was spent with the professional staff on the boat. As a catamaran motor boat, the vessel was quite stable and adequate, although the camera table was a little small for those of us with full dSLR housings.
The first dive of the trip was to Golden Arches.  Named for the massive number of golden yellow fish that used to reside here, they made the water looked golden from the air.  Unfortunately they have all been but fished out, however  this site still has amazing coral reef and a large arch that are definitely worth the trip.
Other dive sites on the first day were Crestwood Bay and the Manta Night Dive. Yes we did the Manta dive on our first day.  As with most trips to Kona the Manta Dive is to be the apex of all the dives.  Of course since we decided to do our Manta dive on the first day I was simply hoping it would be the kickoff for a great few days of diving.  We had been told that no less than 14 Manta Rays were seen the night before. 
Needless to say our whole group was quite excited for the dive.  The area of the dive is called Manta Haven, aptly named and all the dive operators moor to each other in this area.  A set of lights are set up in milk crates aimed directly up to lure in the plankton for feeding. 
We started the evening with a dusk dive. This was in Eel Garden Cove. There was still enough light that a dive light is only needed for crevices and towards the end of the dive. We explored the Garden Eels for some time as they wavered above their holes searching and waiting for food.  As each diver approached the eels would retreat making the scene look like ground hogs popping up and down out of the ground.
Our group surfaced for our topside interval and to get a full briefing on what to expect for the manta dive. 
Our dive leader Danny gave us explicit instructions on how to conduct ourselves and how to surface amongst possible dozens of Mantas.  He also explained that there is a huge eel named Frank who likes to hang around the lights searching for the other small fish lured there by the lights and plankton  as dinner.  Frank tends to wrap himself around divers thinking they're rocks. Good safety tip Danny.
We descended to the area of the dive and waited expectantly.  Whilst we waited for the first ray to show, Frank the eel made his appearance.  Luckily he swam between my dive buddy and me for a full on show.  By far, the largest eel in girth size that I had ever seen.
The first Manta Ray showed shortly after Frank arrived.  With a wingspan of about 4 meters it hovered like a glider over us  Unfortunately for me he swooped down on the far side of the lights opposite of where I was kneeling, completely out of range from my camera and strobes.  The 2nd and 3rd  Rays followed suit and stayed for a minute or two.  After about 5 minutes of empty water space our dive leader decided to take us off on a hunt for other night creatures.  During this swim we experienced many night creatures including a free roaming octopus.
We continued our dive trip the next day at sites called 2 Arches and Henry's Reef.  Here I was exposed to something that for the first time actually made me as giddy as a young boy.  We finned over to a spot that was inundated with Milletseed Butterfly fish.  As we swam closer to them they started to surround us, darting in and out and around our group.  I likened it to be just like standing in a fresh snowfall where the flakes are as large as your thumb and you can put your hand out and catch them as they fall. 
The final dive was spent swimming through lava tubes and photographing frog fish. At one point we came up in a cavern inlet and as we swam back out the surge was so strong that my dive buddy and I used all our strength to hang on to some submarine rocks so we could line up our shots.  Unfortunately this surge was so strong that we both had to ditch our hand holds and continue on our dives.
Our final day was spent as a non-diving day due to our flights. 
With a whole day at our disposal we decided to venture to the volcanoes near Hilo. This area is a national volcano park and about 4 hours away from Kona. Six of us loaded into a van where Danny, our dive guide, traded his underwater compass for a land compass to be our chauffeur for the day. 
We drove our way to the volcano via 2 waterfalls.  At the 2nd waterfall, Rainbow Falls,  we had the opportunity to swim in the pools of water that form the falls along with experiencing cliff diving Hawaii style with some locals. 
The trip in the van to and from the volcanoes was long and grueling and on the way back through the mountain pass we were riddled with fog thick as pea soup but it was thoroughly worth it.  We all just wished we could have ventured there in the evening to see the red lava play out against the night sky.  Next time….
Over all, the entire dive trip was quite enjoyable.  There are a few other dive operations on Kona and on my return I'll be sure to try them out as well.  Diving the Hawaiian Islands is always an amazing adventure and to be only a 4 ½ hour flight from the Los Angeles makes it a perfect 4 or 5 day weekend trip.
Written by an Anonymous Contributor. Photo Credit: Szilvia Gogh