MY AMAZING TRIP TO THE GALAPAGOS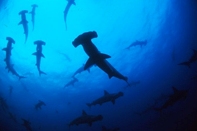 Started on Oct 15th, when we arrived to Quito, Ecuador, a "city in the sky" that is rising to 10,000 feet from sea level. The Hotel Masque in the heart of Quito was first class and the cuisine was fabulous. The next morning we were all up early to catch our flight to The Galapagos. Everyone was in excellent sprits even though our dive bags were teetering on the top of the bus with nothing holding them down.

After a quick stop at Guayaguil to pick up more passengers, we were off to the tiny Island of San Cristobal, 600 miles off the coast of Ecuador. Our pilots did a great job landing our plane on such a short runway. The Galapagos are not tropical islands. The chain of islands are mostly dessert, with volcanic rock and very little water. Once we arrived in San Cristobal we were taken to a small Marina. Our dive guides were waiting and took us to our new home on the water, The Sky Dancer.

Our first dive was an easy check out dive where we were surrounded by playful seals. Mother seals with their pups and barking Dad seals being protective. Overnight our boat moved to our next dive site, Gardener Islet, Espanola Island. We saw turtles, rays, White Tip sharks, Hammerheads and a lot
of sea lions. Not bad for our first day of real diving, but it was going to get a whole lot better. For the next few days we dove nearby North Seymour Island.
It wasn't until we got to Wolf Island that we had our first encounter with Galapagos sharks. Big and magnificent to look at, they are actually graceful and beautiful creatures. I was fascinated. Later that
day we got our first look at two Whale Sharks! I was so excited I nearly dropped my regulator out of my mouth from smiling. This is why we came to the Galapagos, for the Whale sharks. Gentle, mysterious creatures, there is no way to describe their awesome presence.

There are a few rules of diving with Whale sharks; we were told to watch our depth, as it's easy to get caught up in the moment and get too deep. Also, do not to get to close to the tail. If the Whale decides you are to close and makes a quick dive, the massive tail can whip you.
During our first dive at Darwin, we dropped down to sixty feet to a ledge. We patiently waited for our dive guide to ring a bell and pointing at an approaching whale. Suddenly, the divemaster signaled again, and pointed out into the blue. We all swam as fast as we could toward a dark shadow, off in the distance. I got as close as could and saw a whale shark. I looked right into its giant eye, wondering what it might be thinking of me.
I was trying my hardest to tell it by telepathy that I was only there to look and be amazed. As this was a deep dive I checked my air and realized it was time to come up. On my safety stop, I remember thinking if I didn't see anything else on this trip I would be happy. But the dive wasn't over! Suddenly a school of Dolphins circled us. I could hear them talking about us; they wanted us to play with them. I was going nuts that I could really be here, surrounded by Dolphins.
I decided right there and then I'm coming back to Galapagos. Over the next couples of days at a place called Darwin arch, we saw Whale sharks and schools of Hammerhead on every dive. From what I¹ve heard from other divers that have made this trip we were very lucky to see so many Whale sharks. But we still had a few more dives to do and one was a night dive. I love doing night dives, but at the same time I'm a little creeped out. The idea of being 600 miles from the main land going out on panga, in the middle of nowhere, in the dark would make anyone a little uneasy. I like challenges, so I was the first one geared up.
After the briefing a few of us jump into the pangas, and off we went. The night sky in the Galapagos
is as amazing. There were millions of stars. I stopped counting the shooting stars. As we move through the water to the dive site you see the luminaries as they appear to be jumping out at you. Soon, I take the back ward roll off the panga and all my fears are gone. The undersea world at night is truly astonishing.
I couldn't enough of this place and was really sad when we knew our last dive was approaching. I took my last dive in Galapagos knowing I would be back some day. And it wasn't a sad good-bye, but one with a full and happy heart knowing that someday I will return to this mysterious and beautiful place.
Written by Maria De Armas, Cuba.