FILMING SHARKS ACROSS THE GLOBE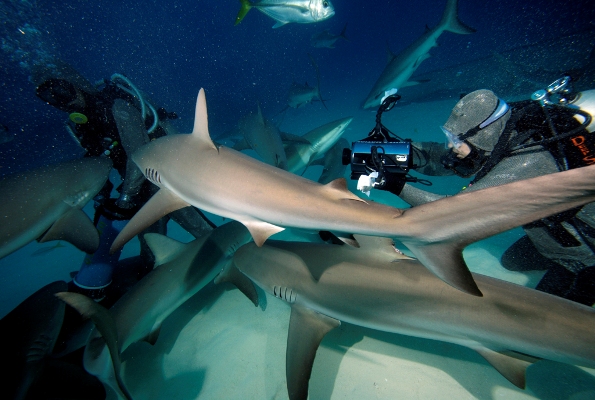 I don't remember not loving the ocean. Since childhood, I have felt a deep connection to the water and this relationship has always influenced my life. Slipping into the sea is like coming home for me. It is here that I can truly breathe, as the ocean reveals itself to me. I never know what I will find and I am sure that is part of the allure, the excitement, and the energy that intrigues me. Marine biologist, scuba instructor, conservationist, rebreather diver, underwater model and ecotourism guide are all hats I wear in order to spend as much time in the water as possible. Along this amazing journey I have worn them all at the same time or cleared my canvas completely for a new adventure. I have always carried a camera of some form and learned quickly how powerful images can be. They have the capacity to draw people in and make things real when words just aren't strong enough.
My first real exposure to sharks was with Mote Marine Lab in the spring of 2003. This marked the commencement of what has been a 6 year, life shaping journey across the globe. Australia, Indonesia and the Bahamas are all places I have traveled to; following sharks and pursuing my dream. My desire to share the ocean with people began because I wanted my friends and family to see what ignited my drive and what I was so passionate about. Their reactions and excitement only added fuel to the fire and I continued to pursue outlets for my photo and video work.
As I have traveled, I have learned that knowing and understanding the behavior of each particular species enhances the ability to capture unique footage. Each type of shark is very different to shoot. Their movements, their eyes, their interactions with divers and each other, and their curiosity level are all elements to be considered when taking a camera in the water. Observing and understanding these aspects of each animal also makes the experience more enjoyable.
Last fall I had the opportunity to film the white sharks of Isla Guadalupe for Shark Diving International. I had filmed white sharks before, but only from the confines of a cage and in rather low visibility. The crystal clear waters of Guadalupe make it ideal for underwater imaging. When conditions were right for being out of the cage, I had a nasty head cold and the full face mask was making me feel nauseas.  Nothing, however, was going to keep me from this experience. I dove beneath the surface, struggling to breath and slightly cold, but everything cleared as the first dark silhouette appeared in the blue.  
A 17 foot female began to make her way towards me and I put the camera down, wanting to see and feel everything with my own eyes. It was a moment I had longed for, but never could have anticipated the magnitude of. Finding the appropriate words to describe the experience will most likely never happen in this lifetime, as I am not sure they even exist. Her beautiful black eye looked right at mine as she slowly cruised by. I can still remember holding my breath and everything else in the world being silent. Nothing else existed at that moment; not the other divers, not the water and I don't even remember color. For 30-45 seconds my world as I know it stopped and I was consumed by hers. Forever etched in my mind, it gives me goose bumps every time I think about it.  I feel like life is defined by these moments; as indescribable as they are unforgettable. I love my job!
Tigers are another large and rather curious species of sharks; making them extremely fun to shoot. Having a 1200 pound shark rub her snout on your camera is pretty epic.These big, "cats," look right at you and right at the camera, as though they are posing for the shot. Maybe they understand that their face may be plastered all over the internet and magazines?  The tiger sharks of Tiger Beach range in size from 7-15 feet and are primarily female. I have been out there on over 25 separate occasions and have come to recognize certain animals. An almost immediate distinction between characteristic and personalities comes out with these animals. Although feeding and swimming behaviors are primarily similar, each animal is truly an individual. Any person who groups, "sharks," collectively, need only spend a few minutes in the water with a group of them.
Caribbean reef sharks offer a fairly run and gun shooting format. Filming at a feeding sight can be blur of gray and silver, mixed with sand and array of other species. This makes getting shots a bit of a challenge, but again that is part of dealing with different species. Peace, however, is found among the chaos when feeder Cristina Zenato (UNEXSO) puts and 8 ft reef shark into tonic immobility and gives it a kiss on the nose. If one is close enough they can see the sparkle in her eyes as she shares a quiet and very personal moment with that animal. Having put sharks in tonic immobility, I can say that it is extremely energy charged while being bizarre and serene at the same time.
One of my other favorite places to shoot sharks is at the Bimini Biological Field Station (Sharklab) located on the small island of South Bimini in the Bahamas.  Blacktip reef sharks, Caribbean reef sharks, great hammerheads, tiger sharks, bull sharks, lemon sharks, silkies and duskies are all found in the waters surrounding the island. The shark pens at the lab are ideal for over/under shooting and close up face shots of the sharks. Neonate nurse sharks are my favorite to shoot because they have huge personalities. With my scientific background I really enjoy photographing and filming the work being done at the lab as well. It means an opportunity to get out in the field and be apart of some incredible work, with a group of passionate people.
As I sit here writing this, I have worked with over 30 different species of sharks and will continue on this life long quest to see as many as possible. Each opportunity to film and photograph sharks is completely different and that makes it a beautiful challenge.  At the end of the day it is all about my love of being in the water with these animals. My cameras allow me to take a piece of those fleeting, yet incredible moments and share them with the world. They say, "a picture is worth a thousand words," and I hope that my images live up to this. I hope they spread not only an educational and conservation message, but entice people to slip beneath the surface and see these incredible fish up close.
Written by Jillian Morris. Photo Credit: Eddy Raphael