BREATH TAKING DIVE IN FIJI -NIGALI PASSAGE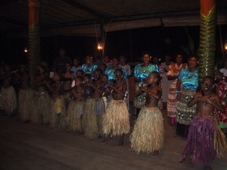 Going on a diving holiday in Fiji turned me into a macro junkie.  It's a big change for the woman who could happily spend half of her dive sitting in the blue and staring into the distance looking for sharks.  After my time in Fiji, the next time I dive Elphinstone in the Red Sea, I can see myself mooching along with my face to the wall instead.  

We dived around Viti Levu and the western end of Vanua Levu with sites like E-6, Maytag, Oz and Two Thumbs displaying some of the most amazing vibrant soft and hard corals, hundreds of fish and the 12 varieties of nudibranch that I saw (there were some I missed).  The Nai'a dive guides were marvellous and pointed out the tiniest things but, with 10 days' diving, your eyes become accustomed to what to look for and you wind up spotting things for yourself.  I had the rare pleasure of photographing an extremely rare nudi that none of the locals had ever seen in Fiji.  I even had my first experience seeing and filming a swimming flatworm.  But one of my most spectacular and memorable diving days - ever - was at Nigali Passage.  

Although we saw sharks on most dives, the Nigali Passage was a dive not to be missed.  There is no feeding here unless it is at the unanimous request of all the guests on the boat.  The fact is that, irrespective of your opinions of feeding, there is absolutely no need.  You drop in at the top of the current that rushes through the reef into a lagoon.  It runs along what looks like a giant sandy driveway which is at about 20m or so.  And then you FLY.  Flying with us were three varieties of schooling barracuda, a couple of big malabar groupers and of course the sharks.  Grey reef sharks and white tips abound here.  You sail along until veering off to the right to a small coral ledge which looks across the big sandy driveway... and then watch it all unfold.  The sharks are very curious and will come around for a look at you.  You can also visit the wall behind you "... if you get bored" (Sonia, Dive Leader).  As if!!  Then you let go and head into all the sharks and barracuda and across to the other side to catch the current up to the lagoon. 

You glide in a right turn into the lagoon and feel yourself immediately slow down.  You mooch along for 5 minutes or so and then you come to the Cabbage Patch.  It is an enormous field of rich green cabbage coral - about 8 or so metres each side - in fantastic condition.  Because it is shallow (we were at about 3m) the green and gold glows in the afternoon sun.  Then, we spotted an octopus ... just sitting in the cabbage patch ... not bothered at all.  My friend moved around behind it and it came towards us.  We crept up slowly, but still clicking away (I got about 20 pics of him), until he was about 2m in front of us.  Amazing. 
I did the Nigali Passage three times that day.  On the last dive, the current was turning and going out of the lagoon, so we dropped in on the viewing point and just hung in the passage with sharks, barras, jacks and other fish - including a ridiculously cute string of three baby reef sharks with mum leading the way - for about 45 minutes.  It was tough working up current to the lagoon when it came time, but it was worth it to hang out with all the sharks and fish in midwater.  "We only surface because we have to" goes the saying! 

Even the 21-hour economy flight couldn't dampen my enthusiasm for this holiday.  It was beautiful and certainly an eye-opener.  For all my talk of being a macro junkie, I am still blown away by the big stuff.  But these days, I have a healthy admiration and respect for the small stuff too.  It's amazing what you see when you look.    
Written by Leanne Bentley, London. Photo Credit: Szilvia Gogh