The home of Muck Diving, Colorful Reefs and the "Capital of Nudibranchs" - Anilao, Philippines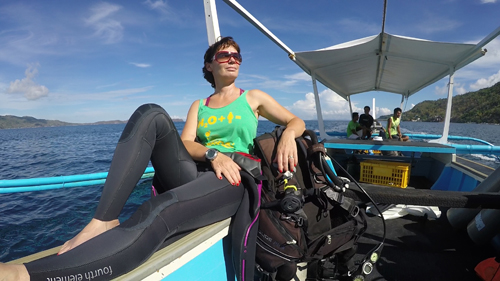 I fell in love with muck diving many years ago in Lembeh Strait, but I have not had to opportunity to look for "out-of-this-world" critters in dark sand since that first time – until now.

Muck diving is not a derogatory term describing a type of adventure one would experience in filthy, cold, dark waters, but rather it is an exciting warm water dive pastime that many get excited about, especially photographers.

Presently I am in Anilao, in the Philippines, with my family. I was lucky to be invited by an industry friend, Chito Aquino who is the marketing guru at El Pinoy Dive Resort in Anilao, Batangas.

Anilao is very peaceful, tucked away on a hillside by the sea. It feels as if the area is a "dive city" with about 50 resorts catering to scuba divers mostly from Europe and China.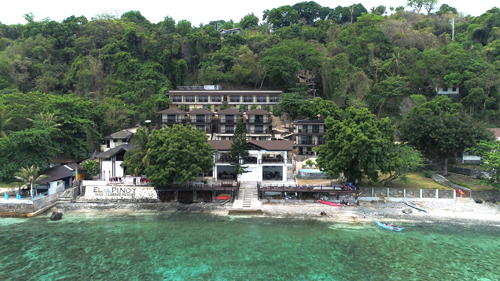 While American scuba enthusiasts opt to visit the Philippines for its affordable and competitive package pricing, most Asian and European nations embrace it for it's close proximity to their home base and ease of travel.

El Pinoy is situated at the foot of the hill where it meets the ocean. The layout of the resort is terraced climbing up on the hill, providing each room with splendid ocean view. The sandy yet rocky beach right front of the resort hides crabs and smooth white shells, providing us with ours of entertainment and fun. My son and I love spending the late afternoons looking for treasures and playing in the warm tide pool like shallow water.

I feel lucky to be able to dive for ten days straight without having to think about anything else but the creatures I anticipate seeing that day.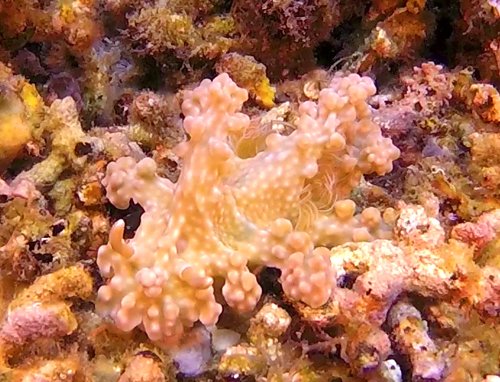 It is like I am on a treasure hunt every time I submerge with our divemaster, Fherdie Saligumba. He either has magical powers or has dove these waters thousands of times, because he can spot the most tiny, camouflaged creatures hiding tucked away under a coral branch behind a rock.

(Batangas) Anilao is known as the "capital of nudibranchs" amongst divers. There are more than 1000 different nudie species that live here and most divers visit the area because of that reason.   

Right in front of our resort, on the house reef lives one of the rare, light pink Ceratosoma Alleni. This bizarre nudi was only discovered in 1993. I for sure have never seen one like this. It looks like as a lady bug met a pink chewing gum and they were squished and molded together, kind of like my son's play dough. It could have just stepped out from an episode of Spongebob.

As a matter of fact, the whole underwater carpet could be in that cartoon. Nudies here vary in size from a ¼ inch, that you need a magnifying glass to see, to 7-8 inch giants (relatively speaking). The color spectrum of them could fill Claude Monet's paint box with every shade of the rainbow when he was painting Water Lilies.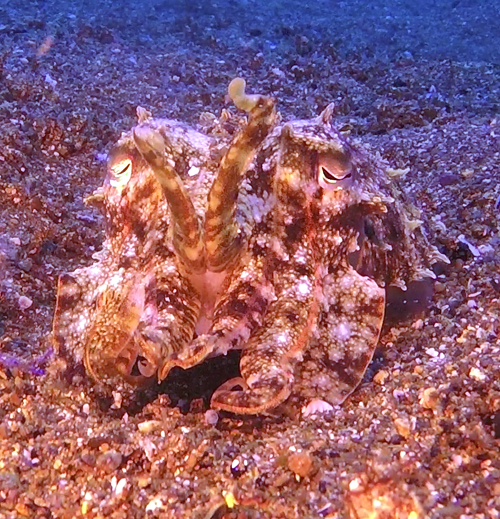 As much as nudibranchs are the stars of this part of the world and the main reason divers visit this area, my favorite creature is the cuttlefish. Don't ask me why. I just find them super cute and fascinating. The way they can hover as a spaceship, the vibrant changes of colors, the huge eyes and the playfully dancing tentacles mesmerize me.

In the same fashion as their squid and octopus relatives, cuttlefish have a large, elongated body with tentacles surrounding their mouths.

We got to see the flamboyant smaller cuttlefish and a number of larger "regular" type as well while our dives here. As I was hovering facing one and we were dancing in circles while keeping an eye on each-other, I couldn't help but wondered if James Cameron will use a version of a cuttlefish in his next Avatar movie where the new creatures we meet are rumored to live on a planet covered with water.

As much as I love "just watching" the ocean habitat and feel the relaxing effect breathing underwater has on me, I equally enjoy taking pictures of them to bring back and share it with my non-diver friends and my 4-year-old son.

I used to be an avid photographer clicking away my digital camera and take tons of pictures underwater.

Lately however, I am using the GoPro and capture short videos. Just because it is simply less work and I get great results.  
Since we had our son, I don't have the time and energy that it takes getting the camera and housing ready before the dives, download and process the pictures… I love how easy using the Hero5 is. Ironically, it also records better videos in low visibility compared to the camera that my husband Hilaire is trying out which costs three times as much.

These days I prefer to take it easy on every level, but especially when it comes to diving for fun. I don't want to schlep heavy gear, I don't want to spend hours getting ready to dive and I don't want to pack bags filled with housings and lights.

Scuba diving in the Philippines is as easy as it gets. The dive sites are all within 8-20 minutes away from El Pinoy. In the mornings, our divemaster Fherdie questions us about the creatures that we wish to see and then he picks the dive sites based on our request. On every dive that we've done so far, Fherdie has consistently delivered from my long list of things that I wanted to interact with.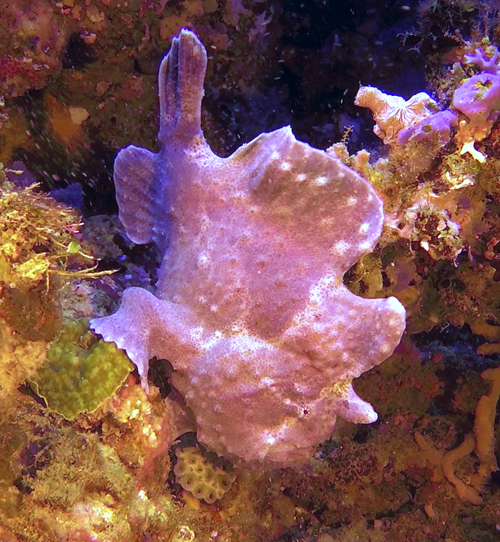 I asked Fherdie this morning if he could find me another seahorse, octopus or a cuttlefish. He found them all on our morning dive. First, we came upon an itsy bitsy brown coconut octopus baby. It measured only about 3-4 inch. As I was filming him with my GoPro on an underwater tripod, he changed colors and formations several times, giving me an opportunity to document him in action yet stationary. It is incredible how they can do this magical change in their appearance.

We saw white, yellow, hairy and a ginormous purple frogfish.  They remind me of prehistoric creatures, such as dinosaurs with their giant feet. If there was a Jurassic Park Underwater, I am sure they would be the main creatures running wild.

We came upon a giant brown hairy seahorse that was posing for an extended period of time at front of a coral branch patiently for me to film him from every angle. This one was easy to spot, as it exceeded 15 inches and leisurely wrapped his tail on a rope and swayed back and forth with the slight current at the middle of a plain dark sand desert in the muck.
We also located the purple and pink fan corals that are home of the elusive pigmy seahorse families. Now, these are not easy to find as their size is tiny, hardly a ¼ inch and their color matches their background. They are totally blending in their surroundings. An untrained eye would think they are part of the coral.
I tried filming them, but it was fruitless effort. After that experience, I was frustrated with my failure. I have to admit that when I first heard of the idea of using an underwater tripod, I was totally against it. I have great buoyancy skills. But filming the tiny creatures in currents require more stability and hence I gave it a try. What a difference. I totally love how my footage improved since I am using the underwater tripod.

I love the wide range of dives Anilao has to offer. Here one can dive the colorful coral reefs, go on a "macro" dive or opt for a muck dive. There are even some ship wrecks for those who love wreck diving.

Most places that I have visited offer one or the other. This is the first place where I can have it all. It is like a breakfast. There is something for everybody.

After the adventurous day of diving and a hearty lunch, I am spending the afternoon leisurely lounging next to a hammock, where my son is napping. As I am sipping a glass of chilled wine, I am thumbing through a summer read and contemplating how lucky I feel to be at this beautiful place with my family.

What makes El Pinoy truly exceptional in my mind, is the one-on-one childcare they provide while we are diving with my husband. The peace of mind I feel when we depart each morning diving, and leave our son playing in the resort does not have a price tag.
Believe it or not, it is hard to find a dive destination where the diving is superb, it is land based and offers child care.

We sure cherish every moment of our stay here and will sure to be back for another family vacation.
Written by Szilvia Gogh Photo Credit Hilaire Brosio and Szilvia Gogh.
Watch Adventures with Miss Scuba: Muck and Reef Diving in Anilao, Philippines