Our First Family Scuba Dive Vacation with our Three-year-old in Beqa Lagoon Resort, Fiji
Wanderlust didn't evaporate from my soul after I got married and gave birth to our son. I still love to bounce around in the world, but nowadays I travel differently.
Before I was rooted down by a family and a mortgage in Los Angeles, I used to pick my destinations based on adventure, adrenalin rush and remoteness from the "usual". I explored the wilderness of South Africa, the tranquility of Antarctica and the crazy nights of Bangkok, Thailand.
These days' picking my scuba adventures requires more research. To ensure that the venue offers all the options needed for a balanced family adventure, I have to make sure of the following:
Of course, it has to offer splendid scuba diving.


It has to be land based. My three-year-old loves the water and is fearless, but he cannot swim yet. I would constantly worry on a liveaboard that he might fall or jump overboard while I am diving with my husband.


They have to offer childcare, so I can actually go scuba diving with my husband.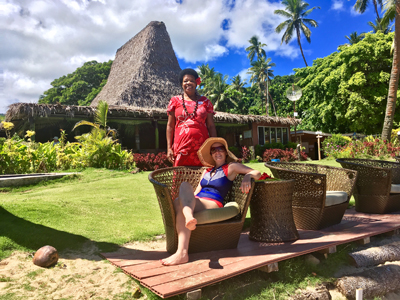 Believe it or not, but there aren't too many choices out there that provide all these.

Beqa Lagoon Resort in Fiji has it all; therefore it was a fantastic destination for our adventurous family. If you are not sure where Fiji is… Imagine that you are heading to Hawaii and keep going. Before you hit New Zealand, you arrive at this beautiful and luscious island.
While it is a far away island, there is a direct overnight flight from Los Angeles to Fiji (Nadi) that takes only 11 hours. After we ate our dinner and watched a movie on the airplane, we slept the whole way to Nadi.
Upon our arrival a super helpful local man jumped in to help out with our luggage. We had six checked in and five carry-on bags. This is not what you call light weight traveling, but when you scuba dive, shoot video above and below water, just purchased a drone and have a three-year-old in tote, this is as contained as it gets.
As soon as we stepped outside the Nadi airport, the humid air wrapped me in a warm welcoming embrace.  I love this climate. April (when we traveled) in Fiji is the tail lend of their monsoon season. Every day during our stay we received light afternoon showers.  It felt so energizing after the hot day. 
It took two hours by van and another 30-minute boat ride to reach Beqa Lagoon Resort – our home for the next ten days.
The staff awaited our arrival at the shore and greeted us with a beautiful welcome song and flowers. Once we settled in our bures, the first thing we did was a plunge in the pool. The water was refreshing and relaxing at the same time.
The spa offered a free 30-minute foot scrub and massage to the guests arriving to ease the jet leg and the aches of our bodies from traveling. It felt heavenly.
The diving in Fiji is spectacular. It is not a coincidence that scientists call this area the soft coral capital of the world. The health and beauty of the reefs exceeded my wildest expectations. It felt to me at times that we were swimming in an expertly arranged fish tank.
The wide variety of colors reminds me of the wild blends of the paints on the palette of an artist who is about to create a spring garden in full bloom.  I swam over corals in every shade of purple, pink, yellow, red, orange and green. You can experience every shape and color of coral that you have ever seen in a marine book. The table corals spread out as wide as a dinner table sets suitable for eight guests. The fan corals could be used by giants to fan themselves. The soft corals were my favorites as they looked like happy flower bouquets.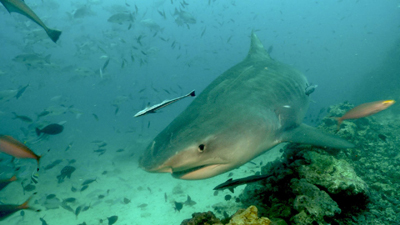 The dive crew was so attendant to our every need and wish that we felt like royalties. They took care of setting up and washing our scuba equipment every day. All we had to do was to show up for the day's adventure after our hearty breakfast.
The shark dive at the Cathedral is the main reason why scuba divers opt to stay at Beqa Lagoon Resort when they visit Fiji. The set-up was incredibly smooth and organized to the smallest detail that even brand new divers could partake in the action. We had a couple from New Zealand joining our group whom just got certified. I had a feeling that after their experience in Fiji, it will be quite hard to find other dive destinations that will live up to their now high expectations.
After a twenty minute ride the boat moored at the "arena" and we jumped in followed by pulling ourselves down to 15ft on the anchor line. We dropped behind a manmade wall at about 50ft. We didn't need to wait long for the sharks to show up. First, the blacktip and whitetip sharks torpedoed through the crowd of reef fish freeloading on the chum that the feeders pulled out from large plastic containers. Shortly after, the gray and silky sharks appeared. Not even five minutes into the dive, the tiger shark that everybody hoped to see arrived as well.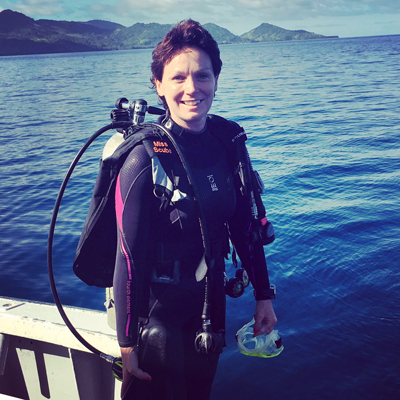 The Beqa shark diving crew operated very safely. There were 5-6 dive professionals accompanying us every time we did the shark dive. There were dedicated feeders, spotters and safety divers behind us with sticks to gently direct the sharks away from the guests if they approached a bit too close for comfort.
The sharks however knew how to play this game and did not bother us. Most sharks don't go anywhere near the exhaled bubbles. The only one that was not stopped by our exhaust was the tiger shark. He swam so close to us that I felt that tingling adrenalin rush I love. He passed by me just inches away from touching my hair several times before disappearing into the blue, just to reappear from another direction and circle back to the food.
The time flew by fast and after a short 30 minutes we were heading back to the shallow reef at 15 feet to perform our safety stop before we surfaced. Everybody chatted during the surface interval recounting the moments of the excitement of our dive. After an hour, we reentered the water to repeat the action packed "show."
The shark dives were offered Mondays, Wednesdays and Fridays. I took every opportunity to go and was rewarded with tiger sharks on every dive.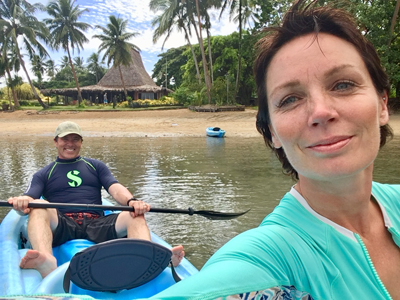 In between shark dives, our knowledgeable local divemasters took us on fantastic reef dives. Some took place in still waters while others provided the wild rides of a drift dive. I love both types of diving. While diving on days with no current allowed me to stay very still and video a particular corals that I found fascinating from every angle, I also enjoyed the drift dives that felt like roller coaster rides. Once I fine-tuned my buoyancy, I felt that I was watching a Jacques Cousteau film as I was flying alongside walls covered with soft and hard corals of every imaginable color.
While we were diving, the resort crew took care of our son, Enzo. It is incredible how much Fijians in general love kids. Men and women alike were caring for a couple of babies during the day and treated them with attentive warmth and vigilance. I was not even that brave to bring my son that young on a dive trip, but it was soundly comforting to see them in such great care.
Mela (she works in the spa) and Seini (she works in the restaurant) both took Enzo to their village on their days off to have him play with their own kids.  They wanted to show him their homes, as well as share their lifestyle and Fijian customs.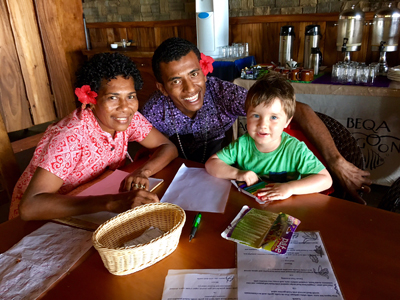 During the afternoons we'd take family hikes up to the local waterfalls or kayak around the house reef. It's nice to tune into the environment and really enjoy the uniqueness of where you are. And experiencing it through my son's eye is fabulous.
 I feel that seeing the world and experiencing different cultures early in life is the best lesson I can teach our kid. To comprehend diversity, is more important to me than learning how to spell at the age of three.
To truly understand that the world is filled with different places and faces, one must travel and experience it firsthand. 
The smell of a local dish, the traditions of a culture is best understood by being there and living in the moment. Travel is my biggest passion and I only hope that our kid catches that travel bug from me.

Written by Szilvia Gogh Photo Credit Hilaire Brosio and Szilvia Gogh.
Adventures with Miss Scuba: Shark Diving in Beqa Lagoon, Fiji
We are heading back to Fiji. Join us with your Family!