DIVING WITH DOLPHINS IN EGYPT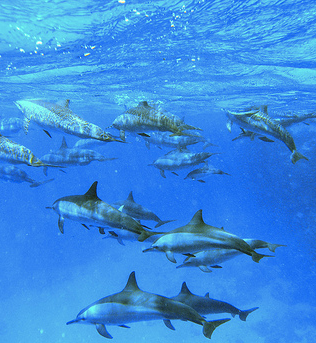 This year again, amongst Europeans, Egypt is the favorite travel destination. People looking forward a more relaxing experience, visit El Gouna, Makadi or Mars Alam, while the more adventures ones, like me, choose Hurghada or Sharm El Sheik.
I found the marine life the most amazing here despite that unfortunately, the states of the coral reefs reflect the number of visitors. They are run down, which is no surprise when one sees the amount of groups visiting each dive sites, each day. Divers alternate, like visiting groups in the Vatican.
Regardless, I loved to swim with dolphins every day while my staying. I completed and enjoyed all four dives, the dive shop offered daily. Great news that this year divers can go down all the way to the untouched Sudan waters.
Hurghada and Sharm El Sheik is sizzling compare to the more conservative, Muslim parts of the country. Here one can barhop, smoke water pipes and the streets are more crowded in general. Alcoholic beverages in Egypt, being a Muslim country, is not readily available, therefore I suggest to bring your "cough medicine" with you from home.
Especially, that the local liquor not only tastes horrible, but the effects on the body are not too pleasant either. When arriving to Cairo, passengers have a 48 hours window to buy three "European quality" bottled alcohol and two box of cigarette. The locals are smart enough to stamp everybody's passport at entry and handwrite (!) the amount of alcohol bought.
Don't let yourself fooled by the all inclusive hotel titles either! If you want to drink other than the local liquor, if you want real coffee or fresh orange juice… they are all at an additional cost, so might as well call the places almost-inclusive. :)
It is important to pick the right time to visit. For divers the best time is from May till October. The water temperature drops dramatically at the winter months. That time hikers flood the place, while at the summer, water lovers visit the Red Sea from all over the world.
Written by Csilla Gogh, Hungary.