MOVING FROM LONDON TO PARADISE - COSTA RICA

"What is it like working as a professional female diver?"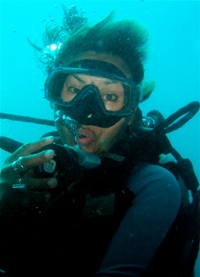 My lifestyle not so much about traveling but about living.  But why?  I thought that the salty sea dog look could in years to come be a fashion statement on the catwalks of Paris, London and Milan, so I thought I would preempt it.  My hair is now streaked naturally by the sun, and not by a London hair salon; a permanent tan which does not have "San Tropez fake tan" written on a bottle; a strong upper body which has nothing to do with amount of repetitions whilst in an LA Gym outlet, but more with shifting tanks that weigh 40 lbs each and toned legs that have nothing to do with aerobics, but more to do with pulling tired people to the boat or powering after that last glimpse of a passing manta ray.

Though you may think I jest, California salons are now offering saline soaking baths for silly dollars and recently I saw a spray for the hair with a complex new formula called seawater.

So much for the body.. but what about the soul?  Let's paint a picture of a day in London with eight million other grey people.  One million of them descending on public transport to be at their desks at the witching hour of 9.00am..  Imagine jammed in vacuous, air- starved underground trains with the person who forgot to put deodorant on, or the only remaining memory of the romantic dinner from the night before being the waft of their stale garlic breath.  The horror of peeling oneself out of a warm bed in winter to launch oneself into the eternal void of commuterism.  To sit all day under fluorescent flickering lights and then to leave in the dark and do it all again in reverse, like some subterraneous mole.  A place where your surroundings are cars, exhaust, cement, tarmac, noise, with the steady bustle of stressed grey people in true Metropolis style.

The ever decreasing circle of working, commuting, money, consumerism, self protection and self and me, me, more more, want want,   The expense of maintaining a lifestyle in a rich city, where, your worth as a person is dictated by the style of your handbag.  My not so piddly salary whilst working in Marketing for Revlon was always spread thinly.  After the lumps and bumps of taxes, bills, food, and yet more bills, most months it didn't manage to touch the edges of the month.  Then I thought, zero is zero anywhere in the world.  I could go out in the world and aim to get back to zero at the end.  That way I could safeguard chipping away like a manic stonemason into my savings when funds didn't meet requirements.

So I devised a five year plan, which involved buying and selling some property in London and ended up with some savings to support my new life and a large three bedroom flat in central London for rental.

In April 2000 I boarded a plane to Bangkok, Thailand and waved goodbye to the last of the grey skies and damp English winters.

So here I am seven years later sitting here in Costa Rica typing this piece.  As I sit here I  can hear the rustling of trees outside as the Papagayo winds blow through and watch the swallows dipping into the swimming pool.  This morning I awoke to the usual alarm clock of the aptly called howler monkeys howling and the pecking on the windows of a the Kisskadee bird. .

I have been here in Costa Rica for just over two years and have been working for Pacific Coast Divers based in Flamingo (aptly named after a confused ornithologist saw some Spoonbills). It is on the Northern Pacific coast of Guanacaste.  There are three main dive areas here; Isla del Coco, one of the top shark diving sites in the world and 300 miles south from land (I would give my calloused right hand to dive there, but the cost includes an arm and a leg); Canos Island, located on the Southern Pacific coast and Bats and Cats, which is the Bat Islands and Catalinas.   After over two years of diving the Catalinas I can still say earnestly that a good days diving here is jaw dropping.  I work six days a week.  I am lucky here, I receive a basic salary, which I bump up by selling underwater photos, and I get a guaranteed day off.   The diving industry is feisty.  Many companies employ you on a commission only basis and with no days off.  One's working day can stretch easily to 13 hours and I have been advised in a previous dive center, in no uncertain terms, that where I am working is now to be my life.  There is an unspoken attitude of  'there are plenty more where you came from' and indeed I know some newly certified instructors that would work for free just to gain the experience.

Which brings us to the question "what is it like working as a woman professional diver?".  This has two responses, 'great!' and 'sucks!'.  The great bits first.  For all the single girls out there, it does wonders for your social life.  You have entered a male domain.  The ranks of fit, healthy, neoprene clad men are there as your friends, work mates, confidantes, lovers (if they haven't taken up with their latest student).are surrounding you.  As a woman I have enjoyed being a role model for my female students, showing them that women in a man's world can work well. I enjoy giving the finger, metaphorically speaking, to all those macho men who after strapping their dive knife to their leg and donning their latest dive gear gismo, look to me frantically as they can't descend, not knowing which button does what.  As the only female, one becomes easily identifiable for other women with questions "I am on my period, will I attract sharks?" 'I am worried about getting my menopausal hot flush whilst diving" "where can I change my tampax?",   With the diversity of people that one can meet on a dive boat and working in the industry, I have also been lucky to have met many wonderful and inspirational women.

So here comes the sucks bit…. It is a usual cliché, but one that does hold true.  In a man's world a woman has to work over and above that of a man to prove acceptance.  I lift the same poundage and pump the same number of tanks.  If am asked to load the truck up with 30 tanks, I just do it.  No precious princess moments.  If I split my thumb open under a falling tank, I just carry on loading and wash the blood in the sea.  If customers get stung by jelly fish, you administer the vinegar, soothing them despite your red welts developing across your face.
Women aren't seen in the dive industry to be that cost efficient.  Most can't mend compressors, fix trucks, service equipment, drive boats, clean and inspect tanks.  Where I work now, I am the first woman they have employed.  Being an experiment, I was initially viewed by the guys with great suspicion and trepidation.  This was also true of my experience before in Cayman, acceptance is something earnt not guaranteed.

From these experiences I can push the case for a female crew member.  The guys admitted that having a woman around calmed them down a bit, less swearing, bad behaviour and it created a more harmonious team.  Some confessed to me that they were worried that a woman coming in would try and flirt with them and manipulate them.  For the trucks I couldn't fix, or the compressor I couldn't service I have more scheduled office days or try dive days by the pool (which the guys hate!), so they are pleased I take some of the load off them.  In Cayman I had the opportunity to train as a boat captain so it was great to take on this additional skill on a personal level, and when working in Antigua was using the boat to commute to work!

Here in Costa Rica a normal day finds me on my motorbike at 6.15 am and after a wending drive on dirt roads I arrive at 6.30am.  Equipment is then put into boxes and loaded onto trucks with the tanks.  These are then driven to the beach where they are unloaded and put onto a pontoon which is then taken out to the dive boat to be set up.
Customers arrive at 7.30am and after fitting with wetsuits and fins and signing releases, are shipped to the dive boat.  A capacious 55ft converted fishing boat with two levels, that beats the Newtons and Pro 48's I have worked on. With the only drawback being the  the stern placed exhaust pipe that emit wonderfully vomit inducing blue fumes.

Catalinas island is 11km (8miles) away and takes 40 minutes.  The main dive site is Catalinas West, where the larger animals ride the stronger currents.  With strong surges, 10 ft water displacement from high tide to low tide and changing currents diving each day is a surprise.  If people ask me what the dive will be like that day I say " I will tell you when I jump in the water and look".   One day I briefed cautioning 30 feet visibility and jumped in to see clear blue water with 60 feet.  Another day the surface was pea soup green in colour and temperature, and then on dropping down to 40 ft,  had a thermocline that created clear water of 60 ft visibility.

After diving for four years in the Caribbean ,  I was pleased to get back to the more dramatic waters of the Pacific.  I dive to see the life in the sea and though a backdrop of colourful soft corals is lovely, it's the marine life that attracts me.

There are three types of diving here gazpacho (cold green), pea soup (warm green) and wow! (clear blue).  A pay off is diving a high percentage of the former two before hitting the latter one!  Even in low visibility one can still see so much.   One day I dived when the  Crimson Tide covered the dive site like a fishy bubble bath (don't think they will be having that in beauty salons), and  despite 5 ft visibility, I saw a turtle and a devil ray.

So what you may ask can be seen on a good day?  A good day is a jaw dropping day here.   Being checked out by four manta rays, being surrounded by a wall of thousands of cow nose rays, hundreds of devil rays and spotted eagle rays.  In my briefings I say that there are shoals of fish all going to work, coming back, partying and hanging out.  Being surrounded by the sheer quantity of big eye jacks is like being in the middle of a large fish tumble dryer. I have dived with dolphins, whale sharks and had humpbacks breaching on the stern of the boat. The rare sight of visiting Orcas contrasts with the amazing array of small life.  Seahorses, frog fish, nudibranch and blennies that resemble Homer Simpson.  Not a bad office.

Finally, I have to pay a tribute to all the great girls that I have met whilst diving. To name a few.. Coral in Caymans, Szilvia and Pip in Thailand and to the only 'all girl' dive shop in Utila when I worked with Ali and April, also Claire, Min, Janina, Helene and Mari and last but not least Olga and Tracey in Costa Rica.

I will also reserve  a couple of spaces for the manageress bitches from hell.. you know who you are, one is still working in Cayman and the other fizzled out under her own vitriolic in Utila.

To all the girls in diving….. you rock!! As they say, sisters together!  Friendships that I have made will last me for life and that's from a girl who didn't have any close girlfriends till she was 29 years old!
Written by Rosie Wang, Costa Rica.