MEMORABLE END OF SUMMER DIVE IN CATALINA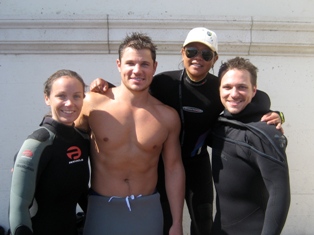 September 2008, I had a memorable Catalina dive trip. It was the end of summer; most kids are back to school. It was a perfect time to head to Catalina, when the crowd has dissipated, yet the water temperature was still near perfect and the viz - over 40 ft. I was in the final stages of my divemaster training. 
I had a chance to DM for my instructor Szilvia Gogh in a private class for two students. After a couple of pool sessions in the hot 98 ° valley weather, we headed to Catalina early Monday morning. We took the 8 am ferry from San Pedro. The hour and 10 minutes ride was pretty uneventful, I napped most of the time (note to self – bring a deck of cards next time). When we got to the island, we took a cab to the Hotel Vincentes and were greeted by our gracious host, Paul, who upon our arrival let us check our luggage in early so we can do our dives.

We then proceeded to Casino point, set up our gear and were in the water before noon. We did 2 dives with our eager students. The viz was 40 ft and kelp everywhere. The students were so excited and went through their skills pretty well. Dive time was fairly short since one student used more air than the other. We practice safe diving so we ascended based on the one with the least amount of air.

After our dive, we had a late lunch at Antonio's, great pizza; we particularly liked the veggie with white sauce washed down by nice refreshing drinks! Then we rented a golf cart where the 4 of us tooted around Catalina Island. The weather couldn't be any more perfect, the sights were amazing!

Since it was Monday night we decided to hit the only sports bar on the island, watched some football games, downed a few cold ones and played some pool. From time to time, we, or more likely our students got a few stares and the bold ones came up and had a little chat and one even bought us a round of drinks. 
Other than that, it was pretty much an early night for us since we still have two more dives the next day. We decided to head back to our hotel at around 10pm and on the way out, the students stopped at the bar and thanked the person who bought us a round.

Tuesday morning, we had our breakfast by 8 am at the waffle house where the server was more than willing to serve us and hang out by our table. By 9:30am we were back in the water. Again the water temperature was about 68-70 degrees, viz hadn't changed. Our students completed their skills with flying colors and we did some picture taking in between dives.
After the second dive, the kind people from Catalina Diving Supply offered to take us and our students on their boat to Little Farnsworth, which is about 10 minutes by boat from Casino Point. We only did one dive off the boat but enough to give the students time to enjoy the Catalina Kelps and swimming with the garibaldis.

All in all the diving experience was pretty awesome, except for some other divers and tourists wanting some picture taking moments with our students, see picture below.

Written by Eo Ong, California. Photo: Szilvia, Eo & our students, Nick & Drew Lachey