LEARNING FILLED WEEKEND GETAWAY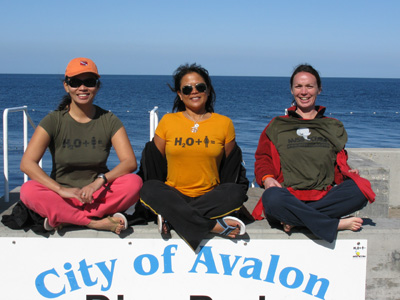 Why is it that there is always a mad rush to try to get to where you are going, just so you can relax? Oh yeah, the California freeway known as the 5 and 710 to Long Beach on a Friday afternoon. But as we step off the ferry in Avalon, there is Szilvia's smiling face to greet us. James, Mike and I are escorted to the modest Hermosa Hotel. We are able to get our dive gear stowed and immediately set out for the nearest bar, for food of course.
Szilvia is waiting for dusk as her students are completing their night specialty dives. Watching them wait in their damp wetsuits on the cool spring night made me really glad that I would take my dry suit class the next day.
The next group was arriving so we went down to the dock and greeted and brought the rest of the group to the hotel to stow gear, get rooms and go for more food. It was a great evening.
Upon waking to a truly beautiful California Saturday in March, the AAU dive team went for breakfast then got ready to start the days diving activities.  Some were doing photography and some just fun diving. The rest of us were completing specialty courses.
Eo, Paul and I were completing our dry suit course. Diving in the dry suit was great in and out of water. Even though it was a beautiful day, it was still a bit chilly out of the water and the warm jammies are awesome. I was impressed at the buoyancy control I could maintain and fine tune. I was equally surprised at the ease in the learning process. 
Practicing how to avoid potential problems by doing handstands and somersaults was awesome. There goes my circus side again. I received good advice to bring a wet suit just in case. We did have one wardrobe malfunction and one of the students had to use the extra wet suit. No names will be used, however I will give this much away: a guy had to use my female suit. ;)
After diving and showers it was time for fine dining at Portofino's. When the rest of the group was out of the water we met up for drinks and Karaoke at the Galleon. I am sure any one who was there was wishing they still had their dive hoods on. But the girls just wanted to have fun.
Sunday comes along bringing us another beautiful day. The rescue divers complete their training and Szilvia lays out the course for our competition in navigation.  The fastest team wins.  We get our coordinates and get busy one by one. Here are the results:
1st place: Brandon and Andy
2nd place: Mike and Jeremy
3rd place: (by default) James and Lisa

I was just glad to have found the damn things. Yeah for bronze medal!
Written by Lisa Jover, California.