Behind the scenes – My work as a Volunteer Aquarium Diver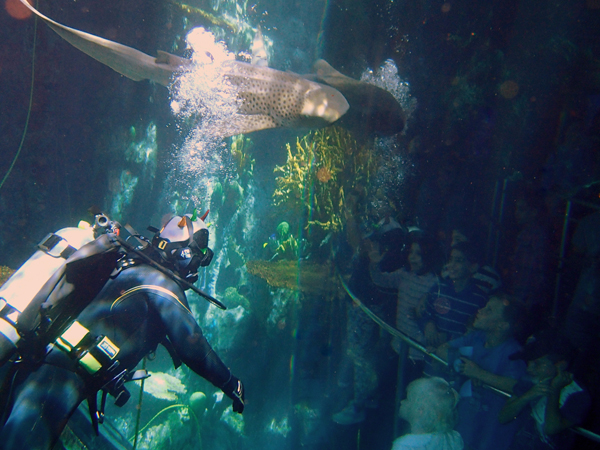 Some of us simply like to dive no matter where we dive. Some of us have always wanted to work in a zoo or aquarium setting. Some of us like the idea of volunteering. Some of us have made this a life or career choice.

Regardless, there is a select group of divers world wide, many of whom are volunteering their services, that dive regularly in Aquariums and perform all the work associated with caring for the animals who live in the habitats. And that also includes doing the maintenance work inside the exhibits.

I am fortunate enough (or crazy enough) to volunteer in two such facilities, the Aquarium of the Pacific in Long Beach, California and the California Science Center in Los Angeles as well as having been allowed to do guest dives at both the Florida Aquarium in Tampa and the Georgia Aquarium in Atlanta.
Each facility has it's own unique charm and personality (okay, quirks) but all have much more in common. In every facility there is a strong core of experienced, dedicated divers who bring a variety of backgrounds, skills and knowledge to the job.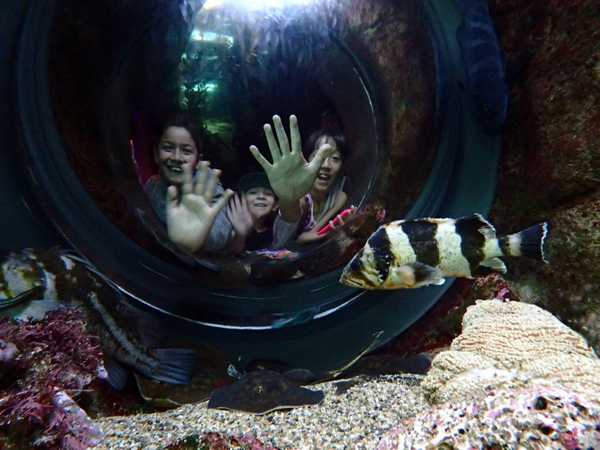 All of us have to pass tests in swimming, dive skills and knowledge in order for our applications to be accepted and the most facilities require a higher certification than Open Water (usually Rescue or above). This is to ensure that the divers accepted are ready to handle the tasks given them and aren't still learning or perfecting their skills. Once accepted all facilities will require a few weeks of additional training before they let you loose in their tanks.

Tasks may vary slightly but at all facilities the diver is involved in feeding and observing the inhabitants (not just fish, turtles and invertebrates are often in residence too),cleaning and performing maintenance tasks, acting as safety divers and donning a full face mask in order to present to the public. Many divers say speaking with the dryside presenter and interacting with the guests is their favorite part of the job. And, yes, we do windows! Lots of windows!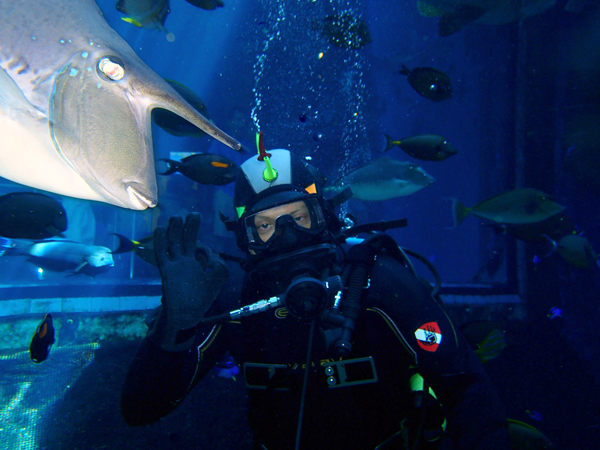 Once my tasks inside the exhibit are completed I love to simply swim around and look at the fish and other inhabitants. Unlike the ocean these animals are not afraid of us (in fact we get swarmed when they see us with food buckets!) and we can get very close to all of them. This comes in handy if the aquarist or veterinarian wants an animal observed...or even captured for examination or transfer.
Feeding time is a lot of fun and sometimes challenging if you're trying to target an individual fish.
And, I would like to mention the sharks are perfect gentlemen. None of us have ever felt threatened by any of the sharks in our facilities.

Also, once you're onboard many facilities offer open water experiences too. I've gone along on collecting dives and research dives for both facilities. I've also been fortunate enough to take the class and become certified as a scientific diver for the American Academy of Underwater Scientists.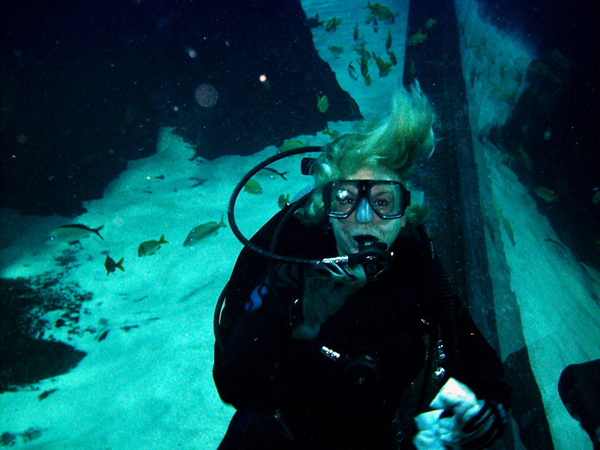 But the very best part of being an Aquarium diver are the other divers. I've been invited on dives and dive trips I wouldn't have made otherwise. I've learned many new skills and also met many challenges.
I've met one of my best friends at the Aquarium. And I've become involved with the local dive community to an extent I would never have imagined. All because of the world that opened up to me when I became an Aquarium diver.

If that is something you're interested in I would encourage you to check with your local facility to see whether they too take volunteer divers. Or, if you have the right education and work experience, consider it as a possible career move.

Written by Susy Horowitz, California. Photo Credit: Susy Horowitz